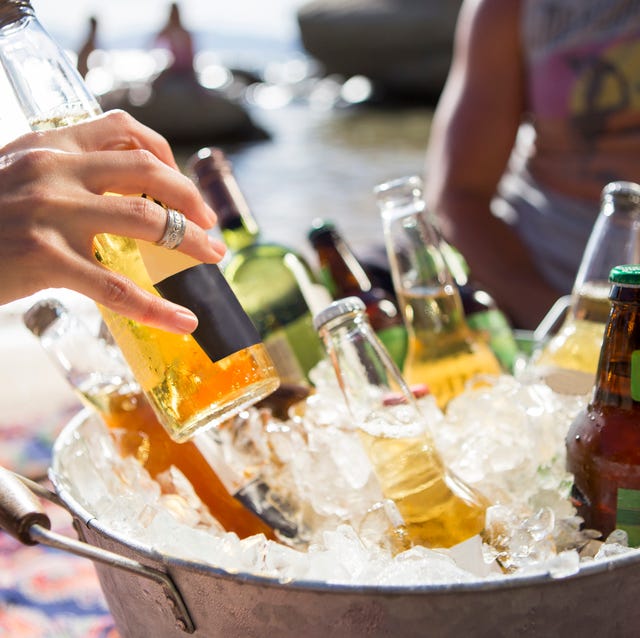 M. Okimoto & G. Kaye
The whole "summer beer" category has undergone an upheaval in the last few years. Very suddenly, breweries started expanding the definition of summer beer to include super-sugary shandies, way-too-tart goses, and ultra-light fruited sessions. And then summer beers started to taste like, well, soda.
You can blame (or thank?) hard seltzer, which as an alcoholic beverage category has created a sea change in the beverage business. Those bubbly boozes, in their sleek cans, wrestled market share from craft beer and, as a result, some of those breweries, along with titans among the macro-beer world, started to crank out the stuff.
And then beer sort of got stuck in the middle, drawn-and-quartered between hard seltzer and its OG roots. But here's the thing: Plenty of amazing craft breweries are still cranking out delicious craft beer that is neither beer-flavored soda nor boring by any means. It's just that this beer is simply harder to find these days because there are so many styles on the market and so many players in the game. (How many breweries does your town have that it didn't 15 years ago?)
So we did the work for you. We sipped through the sessions. We pounded the pilsners. We puckered through the sours. And we explored some category-defying beers that could be the Next Big Style—and, who knows, maybe even a style that can topple King Hard Seltzer.
So whether you're manning the grill or just mowing the lawn on Sunday morning, these are the 20-plus best Men's Health-approved summer beers right now. Thankfully, there's still a whole lot to love.
1 of 24
M-43 N.E. IPA
Old Nation
Most hazy IPAs derive their haze from yeast. This Michigan brewery does it via the components in oats and hops. The result is a smooth yet magical New England IPA the likes of which you haven't tasted before—even if you've tasted all the NE IPAs.
2 of 24
Lagunitas Brewing Company: DayTime Session IPA
Lagunitas sent its citrusy session IPA on a diet, reformulating the recipe to drop DayTime to just 4 percent ABV and 98 calories. Not reduced: the fizzy, nearly clear beer's magnified aroma of mango and papaya. Buy a six-pack of cans and your summer cookout is set.
BUY NOW
3 of 24
Green Flash Brewing Co. Saturaze IPA
Plenty of 4.2% ABV beers tout a 4.2% ABV and … not much else. This San Diego brewery goes heavy on tropical and citrus notes—limes, guava, papaya, mangoes. It's like a slightly boozy version of a Carmen Miranda hat.
BUY NOW
4 of 24
Dogfish Head Craft Brewery: Slightly Mighty (4 percent ABV)
Dogfish Head designed this beer for calorie-conscious IPA lovers with an active lifestyle. Slightly Mighty offers the aromatic excess of your favorite IPA wrapped up in a 95-calorie package packing but 3.6 grams of carbs per 12-ounce can. The secret to the subtle sweetness and surprisingly full body is a bit of monkfruit.
BUY NOW
5 of 24
Stone Buenaveza Salt & Lime Lager
By now you likely know the beautiful things that limes and salt do to beer—the hops open up, the crispness amplifies—as plenty of other bottles on the market lean on these additions. Stone's version is so refreshing it'll make you appreciate the combination anew.
BUY NOW
6 of 24
Surreal Brewing Company Juicy Mavs
It's a non-alcoholic beer, but it surely doesn't taste like a non-alcoholic beer. In fact, it tastes a whole heck of a lot better than a lot of these super-sugary soda-like alcoholic beers on the market.
BUY NOW
7 of 24
Harpoon Brewery: Rec League (3.8 percent ABV)
The hazy little pale ale raids the health-food store for its ingredients, including better-for-you pantry staples including buckwheat and chia seeds. Sea salt rounds out this pillow-y, tropical pale ale that's sold by the 15-pack. Consider it a cooler-stocker for the softball leagues everywhere.
BUY NOW
8 of 24
Galaxy Bräu
Jack's Abby
It's a classic German-style lager, hopped with fruit-laden Galaxy hops grown in Australia. It's one part mountain, one part beach—the perfect vacation in a can.
9 of 24
New Belgium Brewing Company: Mural Agua Fresca Cerveza (4 percent ABV)
Colorado's New Belgium partnered with Mexican brewery Primus Cervecería to create a riff on Mexico's agua fresca, a drink made with water and fresh fruit. Mural is made with watermelon, lime, agave and hibiscus, which provide the invigorating beer a glowing-pink tint.
BUY NOW
10 of 24
Sierra Nevada Brewing Company: Sierraveza (5 percent ABV)
The legendary California brewery looked to Mexico for this easy-going, cracker-crisp lager designed for good times at the beach and trips to the taco stand. Sure, you can add a squeeze of lime, but the fine floral aroma needs no adulteration.
BUY NOW
11 of 24
Wowza! Lo-Cal Hazy Pale Ale
Deschutes
That optical illusion on the can only hints and the puzzle inside. It's a powerfully delicious, wonderfully hoppy beer with only 100 measly calories and negligible carbs.
12 of 24
Southern Tier Brewing Company: Swipe Light (4 percent ABV)
Who says light beers need be lacking in flavor? Southern Tier's brand-new release twins 110 calories (per 12-ounce serving) to low bitterness and an enticing citrus scent delivered by Citra and Mosaic, popular hop varieties from the Pacific Northwest.
BUY NOW
13 of 24
Lavenade Tart Ale
Springdale
This sour ale tastes like sitting in an English herb garden drinking lemonade (how faaaaannnncccy). It also goes well with gin. If that's the kind of drinking you're into.
14 of 24
Founders: All Day IPA
It's a summer classic at this point. All Day has all the pop of your favorite hoppy IPA, without the overload of ABV. It's no-fuss and relaxed—just like the perfect cookout guest.
BUY NOW
15 of 24
Unfiltered Wheat 100
Boulevard Brewing Co.
It's their classic Unfiltered Wheat, which is boldly straightforward and refreshing, yet trimmed back on calorie count. And, honestly, you cannot tell the difference.
16 of 24
Samuel Adams: Summer Ale
Sam recently citrus-ified its 23-year-old classic by dumping in lemons, limes, and oranges. The retooled brew is a bracing jolt that goes well with Adirondack chairs, a sunset, and silencing your office email account.
BUY NOW
17 of 24
Tropic Haza IPA
Silver City
If you still can't get enough of juicy, hazy IPAs, this fast-expanding Washington-based brewery is delivering some of the best in the country. This one smacks of pineapple and lychee.
18 of 24
Sixpoint Brewery: Citrus Jammer
This sweet-sour beer contains sea salt, which helps after sweating through a thorough weeding. Thanks to its 4% ABV, you could go back to working in the yard. Or have another.
BUY NOW
19 of 24
Coastal Love Hazy IPA Beer
Wicked Weed
The brewery donates portion of proceeds from this easy-going 6.3% ABV to hurricane relief efforts in the Southeast U.S. It's a beer that cares.
20 of 24
Firestone Walker: Easy Jack IPA
This here is another soft-on-the-ABV IPA that's a littler drier and crisper than Founders' All Day. That doesn't mean it's any better. They're both good. Go on, have both.
BUY NOW
21 of 24
Hell or High Watermelon Wheat
21st Amendment Brewery
This longtime summer favorite adds just a touch of watermelon so it's never overbearing and goes well with anything grilled.
22 of 24
Anchor Brewing: San Franpsycho IPA
You have one of two options to experience the wild flavors of this beer. Option #1: You could go to your local farmers' market with an IPA in hand, pack as many peaches and apricots as you can into your mouth, take a swing of said IPA, and start chewing. Option #2: You could take a sip of this beer. Might we suggest Option #2?
BUY NOW
23 of 24
Elysian Contact Haze Hazy IPA
Pops of hops brawl with jabs of juicy fruit in this wild and wonderful haze-for-days beer of bliss. It stands at 6% ABV, so its a nice middle-of-the-road pick and a great day-ender, especially paired with some cedar plank salmon hot off the grill.
BUY NOW
24 of 24
Brooklyn Pulp Art Hazy IPA
Brooklyn Brewery
A triple threat of citra, strata, and simcoe hops jacks of the juiciness of this 6.5% summer cooler staple.