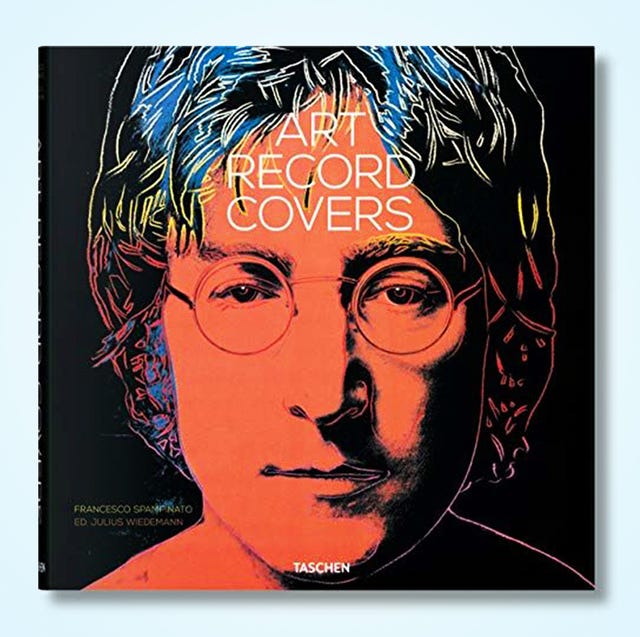 Amazon
It's gift giving season, folks. You need stuff for him and for her, plus for mom and dad, but you also need something for them, the music lovers in your life. They're a tricky bunch. These are people with very specific tastes—they know what they want, and why they want it. Lean on us. We put in the research and did the heavy lifting. From high-end speakers to beginner options for listening, performing, or just plain enjoying music, these are items any vinyl-hoarding fan will love.
1 of 25
'Tattoo You' 40th Anniversary Box Set
The legend of Tattoo You is notorious to any Rolling Stones fan. Help the one in your life mark the anniversary with a new, five-LP vinyl box set.
2 of 25
St. Vincent Poster
A sick music poster goes a long way, and Status Serigraph has the sickest of the bunch. If St. Vincent isn't to their taste (and you aren't ready to disown them entirely), check the SS shop for their favorite artist.
3 of 25
'Booze & Vinyl: A Spirited Guide to Great Music and Mixed Drinks'
If they like to jam out with a delicious cocktail in tow, this is the book for them.
4 of 25
'The Storyteller: Tales of Life and Music'
The prolific rockstar spent his quarantine wisely: writing down the very best of his tales from a life on the road.
5 of 25
Sonos Move
The Sonos Move is heat, cold, rain, humidity, sand, and everything else resistant. Bring it to the pool. Or into the bathroom for when you're showering and need to sing it out. Or on the roof for parties. It also works at home, of course, and syncs up with any Sonos system already installed.
6 of 25
'Art Record Covers' Coffee Table Book
Remember album covers? Your music lover does, and with this, they can look at the best whenever they want.
7 of 25
Dragonfly Cobalt USB Digital-to-Analog Converter
Here's something for the audiophile on the go. An AudioQuest headphone amplifier will reconfigure the audio coming from any laptop or mobile device to make it cleaner, louder, and clearer. Music coming from Spotify, MP3s, YouTube, or anywhere will finally sound how it was intended.
8 of 25
Official Grateful Dude Bear Sweater
It's cozy, and the dancing bear vibes are chill as hell.
9 of 25
Powerbeats Pro Wireless Earbuds
There are a lot of fully wireless headphones out there on the market right now, but none are better than these. (Esquire declared it as truth elsewhere.) They have little-to-no interference and great full sound, plus the wrap-around ear technology keeps them in place, whether you're walking, running, or just bouncing around town.
10 of 25
Concert Ukulele Mahogany Set
Whether they're an accomplished musician or a newcomer looking to learn, the Donner ukulele is fun and easy for noodling on. It's also unlikely that the music lover in your life already owns one.
11 of 25
Framed Led Zeppelin Wall Art
Brighten their holiday, and wall.
12 of 25
MiniLab MkII 25 Slim-Key Controller
Easy to set up, easy to use, and fun as hell to tinker with, the Arturia MiniLab controller is a fantastic gift for anyone interested in music production. It's portable and surprisingly professional at a low cost, with tons of tools to keep someone fascinated by the technical side of music busy for a long time.
13 of 25
'Music Is History'
There's no voice more interesting or informed in American music development—sorry, Ken Burns—than the Roots' iconic drummer. Get this for anyone who wants to dig into the details.
14 of 25
David Bowie Album Art T-Shirt
The Starman would have turned 75 this coming January. Help your superfan celebrate the occasion anyway.
15 of 25
Framed Stevie Nicks & Fleetwood Mac Photo
GETTY IMAGES GALLERY PHOTOGRAPHY
If there's anything the home of any music lover needs, it's a stunning picture of rock n' roll frontwoman Stevie Nicks.
16 of 25
'Let's Go (So We Can Get Back)'
The frontman of Wilco brings his sincere songwriting and often-hilarious stage presence to to his memoir about being in a popular rock band. But, like his music, Tweedy shies away from many of the failings and clichés of the typical rock story—instead crafting an honest portrait of the man and his music.
17 of 25
High-Fidelity Concert Earplugs
The first thing any live music lover should be worried about is their hearing, obviously. (And anyone who's attempted to wear regular phone earplugs knows that they're not an option.) Custom-fit ear plugs can be costly and difficult to source, but Vibes are easy, and approved by musicians and fans alike.
18 of 25
'Meet Me in the Bathroom'
A necessary addition to the library of any indie rock lover.
19 of 25
Kendrick Lamar 'Damn.' Double Vinyl
Kendrick Lamar's DAMN. isn't just one of the best albums of this decade, it's one of greatest of all time, a masterful dissertation on race, god, and the American dream. Shortly after he released the collection, Lamar announced that it was meant to be listened either backward or forward. He made that possible with this deluxe LP that includes a version in reverse.
20 of 25
PO-20 Pocket Operator Arcade Synthesizer
The Teenage Engineering arcade synthesizer module is a stripped-down, easy to use synth that can go pretty much anywhere. (And if the giftee starts getting really into it, the drum machine can be connected to other Teenage Engineering synths for a full tabletop rig.)
21 of 25
At-LP60X-BW Fully Automatic Belt-Drive Stereo Turntable
If you're sure this person doesn't have a turntable yet and you want to hook them up, this is your buy. Everything the Audio-Technica team cranks out is worth it. They have far pricier rigs if you're really looking to spoil someone, but this is their best deal, by far.
22 of 25
'Life'
The best rock memoir, ever. Full stop.
23 of 25
QuietComfort 35 Series II
If you have someone who spends long hours listening to music, there's nothing more useful than a good pair of wireless over-the-ear headphones. The Bose QuietComfort 35 Series II have excellent sound—especially for wireless headphones—along with an impressive 20 hours of battery life and access to Google Assistant or Amazon Alexa.
24 of 25
Charge 3 Waterproof Portable Speaker
These days, everyone has some sort of portable speaker—especially music lovers. But, everyone can use a better speaker. You can't go wrong buying someone the JBL Charge 3, the best wireless, waterproof speaker you can find in this price range. The sound is great and the cost isn't astronomical, so no need to feel guilty putting it through the elements.
25 of 25
Powerstation Plus XL
Don't let the nerdy tech appearance fool you. Being able to charge your device on the go—like, say, at a festival or concert—is absolutely necessary. Most importantly, these things are small enough to fit in your pocket and keep a phone charged for 34 hours.