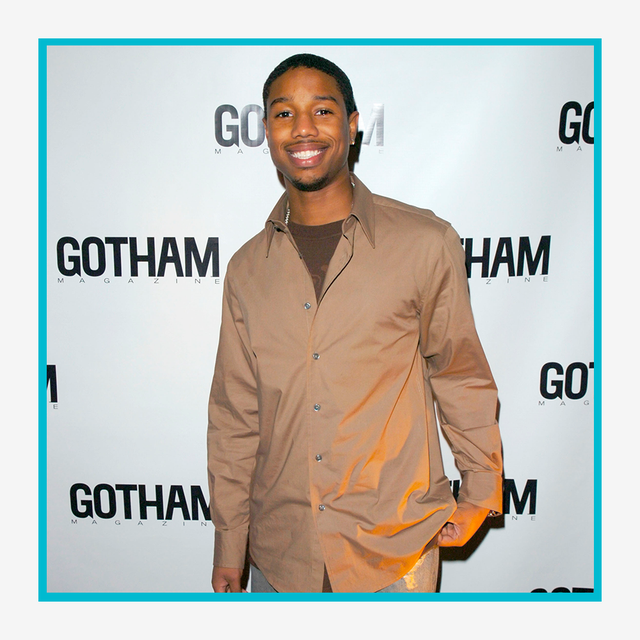 Getty Images
Michael B. Jordan is one of those guys who seems so cool because he seems like a real human—not one of those phony Hollywood types. He also puts in the work for his roles, which just happens to include getting ripped. Repeatedly. There's something endearing about how human he seems. And there is maybe nothing more human than MBJ's public-facing style evolution.
Here's the thing about growing up in entertainment. All those pictures of you during awkward in-between phases or trying to figure out what kind of clothes you liked or how to actually style your hair? MBJ has them, too.
He is an absolute style icon now, but it took a bit of practice to get here. He's long had a good eye for red carpet suiting, but his casual style was a bit more erratic. Now, he looks cool as hell , even when he's wearing something as simple as sweats. Take a look at Michael B. Jordan's style evolution throughout the years.
1 of 32
2004
MBJ's suit evolution is truly astounding. He's just a kid here—with a matching choir suit to fit—but keep this in mind for his later years.
2 of 32
2005
Aw, baby MBJ. Haven't we all pushed a cuff back in order to make *clear* our most important accessory of the day?
3 of 32
2006
Before going full-fledged style maven, Jordan dressed like any other 2008 dude might have. Which is to say, with shirts and pants that don't fit.
4 of 32
2008
There is a lot going on here. A lot of layers. A lot of pooling of jeans at the ankle. Let us take the jacket and ditch everything else.
5 of 32
2008
There's nothing offensive going on here, really. We've all worn sweaters a bit too tight. But he is still in the process of figuring out what works for him.
6 of 32
2011
Matching the graphic tee with the sneakers is a combo we can certainly leave in 2011.
7 of 32
2012
Fine. This is fine. Still maybe looks like an elder family member picked it out for him, but it is fine.
8 of 32
2013
Daw, MBJ on his way to his first adult prom.
9 of 32
2013
If you didn't already know we feel it is important to tell you that Mickey Mouse and camouflage do not belong together.
10 of 32
2015
OK!!! It's happening! MBJ's suit style starts moving past basic and into edgy.
11 of 32
2016
If you love a graphic tee or sweater, we'd never rob you of that. But this is how you do so—no Mickey Mouse or matching sneaks required.
12 of 32
2016
This is the redemption for that 2004 choir suit. Nailed it.
13 of 32
2016
A graphic tee done simply, and in the realm of streetwear, is exactly how to elevate it.
14 of 32
2017
This suit really put MBJ on the map of style guys to watch. It is edgy but fits impeccably. Perfection.
15 of 32
2018
MBJ proving that a high-fashion suit doesn't have to feel stodgy. The belt and orange detailing are everything.
16 of 32
2018
It isn't just his suit style that improved. His casual style has also gotten cool as heck.
17 of 32
2018
MBJ loves a good sneaker and a statement jacket, and here he pulls both of them off without overdoing it.
18 of 32
2018
The jackets start coming in full force. This one may stay.
19 of 32
2018
First of all, yes, it is unfair how good clothes look on people with frames such as this. Even still, he made a whole lot of us believe in the power of polos again.
20 of 32
2018
Mixing patterns can give an outfit great detail, especially when they are related (like stripes and windowpane) and don't overwhelm each other. Unlike Mickey Mouse and camouflage.
21 of 32
2019
Here is MBJ, breathing life into sequins.
22 of 32
2019
Is it floral? Just two-toned? The suit pattern's ambiguity is what makes it so cool. And reignites the idea of what a formal suit can even look like.
23 of 32
2019
Elevated never has to mean unapproachable. MBJ is wearing a literal backpack, sneakers, and a fluffy jacket. And damn, does it look good.
24 of 32
2019
Wearing a turtleneck under a suit is one of the simplest ways to change up a whole vibe. Highly recommend for the holiday season.
25 of 32
2019
Good jackets can make a whole outfit, just like this one does. The foundation is simple—a sweater and pants—but the jacket levels it all up.
26 of 32
2019
Suits don't have to be blue, black, or gray to be great. This purple-ish brown one is a stand-out alternative.
27 of 32
2019
In the past few years, Jordan's style has really started leaning into fashion fashion, and we are here for it. This all-camel look is just plain great.
28 of 32
2020
I bet you never thought you'd see the day a grown ass man wears a designer, leather, floral harness–and it deemed sexy. It's called FASHUN people, look it up.
29 of 32
2020
Monochrome is a whole vibe for him, and this rust turtleneck should really be a vibe for us all.
30 of 32
2020
He's always done formal suits well, but they have evolved just as he has. This one looks like a million bucks. It also probably cost that.