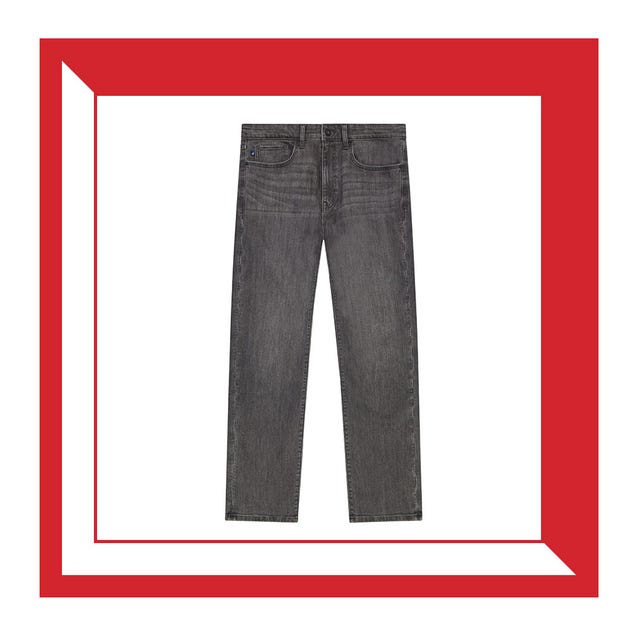 Courtesy of the brands
​​Put away the shorts and white pants and break out the denim: Fall is finally here. For me, this jeans-heavy season affords endless styling opportunities, from timeless looks that work wherever, whenever to more modern approaches that feel a little more trendy. And regardless of what style I'm into at the moment, there's not really any wrong way to wear denim. (And, yes, it's perfectly appropriate to sport it at work if done right. See below.) Here are all the ways I'm super excited to wear denim this fall—and I'm betting you will be, too.
On the Road

When I'm on the go, I prioritize comfort. Nautica's relaxed stretch jeans move with me—important so I can move freely when running around town—and feel just right under a quarter-zip sweater that offers plenty of warmth and comfort. Under that sharp outer layer, a solid performance tee is a must as a base. I'm a big fan of one made from a stretchy fabric with a tailored fit, so the neckline doesn't sag or appear sloppy under the sweater. Pull it all together with fantastic wool runners; made with ultra-comfortable merino wool and a generous cushion, they're the ideal city sneaker and make great travel partners.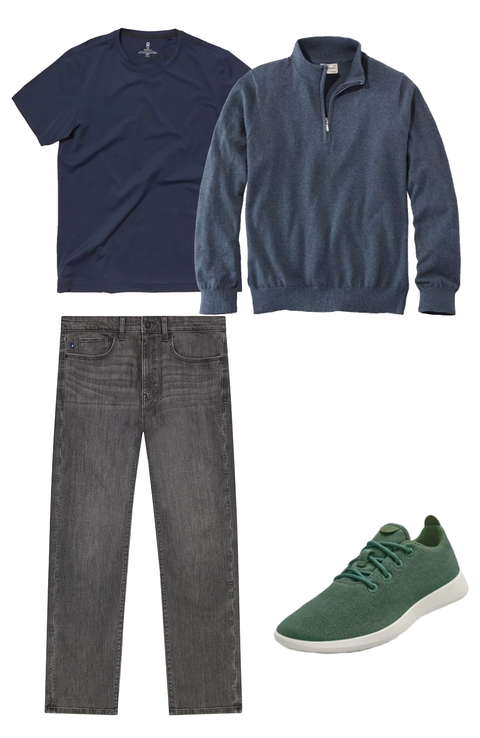 Courtesy of the brands
Jeans: Nautica Original Relaxed Stretch Denim, $67 at nautica.com; Sweater: L.L. Bean, $50 at llbean.com; T-Shirt: Rhone, $50 at rhone.com; Sneakers: Allbirds, $110 at allbirds.com.
On a Date
Even when I've done my research picking out a sweet spot, when it comes to getting dressed, it barely matters where I'm taking my date—this look works pretty much anywhere from a food truck to a five-star restaurant. The jeans have a faded quality that I love and pairing them with brown boots is both unexpected and eye-catching. On top, I've got an easy cotton button-down with the perfect hem length and a little bit of extra stretch. It all goes together beautifully.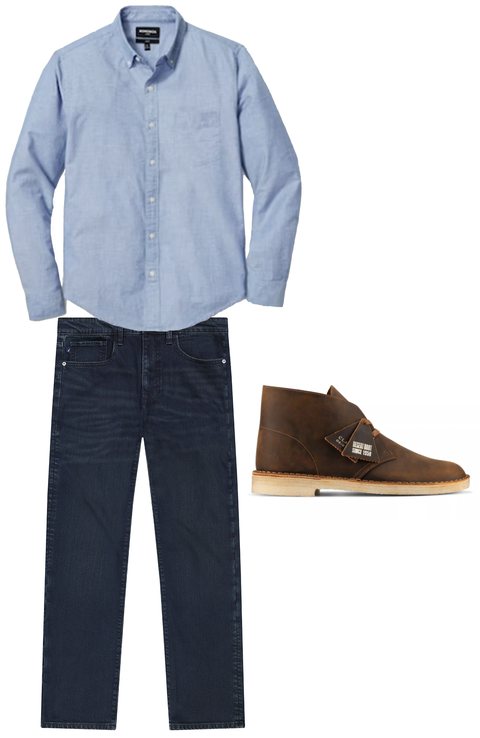 Courtesy of the brands
Jeans: Nautica Vintage Straight Stretch Denim, $67 at nautica.com; Shirt: Bonobos, $89 at bonobos.com; Boots: Clarks, $150 at clarksusa.com.
At the Office
Yes, it's possible to wear jeans to the office, while looking work-appropriate but a relaxed at the same time. (In other words, business casual can look cool.) My solution: Slim fit jeans. They just feel more refined than a relaxed style. For a little more polish, wear them under Nautica's prep-inspired Reissue Cricket Sweater, and take a break from the everyday button-down. No need to put a collared shirt under this V-neck; a no-show look is a fresh way to go, and this tee is how I achieve it. Finish it all off with a sneaker that's a bit more formal than my average pair of kicks, and I'm ready to make it work.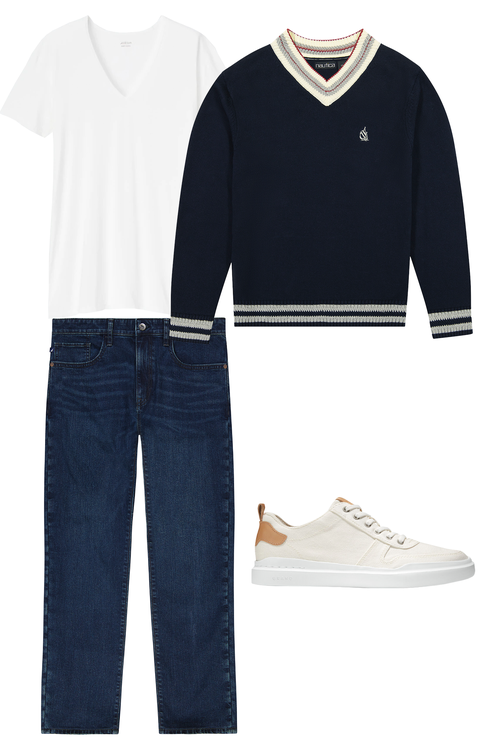 Courtesy of the brands
Jeans: Nautica Athletic Slim Stretch Denim, $67 at nautica.com; Sweater: Nautica Reissue Cricket V-Neck Sweater, $45 at nautica.com; Shirt: Uniqlo, $15 at uniqlo.com; Sneakers: Cole Haan, $75 at colehaan.com.
Friday Night Out
Going out? I look for an outfit that's the drink equivalent of a martini—a classic go-to that's a little shaken up. I'll be wearing my more modern relaxed fits—Nautica's really great loose jeans in a darker blue wash, plus a sweater that's warm, cozy, and shows off a little color and personality. (The bartender will literally be unable to ignore me.) As for the classic low-tops, they never seem out of place at a late-night (or early morning) dive bar.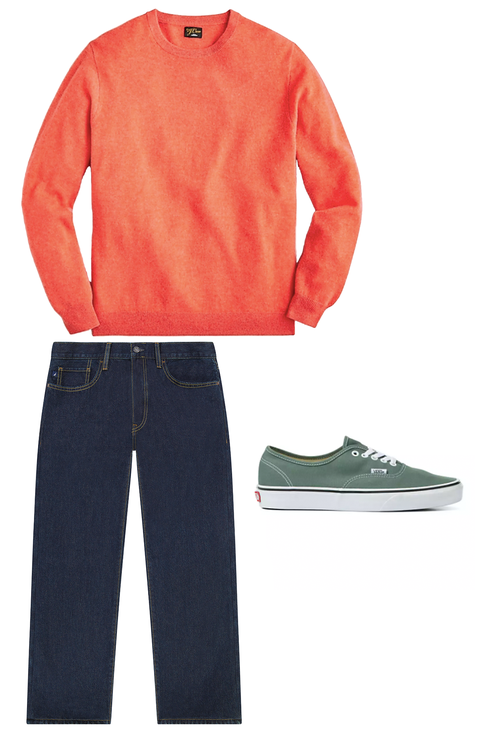 Courtesy of the Brands
Jeans: Nautica Authentic Loose Denim, $67 at nautica.com; Sweater: J. Crew, $138 at jcrew.com; Sneakers: Vans, $60 at vans.com.
Company Team Building
At a work meetup, I want to act—and look—relaxed but not sloppy. This easy outfit dances on the edge of buttoned up and casual. The slightly faded jeans are made from soft, sustainable cotton I love to wear. A striped tee adds a little visual interest, and this hemp jacket is the perfect over-tee layer for a cool fall night. For going-out footwear, a boot is a more low-key option than a loafer, and sharper than a sneaker. In short, just right.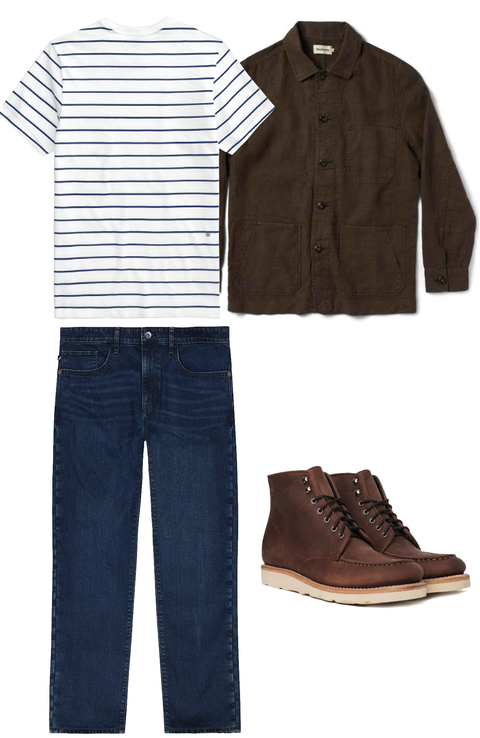 Courtesy of the brands
Jeans: Nautica Athletic Slim Stretch Denim, $67 at nautica.com; Jacket: Taylor Stitch, $198 at taylorstitch.com; T-Shirt: Mack Weldon, $38 at mackweldon.com; Boots: Thursday Boot Co., $199 at thursdayboots.com.
Advertisement – Continue Reading Below
Advertisement – Continue Reading Below