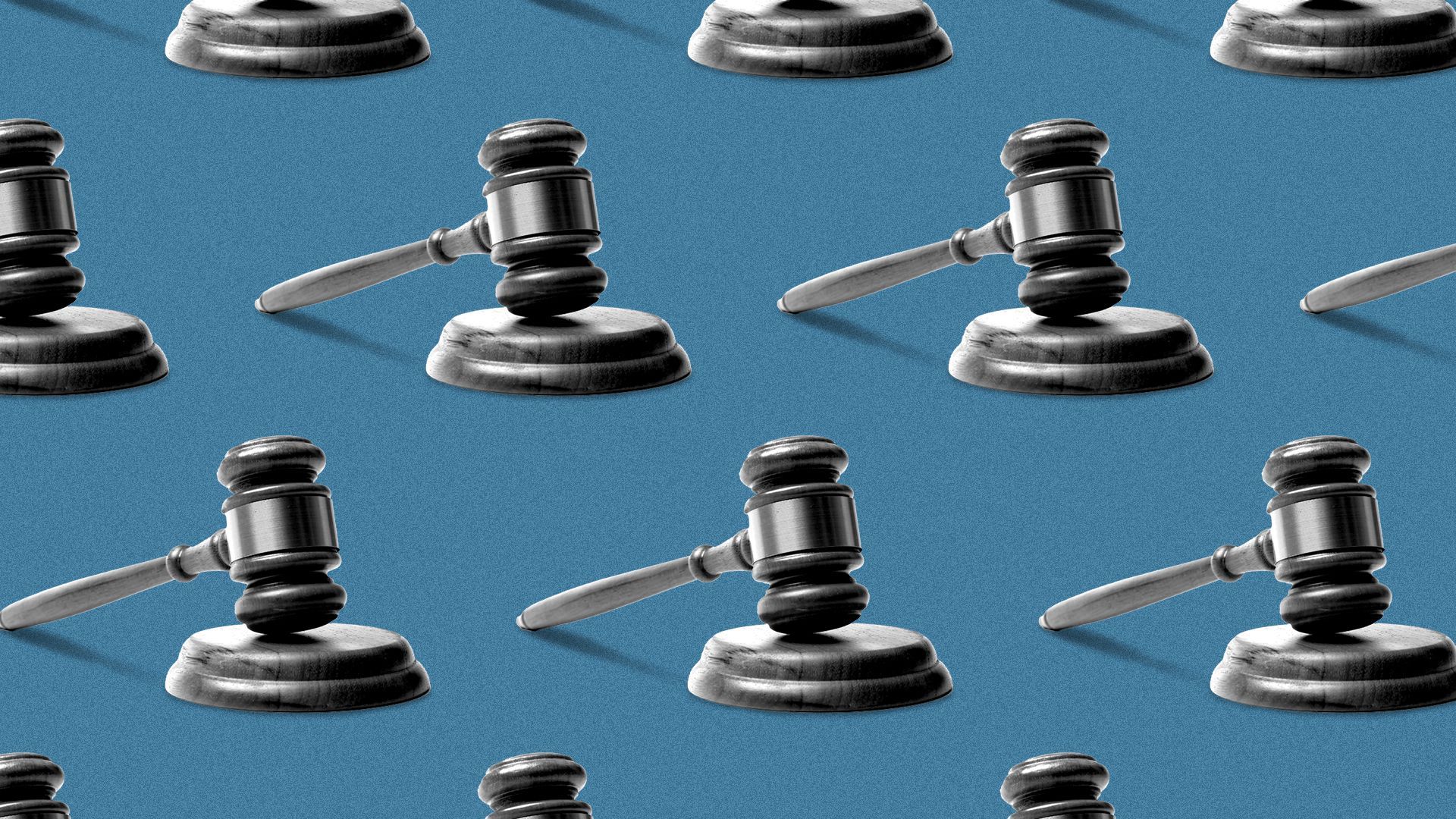 Illustration: Brendan Lynch/Axios
An Atlanta judge will hear arguments Tuesday about whether an investigative report into efforts by former President Trump and his allies to overturn the 2020 election should be made public.
Why it matters: It's one step closer to Fulton County district attorney Fani Willis' decision about indicting Trump or his allies after she opened an investigation two years ago.
The report's findings are expected to influence Willis' decision whether — and whom — to indict of criminal conduct.
Catch up quick: Willis called for an investigative grand jury to look into the matter last year. The "special purpose grand jury" spent eight months hearing from an unknown number of witnesses ranging from Sen. Lindsey Graham (R-S.C.) to Rudy Giuliani to Georgia Gov. Brian Kemp.
The jurors finished their work earlier this month and voted to publish the report, according to Judge Robert McBurney, who is hearing the case.
What we know: In a legal brief, national and local media outlets have argued for the full release of the report, because the public interest "is extraordinary." They argue the crimes at issue are of "enormous public interest not just to Georgians, but also to citizens throughout the United States."
A spokesman for Willis declined to comment on what the district attorney will argue during Tuesday's hearing.
What's happening: Because this investigative grand jury does not have the power to indict, only the ability to recommend indictment or not, its release could complicate any pending indictment the district attorney may be working on.
The other side: In a statement, lawyers for Trump said they will not be participating in the hearing and "have never been a part of this process." Trump, they said, has never been subpoenaed nor asked to speak to the DA voluntarily.
"Therefore, we can assume that the grand jury did their job and looked at the facts and the law, as we have, and concluded there were no violations of the law by President Trump," they said.
The intrigue: Norm Eisen, former U.S. ambassador and counsel in the first Trump impeachment trial, says he believes the special purpose grand jury has enough evidence to indict Trump and others.
But, he qualified in a press conference: "You just never know. While the great likelihood is that we're going to see a recommendation of charges here, you just never know."
What they're saying: In a press conference alongside Eisen last week, J. Tom Morgan, former DeKalb County, Ga. district attorney and law professor at Western Carolina University said the release of the report could put Willis "in a quandary."
"If the report says there have been certain crimes and certain persons should be prosecuted and she doesn't prosecute them, it's going to come back to hurt her — and vice versa," he said.
What we're watching: If any of the report is released, the question of redactions is likely to come up, says Atlanta defense attorney Don Samuel — who is representing Georgia legislators in the proceedings.
"The question is: is [Judge] McBurney going to give the individuals a chance to, in private, say how they want it redacted so that they're not publicly disgraced?" he told Axios.
Morgan says he thinks McBurney should. "I think if there are any individuals designated in that report and accused of certain crimes, they have an absolute right to have that redacted, certainly until they are indicted for those crimes."
Yes, but: Those who have already been named targets in the investigation, including the slate of electors who "certified" a false Trump 2020 victory in Georgia, have not been invited to participate in the hearing.
Of note: Georgia lieutenant governor Burt Jones has been named as a target of the investigation, but Willis was barred from investigating him directly or bringing charges against him after supporting his past political opponent.