Steve Bannon may already be picking sides in a potential 2024 Republican presidential race between Donald Trump and Ron DeSantis.
This past weekend Bannon, the one-time close adviser and confidant of Trump, touted an appearance made by the Florida governor at a postseason NFL game. While praising who many in the GOP believe could be the next president, Bannon also expressed disdain towards his former boss closely unifying with Senator Lindsey Graham, a South Carolina Republican.
On January 28, Trump will be joined by Graham and South Carolina Governor Henry McMaster at the Statehouse in Columbia, South Carolina, the Associated Press reported last week. It will be his first public campaign event and will include the unveiling of his leadership team in the state.
"I have no earthly idea why [Graham's] around [former] President Trump," Bannon said regarding Trump's campaign event on his War Room program. "He's a cancer. He is a cancer, that's metastasizing. President Trump's gotta be warned. There's nothing good that comes from having [Senate Minority Leader] Mitch McConnell's mini-me, the snake, Lindsey Graham around you at all."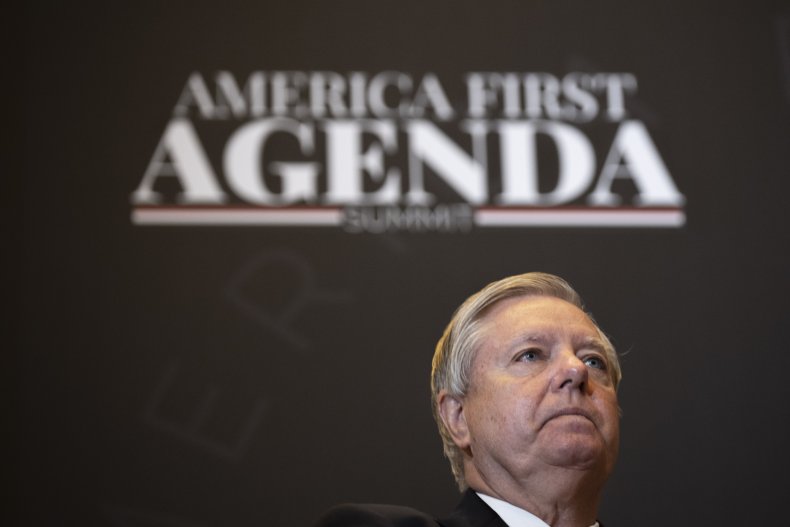 Graham's anticipated endorsement of Trump comes as former South Carolina Governor Nikki Haley, and Senator Tim Scott, a South Carolina Republican, are reportedly weighing their own presidential ambitions.
"Nikki Haley is probably our first South Carolinian since we voted for George Washington that has really had a chance of being president of the United States," former South Carolina GOP chair Katon Dawson told The Washington Post on Sunday. "And I think the Trump folks are going to run into that history."
Meanwhile, Bannon also posted on his Gettr account the "great reception" DeSantis received on Saturday while at the Arrowhead Stadium in Kansas City, Missouri. The Kansas City Chiefs hosted the Jacksonville Jaguars in a playoff game.
A video circulated on Twitter of a casually-dressed DeSantis walking on the field before the game, shaking hands with fans of different teams.
One younger fan in attendance can be heard telling DeSantis, "You're the best governor, run for president."
Scott Wagner, co-chair of DeSantis' 2022-2023 transition team, called the Florida governor "the people's champ" in a tweet.
Kirk Randazzo, professor of political science and department chair at the University of South Carolina, told Newsweek on Monday that Trump's campaign event is important for two reasons.
One, South Carolina's prominence in the primary sequence is integral as all candidates "pretty much need" to spend a decent amount of time there in order to propel their candidacies, he said. The state's importance will likely increase between now and the 2024 election cycle.
The event is also designed to shore up political support very early to fend off potential homegrown candidates like Haley and Scott, Randazzo added, saying "it potentially keeps them out of the mix."
Scott's cards remain close to the chest, but he believes there's "a really good chance" Haley jumps into the fray, according to Randazzo.
DeSantis' popularity in South Carolina should not go unnoticed, he said.
"I think DeSantis has a lot of support in this state and I think a lot of folks, not just in South Carolina but nationwide, look at DeSantis sort of as the next person in regards to Trump-like policies but without the Trump baggage," Randazzo said. "I think that is very, very attractive to folks. They like a candidate who will put up a fight, go toe to toe and spar with Democrats or liberals. But DeSantis doesn't have the same coarseness or rudeness that Trump has."
What the Polls Show
Polls have fluctuated regarding a hypothetical 2024 matchup between Trump and DeSantis.
In December, a USA TODAY/Suffolk University poll showed DeSantis up 23 percentage points on Trump among Republican voters and independents who identified as either conservative or very conservative.
However, a poll released last week by Morning Consult's 2024 GOP Primary Tracker showed Trump with a comfortable 17-point lead over DeSantis, and an overall stronghold on the Republican field.
In recent weeks, Trump has been more vocal about the prospect of facing DeSantis.
Last Monday while on the conservative podcast, The Water Cooler, Trump took credit for DeSantis initially being elected as Florida's governor, and said he would "handle" him in a primary.
Newsweek reached out to Trump's 2024 team for comment.
Update 01/23/23, 2:23 p.m. ET: This story was updated with comment from Kirk Randazzo.