The Chicago Bears traded a second-round pick to the Pittsburgh Steelers for wide receiver Chase Claypool ahead of last season's NFL trade deadline. Claypool's first full season in Chicago has garnered plenty of attention—just not the good kind.
Multiple clips surfaced on X (formerly Twitter) of the former second-round pick seemingly going through the motions during a Week 1 loss to the Green Bay Packers. Chicago's coaches noticed too. Bears coaches and players fielded questions on Claypool's efforts, particularly when blocking, throughout the week.
In his first public comments since, Claypool said he asked to meet with the coaching staff to address the situation.
"I went up to them, I texted them and asked if we could talk," Claypool said after Chicago's 27-17 loss to the Tampa Bay Buccaneers on Sunday. "Just for my own sake. Try to find any type of thing that could help me progress the way I want to and learn from mistakes the way I want to."
He went on: "They told me what they wanted from me. I made sure I delivered on that throughout the week."
Claypool did not catch a pass on two targets against the Packers.
Bears head coach Matt Eberflus said last week that he spoke to Claypool regarding his Week 1 performance. The second-year coach said the Bears looked at "all possibilities," including deactivating Claypool for the Bucs game.
But Claypool did play in Week 2. And the results were a "step in the right direction," the receiver said.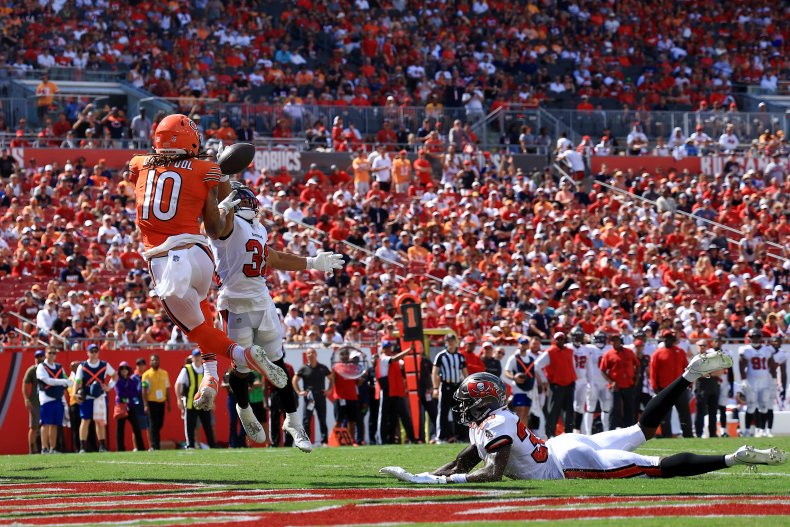 Claypool was one of, if not the first, Bears player out on the field at Raymond James Stadium to warm up before the Bears-Bucs game in Tampa, Florida. Bears quarterback Justin Fields targeted Claypool eight times, the most of any Bears player. The 25-year-old caught three passes for 36 yards in the loss to the Buccaneers, including a 20-yard touchdown—Claypool's first with Chicago—in the fourth quarter.
"I thought he did a nice job, obviously," Eberflus said of Claypool. "Catching that skinny post in the end zone was excellent. I thought it was really good."
A report from Fox Sports' Jay Glazer before Sunday's game indicated that the Bears could trade Claypool if his poor play continued. Chicago gave up what eventually became the No. 32 pick in this year's NFL draft to acquire the 6-foot-4 receiver last season.
Bears General Manager Ryan Poles is still hoping to see Claypool produce, though.
"I would say really, for anyone on our team, there's a standard for how we're going to play football here, and if you can't rise to that standard and live in that space, it's going to be hard to perform for the Chicago Bears," Poles said on Chicago radio station WMVP before the game. "With Chase, I think he's a guy that has all the motivation in the world to be a good football player.
"He's gotta clean some things up. We had some good conversations. I expect to see him make those changes. If he doesn't, then we'll have to figure out what we're going to do after that," Poles said.
Claypool said he believes he gave a "100 percent" effort against the Bucs. There is at least one play he wants back, though. Claypool admitted to thinking the Bears had a run play called during a drive late in the fourth quarter when Chicago trailed by 3. Claypool blocked on the play before a pass was thrown, resulting in a pass interference penalty that backed the Bears up to their own 6-yard line.
The next play, Bucs linebacker Shaquil Barrett intercepted Fields on a second consecutive screen pass called by the Bears and returned it for a game-sealing touchdown.
The Bears have lost 12 consecutive games dating back to last season.
Expectations have been high for Claypool in Chicago, particularly given what the Bears had to part with to acquire the former Notre Dame standout. Claypool caught 62 passes for 860 yards and scored 11 total touchdowns as a rookie in Pittsburgh. That kind of production hasn't been matched since.
The pass catcher has tallied only 17 receptions in nine career games with the Bears. Claypool said he knows what he needs to address in his game to improve, although he did not provide many specifics. He also said he isn't going to worry about what people online have to say about it.
"I didn't know people were dragging me through the mud until my family was texting me and checking up on me," Claypool said. "So I was a little confused when they did that. I don't go on Twitter. It is just a breeding ground for hate. I don't think it's good. I know what I have to fix. I don't need other people who think they know the game to tell me what I need to do.
"I definitely know exactly what I need to fix, and I made sure I did that this week," he said.