Beyoncé shared an adorable moment with her daughter Blue Ivy during her recent performance in Dubai, but some fans think there's more to it than meets the eye.
The 11-year-old joined her famous mom onstage at the grand reveal of the Atlantis the Royal hotel on January 21 where they gave the live performance debut of their song "Brown Skin Girl."
Blue Ivy featured on the song from Beyoncé's album The Lion King: The Gift, the soundtrack to the 2019 live action-remake of the classic Disney animated film.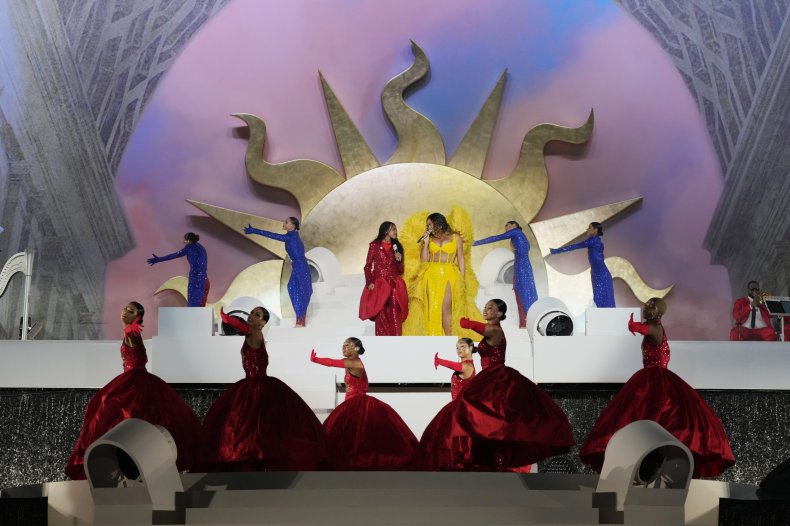 In the video shared online by fans, Blue Ivy can be seen doing choreography while standing next to Beyoncé who is wearing an elaborate yellow dress with a huge train and feathered back piece.
Blue Ivy is wearing a long, red sequin blazer with a fluffy hem over matching pants.
As she was dancing, Beyoncé turned to her daughter and attempted to hold her hand before playing with her braids after Blue Ivy appeared to miss her mom's cue to clasp hands.
Many people on Twitter joked that Beyoncé was reprimanding her daughter for the dancing, with some even suggesting it was the planned choreography from her upcoming Renaissance tour.
"Someone said she was hitting the tour choreo 🤯 that actually makes sense and Bey told her to keep calm and not spoil the unseen choreo," wrote one person.
Another added: "The way Black moms check us in public, with the smallest gesture and/or facial expression that is unreadable to strangers, but you know exactly WTF it means, is priceless."
And a third commented: "I know a 'stop it right now' moment when I see one."
But some thought it was a harmless misstep on stage because Beyoncé had been doing similar choreography until she attempted to hold Blue Ivy's hand.
"I seen that too. But Beyonce was going the choreo with her if you watch closely. I don't think she knew she was going to reach for her braids which threw her off," wrote one person on Twitter.
The video of the moment has had 22 million views at the time of writing, even though phones and cameras were banned from the exclusive performance.
Beyoncé was reportedly paid $24 million to perform 19 songs at the invite-only event which was her first live concert since 2018. That year she headlined Coachella in April and did a concert with husband Jay-Z at the Global Citizen Festival: Mandela 100.
She reportedly made other live debuts from The Lion King soundtrack in Dubai but did not perform any songs from her Renaissance album which some pundits presumed was because of its homage to queer culture. Homosexuality is banned in the United Arab Emirates and is a crime punishable by death.
The singer has come under fire for her performance there, with fans and LGBT groups condemning her choice.
"Are you all forgetting that Dubai is one of the most homophobic places in the world and all you gays are lapping up #Beyonce …..she's getting paid 24 million pounds to perform for a bunch of homophobic t****. She's not a idol of mines," wrote one person on Twitter.
And another added: "shoutout to Beyonce for dedicating her latest album to the LGBT community and then performing for a homophobic country. Her first concert in 4 years mind you."
Her publicist also shared some professional footage from the Dubai performance and told fans there was "more to come."