Secretary of State Antony Blinken declined to answer a line of questioning about Hunter Biden from a Republican congressman during his Monday testimony intended to be about the U.S. withdrawal from Afghanistan before the House Foreign Affairs Committee.
Pennsylvania Representative Scott Perry seemed to baffle Blinken by asking him about a seemingly unrelated issue: "A little off-topic here, but I think it is interesting. How long was your recent interview with the FBI, and was it a deposition?"
Blinken apologized and responded that he didn't know to what Perry was referring. Perry tried again, saying "Are you saying you have not had a recent interview with the FBI since becoming secretary of state?"
Blinken paused for a few seconds and looked taken aback. "I'm not sure what you're referring to, and I'm happy to take that up with you offline," he replied.
Blinken, who was present virtually, was there specifically to testify about the U.S. withdrawal from Afghanistan and seemed surprised by the nature of the question.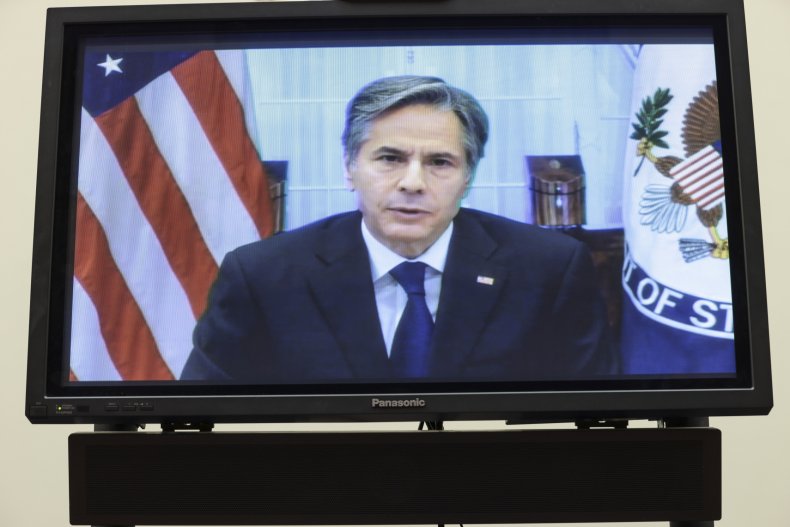 After this back and forth, Perry asked, "Did the State Department turn over documents to the FBI related to Hunter Biden, Burisma and/or the Blue State Strategies Corporation?"
Blinken responded that it would not be appropriate for him to comment in a public forum on the State Department's ongoing legal proceedings. Perry pressed forward, again asking if Blinken had been interviewed by the FBI since becoming Secretary of State, and Blinken again declined to answer.
At this point, Committee Chairmain Representative Gregory Meeks interrupted Perry to "remind the gentleman that the topic of this hearing is Afghanistan."
"The secretary generally refuses to answer questions about Afghanistan so I just figured we should talk about something he should be intimately familiar with," Perry replied, asking, "Have you sought to alter any of your testimony from last year's Senate investigation regarding this topic, Mr. Secretary?"
At this point, Meeks announced "The gentleman's time is expired," and struck the gavel.
Other members of Congress used their allotted time to speak to Blinken about the alleged leak phone call between President Joe Biden and former Afghan President Ashraf Ghani, what went on at the Kabul airport during the evacuation, Americans and at-risk Afghans still stranded in Afghanistan, and both the Trump and Biden administrations' lack of a clear withdrawal plan to go along with the exit deadline.
Representatives Joe Wilson of South Carolina, Lee Zeldin of New York and Tim Burchett of Tennessee all called on Blinken to resign from his post as Secretary of State.
Newsweek reached out to the State Department for comment but did not hear back before publication.