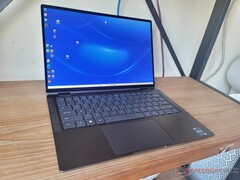 Expect performance to be almost identical to the Core i5-1235U and the integrated Iris Xe 80 EUs even though the Core i7-1260U and its Iris Xe 96 EUs may sound faster on paper.
Much like the 10th gen Ice Lake and Comet Lake series, the 12th gen series of mobile Intel CPUs has been steadily expanding to confusing levels. The latest is the Core i7-1260U designed for business laptops requiring vPro support. We recently reviewed the Dell Latitude 9330 2-in-1 which was one of the first models to ship with said processor as an option.
According to our initial benchmarks, overall performance is neck-to-neck with the non-vPro Core i5-1235U in both raw CPU computation and graphics. CineBench and 3DMark results are within single-digit percentage points between the two processors as shown by the graphs below. The latter is particularly surprising as the Core i7-1260U ships with the integrated Iris Xe 96 EUs that is supposed to be faster than the Iris Xe 80 EUs in the Core i5-1235U. The Core i7-1260U can essentially be treated as a Core i5-1235U when it comes to performance.
Additional benchmarks and comparisons can be found on our full review on the Latitude 9330 2-in-1 here.

Allen Ngo – Lead Editor U.S. – 4980 articles published on Notebookcheck since 2011
After graduating with a B.S. in environmental hydrodynamics from the University of California, I studied reactor physics to become licensed by the U.S. NRC to operate nuclear reactors. There's a striking level of appreciation you gain for everyday consumer electronics after working with modern nuclear reactivity systems astonishingly powered by computers from the 80s. When I'm not managing day-to-day activities and US review articles on Notebookcheck, you can catch me following the eSports scene and the latest gaming news.
Allen Ngo, 2022-11-22 (Update: 2022-11-22)