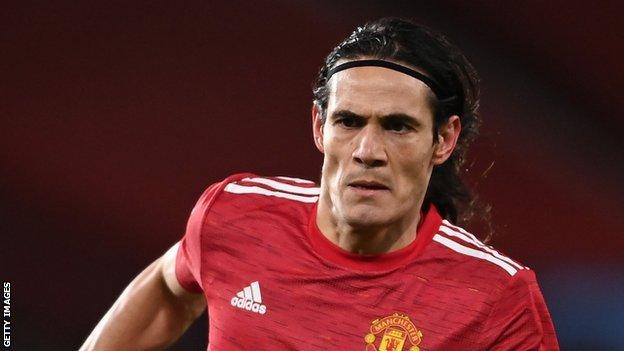 Manchester United striker Edinson Cavani "does not feel comfortable" and could move back to his native South America, his father said.
The Uruguay forward, 34, joined United on a free transfer last October on an initial one-year deal having left Paris St-Germain.
He has scored seven goals in 25 appearances this season.
"There is a 60% chance that Edinson will come to South America," Luis Cavani told the TyC Sports network.
However, on Tuesday night Cavani posted a photo on his Instagram account of him playing for United with the caption "proud to wear this shirt".
Cavani's deal has the option of a further year and Manchester United boss Ole Gunnar Solskjaer said "no decision has been made for next season".
He added: "I cannot comment on what has been said, I can only say we are very pleased with Edinson.
"He probably wishes he had played more often but the aim now is to get him playing as much as possible until the end of the season, then he will make a decision."
In the interview with TyC Sports Luis Cavani said: "We are very anxious. We have always been to visit him, he has been in very beautiful places where people have received him very well.
"He has made himself loved, he has made many friends, but today he does not feel comfortable where he is.
"He has been thinking for more than two years that he wants to be closer to his family and that is the reason why I think Edi is going to end up playing for a team from here in South America."
Cavani's father said he could move to Boca Juniors in Argentina.
"I know that he would like to play and be close to his country, so that we could be closer to him," Cavani senior added.

DeLorean: Back from the Future:

How a fairytale went horribly wrong

Snowfall:

A new drug hits the streets of LA and changes the game forever…