An official from Estonia has offered congratulations to Ukraine, after the country allegedly carried out a successful attack on a bridge in Crimea on Saturday.
The bridge in-question connects Crimea, the Ukrainian region seized and annexed by Russia in 2014, to the Russian mainland by crossing the Kerch Strait. Due to this connection, it is considered strategically vital for Russia as a logistical corridor and supply line.
Ukraine itself has not claimed any responsibility for the explosion that rocked the bridge, causing parts of the structure to collapse. Russia itself claimed that the incident was caused by a lorry truck explosion, though this claim has not been independently verified.
Despite this uncertainty, Urmas Reinsalu, the foreign minister for Estonia, credited the explosion to Ukraine in comments made to the media and congratulated the country's alleged efforts, according to The Kyiv Independent.
"Estonia certainly welcomes this and congratulates the Ukrainian special operations units, who are expected to be behind this operation," Reinsalu said in a statement to Estonia press outlets.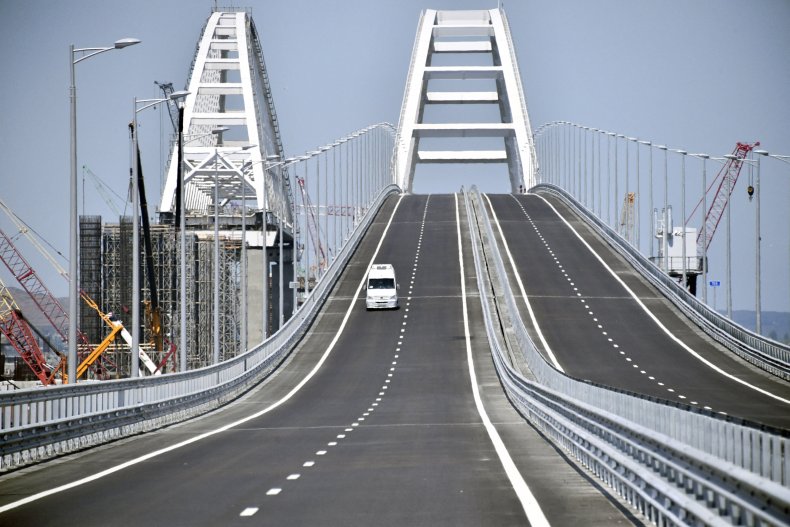 Mark Hertling, a retired U.S. military commander, discussed in a Twitter thread how the bridge damage will affect Russian logistics, comparing it to a similar incident he encountered in Iraq in 2007, saying that his engineers had to work quickly to alleviate the situation.
"In Iraq, our terrific military engineers were able to quickly repair the Q Bridge," Hertling tweeted. "Due to the location, the scope of the damage on both rail and road sections, & the incompetence of RU military, I don't see repairs being possible on the Kerch Bridge any time soon."
Despite the Ukrainian government not taking credit for the Kerch Bridge explosion on Saturday, it has frequently spoken out against it in the past, calling its construction illegal and that it was considered a potential military target. Several Ukrainian officials also took to social media in the wake of the explosion, celebrating the damage done to the bridge while not outright claiming responsibility.
"Crimea, the bridge, the beginning," Mykhailo Podolyak, an adviser to Ukrainian President Volodymyr Zelensky, said in a tweet. "Everything illegal must be destroyed, everything stolen must be returned to Ukraine, everything occupied by Russia must be expelled."
"The guided missile cruiser Moskva and the Kerch Bridge – two notorious symbols of russian power in Ukrainian Crimea – have gone down," the Ukrainian Defense Ministry added in its own tweet. "What's next in line, russkies?"
In an earlier statement to Newsweek, Dr. Mike Martin, a visiting fellow at King's College London's Department of War Studies, explained how the damage to the Kerch Bridge will affect the Russian military effort in Ukraine.
"The downing of the Kerch Bridge is going to have a huge effect on Russian logistics, and obviously logistics are super-important in war," Martin said. "There's only one other rail link to supply Russian forces in Crimea and in Kherson, and that's within artillery range of the Ukrainians and it runs just north of Melitopol."
He added: "Strategically or symbolically, Putin's totally tied up with this bridge. He inaugurated it by driving across it. Already, there's a feeding frenzy, a blame game, going on in Moscow, and this is perfectly timed to pour fuel onto that feeding frenzy."