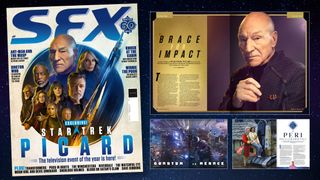 (Image credit: Future)

The gang's all here! A host of Star Trek: The Next Generation characters are featured on the cover of SFX 362, as Jean-Luc teams up with Crusher, LaForge, Riker, Troi and Worf for the third season of Star Trek: Picard.
Below we run down some of the highlights of the issue. UK readers, don't forget: you can use this store locator (opens in new tab) to find a stockist near you, or order a copy online (opens in new tab) for the same price it is in the shops.
Star Trek: Picard
Trust us: even if you were a bit lukewarm about the first two series of Picard, you'll want to watch the third – it is quite something. We speak to showrunner Terry Matalas plus returning stars Gates McFadden and Jonathan Frakes for a 10-page feature.
Ant-Man and the Wasp: Quantumania
The multiverse? Pfft. Old hat. The macroverse is where it's at now. We peek through a microscope at the latest Ant-Man adventure in the company of screenwriter Jeff Loveness.
Knock at the Cabin
Knock knock! Who's there? M Night Shyamalan. M Night Shya… wait, what's funny about that? Nothing at all mate, it's just a tenuous way of introducing our feature on his new movie, which takes Paul Tremblay's horror novel The Cabin at the End of the World and twists it into new shapes.
Dave Gibbons
The artist renowned for his work on Watchmen, 2000 AD and (if you're us) Doctor Who Weekly's "The Star Beast" has written an "anecdotal autobiography", Confabulation. We interview the comics great and get a peek at some of the visual treasures contained in the book.
Doctor Who
In the latest instalment of our year-long celebration of Doctor Who's up-coming 60th anniversary, we chat to Nicola Bryant about playing Sixth Doctor companion Peri.
Blood on Satan's Claw
We talk to screenwriter Robert Wynne-Simmons about his script for the 1971 folk horror classic Blood on Satan's Claw, which he's now fleshed out into a new novelisation.
And that's not all, feature-wise! We also quiz the director of childhood-defiling horror Winnie-The-Pooh: Blood and Honey, have a chinwag with Alan Tudyk about voicing Optimus Prime, profile SF novelist Ian McDonald, and get Ramsey Campbell to fill out our author questionnaire.
Red Alert
And the big features are just the tip of the iceberg! As ever, our news section, Red Alert, is crammed with insights into yet more movies, TV shows, comics and books. In the spotlight this month: Puss in Boots sequel The Last Wish; animated Marvel show animated Moon Girl and Devil Dinosaur; the second half of The Winchesters season one; NYC apartment building thriller The Watchful Eye; and Archie, Blade, Sherlock Holmes and Static comics.
Reviews
The SFX verdict on M3GAN (so annoying to type…) kicks off 20 pages of searing critical analysis, as we inform you which of the latest films, TV shows, books, comics, audio plays, and video games are worth splashing your hard-earned cash on!
Buy this issue as a digital edition
Fancy having this issue on your iPad instead of as a print magazine? Here's how.
You can purchase a digital single issue (or digital subscription) directly from us via MagazinesDirect (opens in new tab). Just click on the down arrow next to "rolling subscription" and select the "single issue" option.
Alternatively, Apple users can search for "SFX magazine" in the App Store. Once you've found our page, install the SFX app and hit Open to be taken to the SFX storefront.
We're also available on Android via Pocket Mags (opens in new tab) and Zinio (opens in new tab). Most digital formats give you a 30-day free trial, so you can try before you buy!
Having trouble finding a print copy?
If you live in the UK you can use this handy guide (opens in new tab) to find who's stocking SFX near you.
Live nowhere near a newsagent's, or outside the UK? You can always order a copy online (opens in new tab). Please note the following expected timescales for delivery: UK: 3-7 working days. Europe: 7-14 working days. USA/rest of the world: up to 5 weeks.