Sign up for the GI Daily here to get the biggest news straight to your inbox
GamesIndustry.biz Game Changers is a series of profiles on the groups and individuals going the extra mile to make the games industry a better place. These interviews encompass folks from around the world helping to improve conditions and attitudes towards diversity, equity, inclusion, accessibility, mental health and more. You can read more Game Changers interviews here.
Laila Shabir isn't quite our usual Game Changer. In fact, she might even be the opposite.
Not because she doesn't deserve it, but because we're often keen to recognise new initiatives, and people we've not featured in the past. Laila Shabir was among our People of the Year 2014, which is alarmingly close to a decade ago and makes us all feel very old.
As part of Girls Make Games, not only has she continuously worked to make the industry a better place, but she has adapted to a changing ecosystem to foster the next generation of game makers. Two months ago, she launched the Girls Make Games Scholarship Fund, a charity to improve access to education for young women looking to have a career in the games industry.
"Girls Make Games [is] a programme that exposes girls to video game development and encourages them to explore careers in gaming, but also to use gaming to figure out what they want to do with their lives," Shabir says.
"I had no intention of being here. This is all very accidental. But if it's a need, you just rise to the occasion"
As we explain how the GamesIndustry.biz team was keen to recognise the longevity of the project and its most recent developments, she ponders over the past decade and how things have evolved.
"Girls Make Games was founded during a pretty nasty summer," she says. "It was the summer of Gamergate. And one of the reasons the programme rose to prominence was because we were on Twitter and all of this was going on up there, and people just got attached to the concept and the idea."
Girls Make Games was supposed to be just one summer camp. Shabir and her husband, Ishtiaq Syed, had just founded educational game development company LearnDistrict, and were keen to get started.
"I'm an economist by training, and a banker [by] experience, but I had no idea how to make games or what the industry was like. When I started making my own game and recruiting teammates for that, that's when I personally felt the pain of recruiting women. And going to conferences and conventions, hearing over and over again that girls don't play games, really brought me down, because I was like, 'I just left my job to do this, and to make educational games for kids, and if only boys are going to play them, I don't know if I want to do this. So, let me see if there is a way to meet the girls and find out why they don't want to play games'."
And that's how the first summer camp started, Shabir and Syed taking flyers to a local event and "signing up a whole bunch of kids."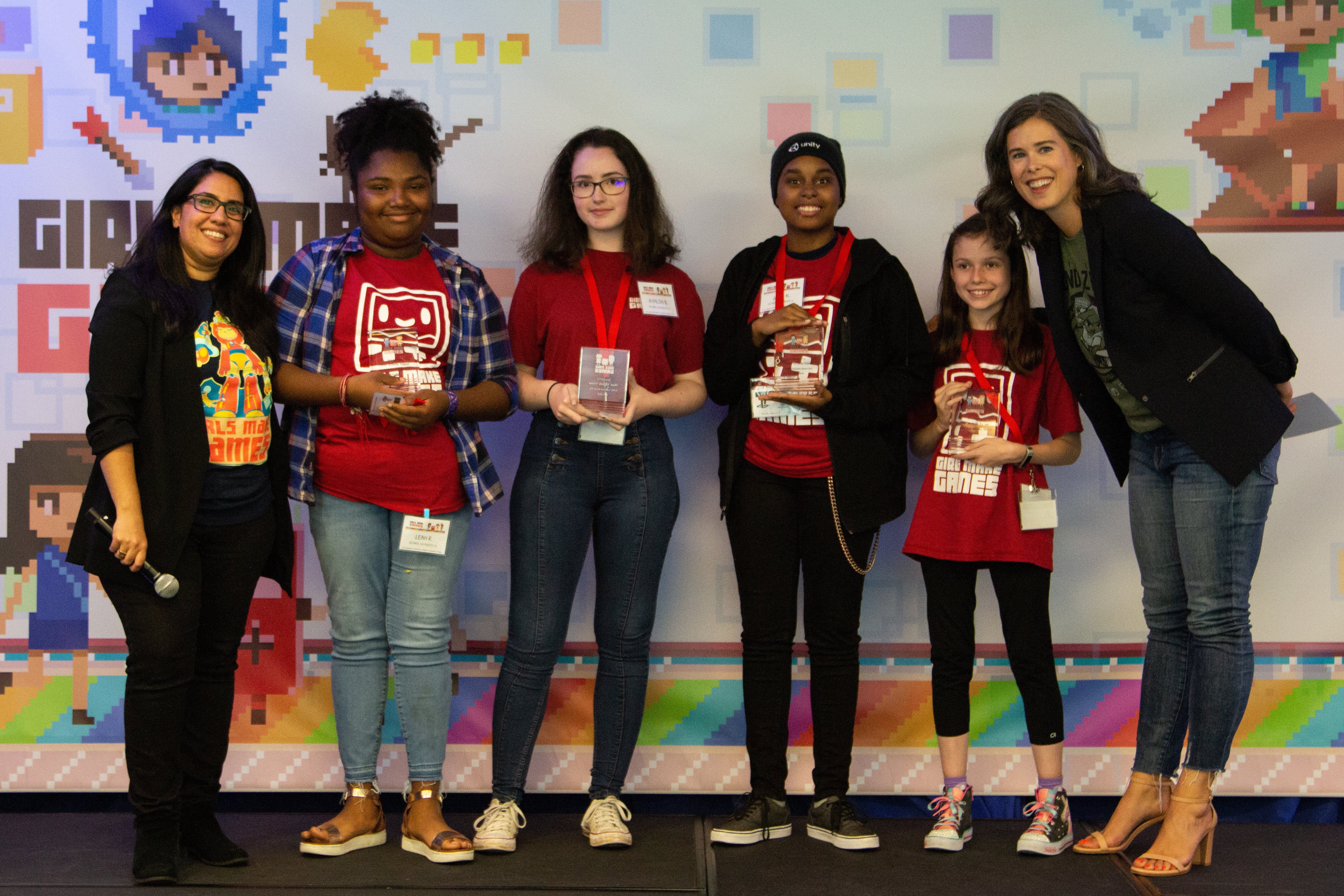 "That camp changed me, because watching those kids and how they interacted, and the kinds of games that they made… Those games don't exist in the marketplace. Those games don't exist anywhere, because these girls are not making them for an audience. They're making them for themselves. The audience is people like themselves, and that's essentially what all art is, right?
"At the end of that camp, it was a very emotional day, and they were like, 'Alright, see you next year,' and we were like, 'Next year?'. And then, on Twitter, people were [saying], 'Here's a programme that's addressing the gender gap in the industry, let's not talk about [Gamergate] too much. Let's talk about positive stuff. Let's support this.' And so, from both ends, I was being pulled into this. I had no intention of being here. This is all very accidental. But if it's a need, you just rise to the occasion, or whatever people need from you, and do that. And so that's what we've been doing for ten years."
Girls Make Games' flagship event remains its annual summer camp, every July. Shabir points out that it has a really high retention rate – 80% – meaning the same kids keep coming back year after year, from age eight to 18.
"This is basically their summer home. I've gotten really attached to them, and they've gotten attached to the programme and each other," Shabir says. "I've witnessed what it takes for a young girl to go from 'I love video games and I love making princess stories' to, when they get older, 'Why aren't there more games addressing this topic?', 'I wish I could go to college, but it's so expensive,' 'I wish I could find a mentor in the industry who looked like me.' Through these conversations, we were able to figure out what we wanted to do next."
The organisation established workshops and mentoring opportunities. And while Shabir is really proud of the summer camp's retention rate, she points at the other side of that coin: "We need to reach more schools," she says.
"We're looking at that one child. If you can serve one child really well, then scaling that just becomes a financial and resource problem"
"We've been all over the world at really cool spaces, but the thing about these spaces is that they're not accessible to the kids that might really need a programme like this. We need to go to their schools, we need to go to their communities."
That's what the newly founded charity Girls Make Games Scholarship Fund aims to address, among others.
"We would love to be able to financially support our alumni who want to go to college, because, really, if tuition is a thing standing in the way of you becoming a game developer, that's an easy problem to solve," Shabir says. "And if mentorship is the thing getting in the way, that's easy. Internships [as well]. We just need to centralise all of this. For now, we're only awarding scholarships for our summer camps that are next year, but in spring, we're going to start announcing our mentorship programme, [and] our college tuition scholarships."
Shabir mentions how life changing getting a scholarship was for her.
"I came to the US on a college scholarship, so that has been a life-changing, transformative experience that I wouldn't have been able to experience. It's very personal in that way, making college accessible. It's so bizarre that we have to pay for it in the US, and graduate with all this debt. So, we're hoping to make at least a small dent in making it accessible."
She highlights that a lot of parents still aren't okay with their child studying game development, so "tacking on the tuition bill" adds another barrier, which she's hoping to lift.
"I've seen what computer science scholarships and outreach has done to the computer science space, and how many women have actually been able to enter. And I was like, 'That's incredible. We need that in video games, because that's the pipeline.' We can't make that jump from a 13-year-old at camp, passionate about gaming, to a game developer; they can't be left on their own between that time. So, it was very important for us to find that connection."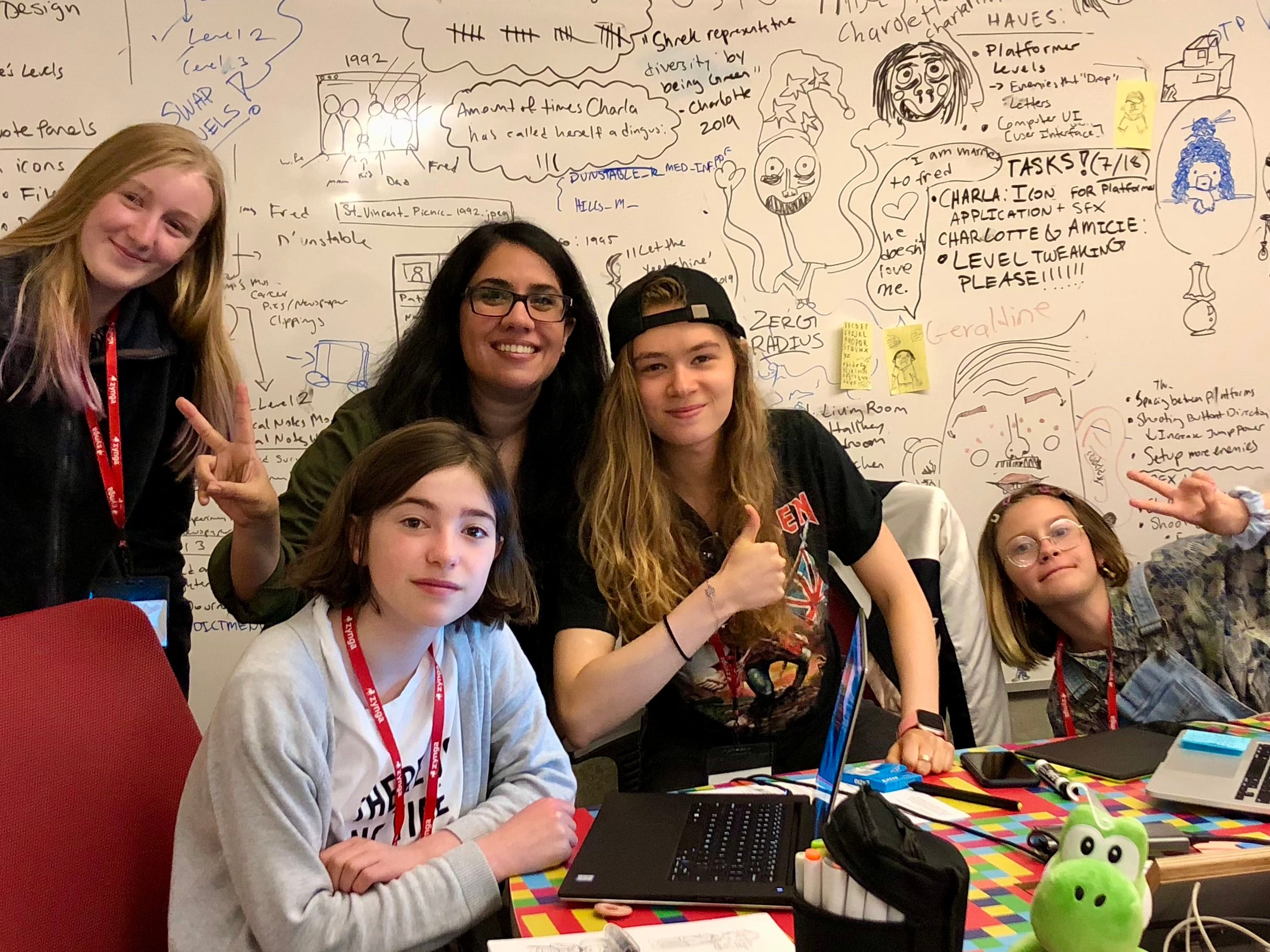 She adds that the fund is not only about making the Girls Make Games program more financially accessible.
"It has always been financially accessible, that's not new," she points out. "Even though Girls Make Games is not a non-profit, we never turned a kid away. If they have a financial need, they would attend and pay what they can, and more often than not, pay nothing. 70% of our kids attending have some form of financial assistance. But the issue always remained: they couldn't come to camp. So, we would have kids who would be like, 'I could come there in an Uber, if someone could pay for an Uber.' And so, we would pay for their Uber rides just to get them to camp. So I'd love to reach the kids where they are."
It's about supporting young women through the entire pipeline, from scholarship, to mentorship, to internship, so that, by the time they graduate, not only are they "book smart," Shabir says, but also got to experience the industry and know what they want to do.
"We're looking at the girl," she continues. "We're looking at that one child. If you can serve one child really well, then scaling that just becomes a financial and resource problem."
"Why do women not end up staying in the industry? Because we certainly have a retention problem, and that retention problem comes from a work culture problem"
Shabir mentions the support of PlayStation, Nintendo and Take Two as instrumental in making these initiatives come to life.
"They've not only supported hundreds of scholarships, they've also hosted our summer camps and ensured the program survived the pandemic and beyond," she says.
She adds that, at this stage, the best way to support Girls Make Games is to support the scholarship fund, and the three programmes it's offering (college scholarships, summer camp scholarships, mentorship programme).
"We're hoping to not just throw our kids out there into these internships. We would love to be able to craft these experiences with the studios. Because why do women not end up staying in the industry? Because we certainly have a retention problem, and that retention problem comes from a work culture problem. So, we need to be having these conversations. Our expertise is working with kids, and working with young women. We would love to tell the story of what would work for them, and what kind of models would work great. Exploring that together would be very interesting."
Change takes time, and while there are more and more inclusion conversations happening in the industry, practical solutions are still few and far between.
"It definitely takes time," Shabir says. "And it makes sense. I mean, businesses, they've got a lot of objectives, and retaining women might not be at the top of them, but retaining talent should be at the top.
"All this time, we've focused on keeping kids engaged with gaming, showing gaming as a positive source of education and entertainment and enrichment, because when I started my studio with educational games, my goal wasn't really to get kids into gaming. My games were not about gaming. They were about vocabulary, or being a kinder person, just generally informative and educational and fun. And it's a great getaway for kids to enter STEM. So, it's not just video games. It's engaging with technology, gaining confidence with technology."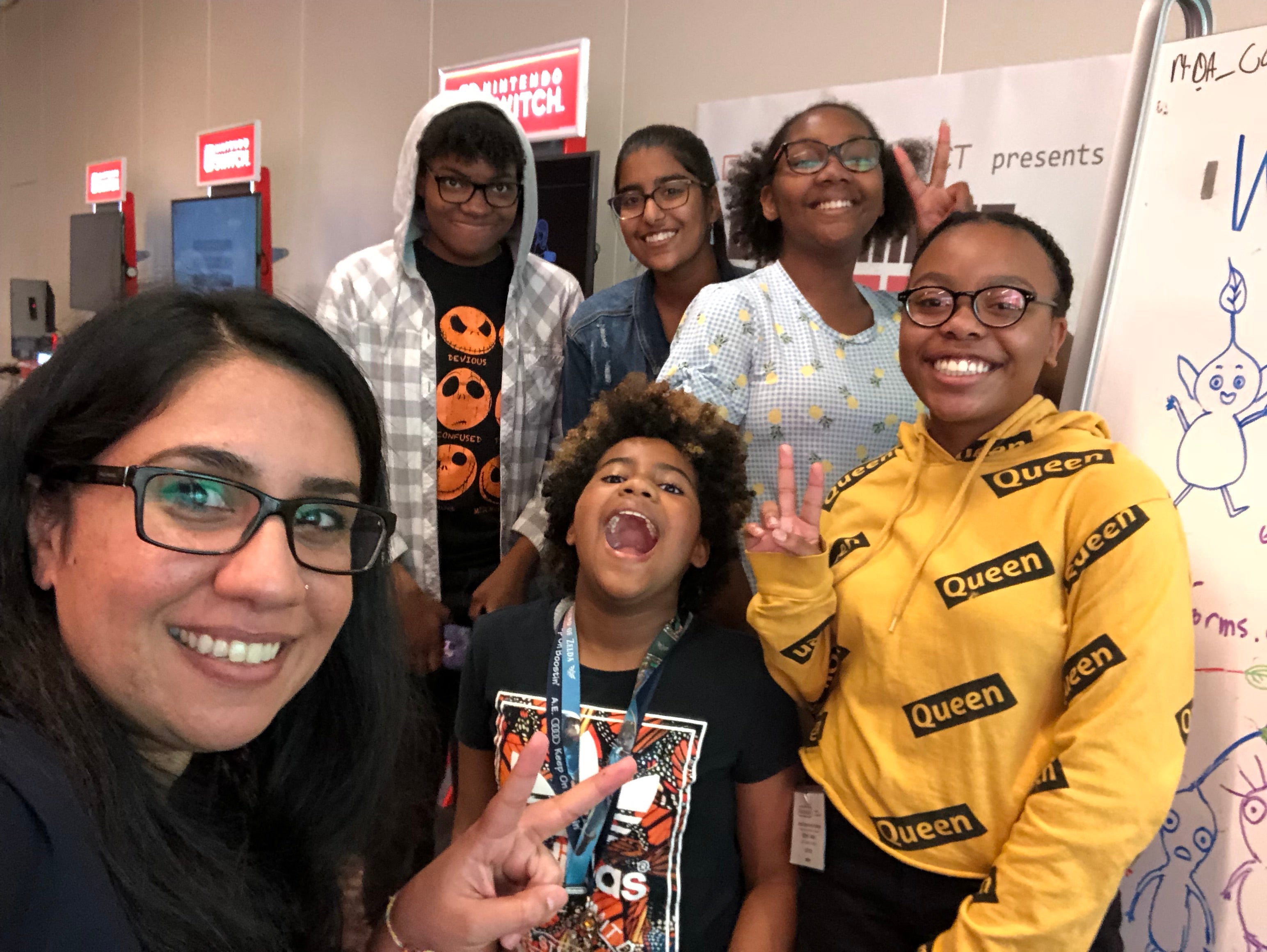 She points to the need of going beyond just being "consumers of things."
"Anyone who loves to read, I'd encourage them to write. Anyone who loves to play games, I'd encourage them to make games. Seeing both sides of the coin is just really important, and gives you a whole new perspective. So, creating more creators, I would say. And what better time to do it than when you're young? You have all the time in the world. It's going to be gone. You'll fill it with laundry by the time you're 20," she laughs.
"It's not just video games. It's engaging with technology, gaining confidence with technology"
With the Girls Make Games Scholarship Fund, Shabir has the "very ambitious goal" to reach 100,000 girls and young women within three years, she shares.
"Obviously, it's not going to be 100,000 college scholarships, but it's going to be 100,000 people that we can reach through our programmes, our efforts, and our education. And I'd love for that to be global, because that's one of the things that the pandemic definitely opened up for us through our virtual programmes.
"My family is from Pakistan, so I have a soft spot for Pakistan myself. We're talking to organisations there that work with public schools to see if there's a way to bring our curriculum and resources into the classroom. I'm going back to UAE in January to see my hometown, and maybe partner with the school that I went to, where it all began. I'm very excited about the possibility of having a larger footprint over the next few years through the scholarship fund."
Shabir ends our chat by reiterating that Girls Make Games is always looking for more partners to build out mentorship and internship programmes.
"We want to be able to get these amazing, talented young women to them so we can build the future of the industry together," she concludes.
Sign up for the GI Daily here to get the biggest news straight to your inbox