Formula One drivers are known to dress flamboyantly. Lewis Hamilton has always been sharp when choosing his drip. The newest addition that had caught the eyes of the fans is the Alpha Romeo driver Zhou Guanyu. But who did George Russell pick for his three best-dressed Formula One drivers? Does his Mercedes teammate Lewis Hamilton make the list?
ADVERTISEMENT
Article continues below this ad
Given that he regularly features for Belstaff, a subsidiary of the Mercedes F1 team's sponsor, INEOS, George Russell is a pretty smart dresser. Then why did he not include himself in the list? Who does he consult for his fashion choices?
ADVERTISEMENT
Article continues below this ad
Did Lewis Hamilton make it to George Russell's fashion podium?
Mercedes driver George Russell recently appeared on 'The Only Podcast That Matters.' He got candid about various aspects of his life ranging from dealing with pressure to the influence of 'Drive to Survive', and fashion, among other things. Talking about fashion, he was asked if there was a podium for best-dressed drivers in Formula One, who would he pick.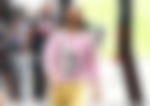 To this, George answered, "I think Gasly is a pretty stylish guy. He's French, he's got that look, he's got a little facial hair… He's always looking pretty good and then obviously Lewis… He's got to be there. They're probably the two who are, probably not somebody like a Sebastian Vettel. He's rocking a headband at the moment… he knows it as well, I like it, I respect it."
For the third guy, one of the podcast hosts asked, "Who's that Ferrari race director with little glasses?" To this George said, "Mattia Binotto, yeah! I mean Italians are always pretty stylish, aren't they? I'd say, Charles, you know,… they're pretty free."
Before answering this question though, George asked if he could pick himself, but then quickly decided against it. He said that he constantly gets asked who his favorite Formula One drivers are. George said that he never picks himself because it would sound too arrogant. He continued, "So, I'll just say that I'm deserving of a podium spot. I won't put myself on for the sake of this."
Who influences George's wardrobe the most?
ADVERTISEMENT
Article continues below this ad
After talking about other issues, the conversation came back to fashion. George was asked about how much his fashion is influenced by his girlfriend Carmen.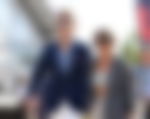 George said, "She has all the influence. Whenever I put something new, I always look for a bit of her approval. When she's like, Ummm…, I'm like, okay, I'm changing, put something else on."
ADVERTISEMENT
Article continues below this ad
Watch This Story: Spotted: F1 Stars Max Verstappen & George Russell Enjoy Miami Heat's Dominant Surge at NBA Playoffs
You can't help but agree with the Mercedes man's list of best-dressed men in F1. Or maybe there is a new contender on the block, Zhou Guanyu?