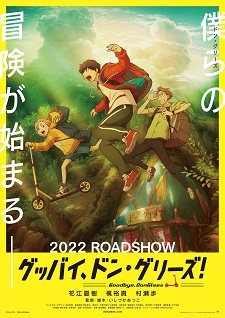 The official website of the Goodbye, DonGlees! original anime film unveiled the main cast, additional staff, a teaser visual (picture), and teaser trailer on Friday. The film is scheduled to open in Japan in 2022.
Cast
Roma (Rouma Kamogawa): Natsuki Hanae (Vanitas no Karte)
Toto (Hokuto Mitarai): Yuki Kaji (World Trigger)
Drop (Shizuku Sakuma): Ayumu Murase (Mairimashita! Iruma-kun)
Staff
Art Director: Ayano Okamoto (BanG Dream! Film Live)
Art Board Production Cooperation: Saho Yamane (Shinsekai yori art director)
Art Setting: Eiko Tsunadou (Hanayamata), Akihiro Hirasawa (Hisone to Maso-tan)
Color Design: Harue Oono (Chihayafuru 3)
Director of Photography: Yuuki Kawashita (Vinland Saga)
3D Director: Shigenori Hirozumi (Death Parade), Kana Imagaki (Kono Subarashii Sekai ni Shukufuku wo! Movie: Kurenai Densetsu)
Editing: Kashiko Kimura (ACCA: 13-ku Kansatsu-ka)
Music: Yoshiaki Fujisawa (Uchouten Kazoku)
Sound Director: Jin Aketagawa (Dr. Stone)
Sound Effects: Rei Ueno (Vivy: Fluorite Eye's Song)
Atsuko Ishizuka (Sora yori mo Tooi Basho, No Game No Life) is helming and penning the anime film at Madhouse. Takahiro Yoshimatsu (Hunter x Hunter (2011), Overlord) is designing the characters. Kadokawa is credited with production.
Teaser Trailer
Source: Press Release