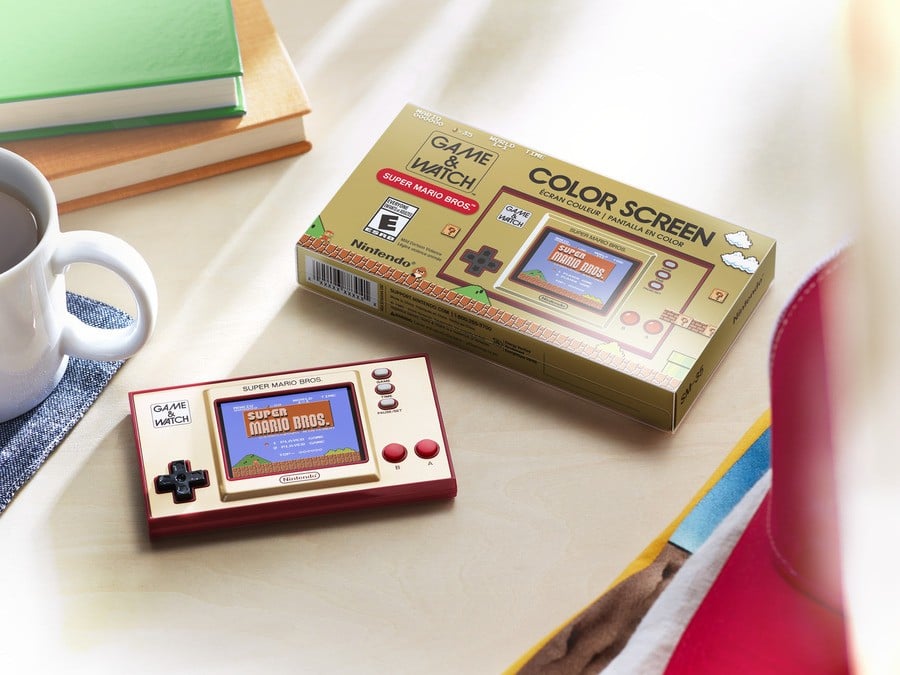 Update 10th March 2021: UK readers can grab a bargain on the Game & Watch Super Mario Bros. today to celebrate MAR10 day. It's been discounted £29.99 at Amazon UK and Currys PC World. AO.com have the best price at only £29. Get in there quick!
---
Much like the NES and SNES Mini before it, the dinky Game & Watch: Super Mario Bros. is sure to be a collector's item and hard to get your hands on in the future. Naughty scalpers are sure to have a field day with this one!
Game & Watch: Super Mario Bros. arrives in stores on November 13th and it includes the following retro-tastic Mario games (and a clock!):
Ball (Mario version)
A digital clock
Please note that some external links on this page are affiliate links, which means if you click them and make a purchase we may receive a small percentage of the sale. Please read our FTC Disclosure for more information.
Buy Game & Watch Super Mario Bros. In The UK
At the time of writing, UK readers have their pick of places to order from. The official Nintendo Store UK has the unit £5 cheaper than the competition, except for ShopTo which shaves fourteen pennies off Nintendo's price and is currently the best deal available.
Buy Game & Watch Super Mario Bros. In The US
Stock has been impossible to pre-order in the US, although some stores are now starting to show the Game & Watch as being in-stock and ready to add to your cart. The following product pages are now live, so keep trying and good luck!
Import Game & Watch Super Mario Bros.
On the import front, stock is sold out at the official Nintendo site in Japan and Play Asia, too. The official Nintendo option only ships to residents of Japan anyway, but with Play Asia apparently sold out of its allocation, it looks like US residents will have to sit tight for the time being.
We're keeping on the lookout for more G&W Super Mario Bros. pre-orders, so watch this space!