Super Mario, leading the way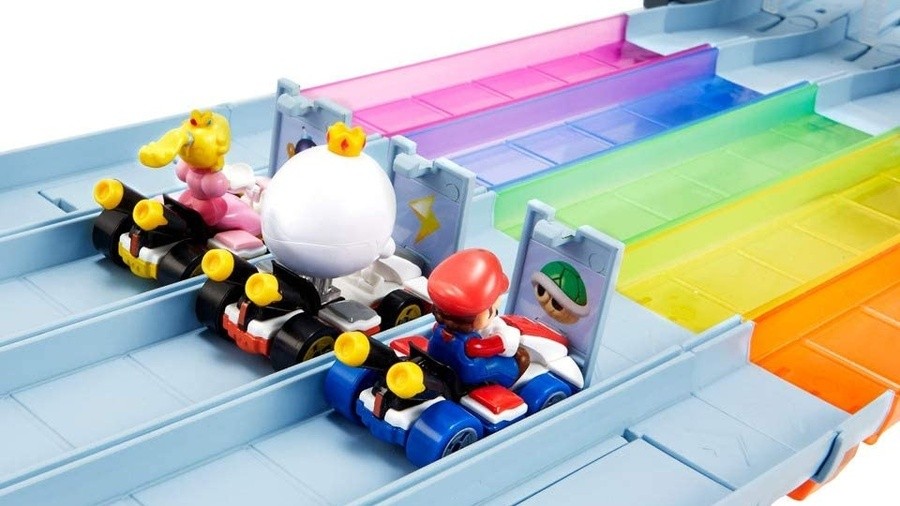 Following on from the MAR10 Day celebrations this week, a surprise listing on Amazon has now revealed Hot Wheels will be releasing a new Mario Kart track based on the legendary Rainbow Road Raceway. It's expected to arrive on 29th May and will be priced at $119.00 USD.
According to IGN, it'll come "Mario and King Boo karts" and is a reconfigurable track – transforming from winding roads to a straight line. Based on the photos, it appears Lakitu is also included in the track parts. You can also see Luigi, Peach and Yoshi one of the shots, but they may not necessarily be included.
Hot Wheels has also been promoting its special Mario Kart Glider line earlier this week to celebrate Mario Day:
If you would prefer Super Mario toys rather than Mario Kart-themed ones, you might be interested in Jakks Pacific's recently revealed Super Mario toy line, arriving this Fall. Hot Wheels fanatics can also be on the lookout for the new game Hot Wheels Unleashed, coming to the Nintendo Switch this September.
Is a Rainbow Road Raceway track the Hot Wheels-themed track you've been waiting for? Tell us down below.
[source ign.com]