The man behind a parody Eli Lilly account that declared insulin to be free told Newsweek he is "pleasantly surprised" his tweet sparked a discussion about the cost of the drug.
Sean Morrow, 33, from New York, set Twitter ablaze on November 10 with nine words: "We are excited to announce insulin is free now."
For Twitter users used to quickly scrolling down their feeds, the verified @EliLillyandCo account might have appeared genuine with its blue checkmark.
But it was one of the numerous parody accounts that took advantage of Elon Musk's original $8 Twitter Blue scheme to troll a major company.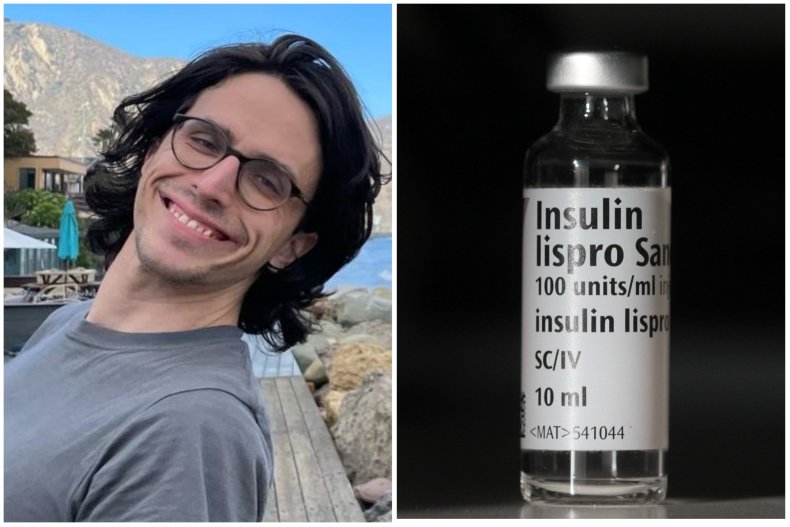 On November 11, Eli Lilly shareholders winced as its stock price fell from $368.72 to $352.30 within hours of the tweet being shared, although it has since recovered.
Morrow told Newsweek he did not believe his tweet directly impacted Eli Lilly's share price and said: "The stock market is complicated and corporate values rise and fall every day for a multitude of reasons.
"I didn't see the tweet as related to the temporary dip at all. Even in the unlikely situation where the tweet affected the stock, it was not due to deception—no one truly believed that insulin was free—but due to the bad PR of the burst of awareness of predatory price gouging."
Morrow, a staff writer for More Perfect Union, first revealed he was behind the account in a video shared on his work's Twitter account on November 22. The seven-minute clip has been seen more than 590,000 times since being shared online.
According to a September 2021 Lilly Investors news release, the price for an Insulin Lispro injection was $82.41 for individual vials and $159.12 for a pack of five pens.
The American Diabetes Association said people might need one to four injections per day depending on what type of diabetes they have and how advanced it is.
In 2019, the Centers for Disease Control and Prevention said 37.3 million people in the U.S. had diabetes.
A 2018 study led by Imperial College London found one vial of insulin cost between $2.28 to $6.16 to produce.
According to The Guardian, Eli Lilly CEO David Ricks later conceded insulin pricing could be lower, adding Morrow's tweet "probably highlights that we have more work to do to bring down the cost of insulin for more people."
Morrow said "it was a total shock" to see his tweet, which he retweeted to a small following, received tens of thousands of likes and retweets.
He added: "So, of course, I'm pleasantly surprised that this reignited the discussion of insulin pricing—with the CEO of Eli Lilly admitting that the tweet 'probably highlights that we have more work to do to bring down the cost' being the cherry on top. But I had no idea it would go that far.
"That said, the CEO's comment doesn't mean much until they do something: the phrasing is key. 'Probably highlights' bringing down 'the cost.' Not the price—that's what consumers pay, but the cost—that's how much the producers pay to make it, which is a tiny fraction of what uninsured patients pay. They still want to protect their astronomical margins."
Morrow told Newsweek Eli Lilly had not contacted him after he took responsibility for the tweet.
He said: "I'm firmly confident that no laws were broken and in firmly confident in my legal rights.
"The tweet was clearly satire for a reason no pharma company would ever want to admit: in the United States healthcare is so profit-driven that any medication being free, or even cheaper, is so absurd it must be satire."
The writer said Musk's Twitter Blue scheme showed a "basic misunderstanding" of what verification meant on the platform, adding: "It's not a status symbol. It's for what it says in its name: verification."
Morrow confessed to being nervous about the direction Twitter appears to be headed in, adding: "It might sound silly to pine nostalgic over a website but Twitter truly was a powerful tool for open source information sharing, community organizing, mutual aid, advocacy, and building movements. That is all at risk, and there is no clear alternative yet."
Newsweek has contacted Eli Lilly for comment.
Dan Ives, a business analyst with Wedbrush Securities, told Newsweek the Eli Lilly case showed significant flaws in Musk's Twitter Blue plan, which had been used to verify the identity of famous users, government departments, corporations and major charities.
Ives added: "This was another black eye moment for Musk and Twitter, which ultimately highlighted the clear flaws with the rushed verification idea. A cautionary tale."
Musk completed his $44 billion Twitter takeover last month and made drastic changes to the social media giant, including massive staff layoffs.
The billionaire justified the $8 Twitter Blue subscription fee as the social media platform has failed to make a profit in the last 10 years.
He wanted to clamp down on impersonation accounts that did not state "parody" in their bio and said anyone who violated the rules would be "permanently suspended."
But Musk has faced criticism over his tenure at Twitter and has been accused of banning "anti-fascist accounts" while lifting suspensions for conservative users, such as former President Donald Trump.