Apple has launched new iPhones for 2023, but there's another iPhone update coming to all iPhones from the iPhone XR up: iOS 17. This big OS update was made available to hundreds of millions of iPhones today: Monday, September 18, 2023.
At the WWDC keynote on June 5, Apple unveiled the new features coming in iOS 17. Among them contact posters, NameDrop, StandBy, Live Voicemail, FaceTime video voicemail, a whole new Siri voice recognition model, huge improvements to autocorrect and dictation, and a lot more.
It's almost like getting a new iPhone without paying a penny. In this article, we discuss everything you need to know about iOS 17.
Update 9/18: iOS 17 is out now! Our guide has been updated to focus on what you need to know about the released version.
iOS 17: What's the latest version?
The initial iOS 17 release was on September 18, but there will be a lot of updates over the coming months, both minor point releases for bugfixes and security updates and major releases that add new features.
Not seeing the update yet? Some people started seeing the iOS 17 update at 10 am ET, 1 pm PT or 6pm BST, but it may take a while before it arrives on your iPhone.
Here's a look at just some of the iOS 17 features coming in later updates.
iOS 17 beta: Latest version
Apple has run a beta program since it revealed the details of iOS 17 at WWDC. Now that the full version of iOS 17 is available to the public the beta testing will continue. The current beta version is the iOS 17 Release Candidate, but Apple is likely to start work on iOS 17.1 very soon, which is likely to address any early bugs and problems with the first version of iOS 17.
If you'd like to continue to receive iOS 17 beta updates read How to get the iOS 17 beta on your iPhone. We also describe how to revert from iOS 17 beta to a non-beta version of iOS for those testers who wish to use the full version of iOS 17.
iOS 17: How to install iOS 17 on your iPhone
Installing iOS 17 couldn't be simpler. Just follow these steps:
Open the Settings app
Tap General
Tap Software Update
On this screen you'll see the version of iOS you have installed, and if a new version is available it will say so. It may say "Install Now" if the update was already downloaded in the background but not yet applied, or "Download and Install" if you haven't even downloaded it yet.
Just follow the instructions there to upgrade to iOS 17. You may need to re-agree to terms and conditions, and it will take several minutes to download, verify, and apply. Then your iPhone will restart, and you'll be presented with some welcome screens that introduce new features.
We have more information about installing iOS 17 and addressing any issues with it here: How to update to iOS 17 on your iPhone.
iOS 17 Compatibility: Which phones can run the latest software?
iOS 17 will not support the iPhone 8, 8 Plus, or the iPhone X. They are all able to run iOS 16 though, so they should get support through security updates for at least another year. The following iPhones get support for iOS 17, although some won't support all of the new features:
iPhone 15
iPhone 15 Plus
iPhone 15 Pro
iPhone 15 Pro Max
iPhone 14
iPhone 14 Plus
iPhone 14 Pro
iPhone 14 Pro Max
iPhone 13
iPhone 13 mini
iPhone 13 Pro
iPhone 13 Pro Max
iPhone 12
iPhone 12 mini
iPhone 12 Pro
iPhone 12 Pro Max
iPhone 11
iPhone 11 Pro
iPhone 11 Pro Max
iPhone XS
iPhone XS Max
iPhone XR
iPhone SE(2nd gen or later)
Even if your chosen device is granted another year of software support, it's worth noting that older iPhones may not get the full range of new features. Last year, for example, the iPhone 8 and iPhone X missed out on a bunch of cool stuff due to their older processor. For more information take a look at every version of iOS released so far and find out which version of iOS your iPhone supports.
iOS 17: Features
There were many new features in iOS 16, including a redesigned Lock Screen, unsending iMessages, and the iCloud Shared Photo Library, but what is coming in iOS 17? Rumors suggested that there would be "fewer major changes" than usual–but Apple has announced numerous new features for the update which we will describe below. You can read our comparison of iOS 16 vs iOS 17 for an overview of what's new.
Not all the new features will be available at launch though. At least five iOS 17 features won't be ready including AirDrop over the Internet, the Journal app, Collaborative Apple Music playlists, AirPlay in hotel rooms, and NameDrop to Apple Watch. These features will come "later this year" in a subsequent software update.
You may like to read: iOS 17 features didn't make the WWDC keynote and iOS 17 features that make us want to upgrade.
Journal
This is a brand new app that builds on Memories in Photos to bring a new way to relive special moments, remember and write about experiences with text, location, and photos, and more. There is also a Suggestions API for developers to use in their apps.
Coming in a subsequent update 'later this year'
StandBy
This seems to borrow from the Apple Watch. Put the phone in landscape on a stand at night and see the time with a clock and a range of clock styles. You can also shuffle through your best photos, display widgets, and see Live Activities, like game scores. You can also choose Night Mode to display red text and minimize eye strain at night. Remember alarm clocks? It's a bit like that. See: How to use StandBy to make a smart home hub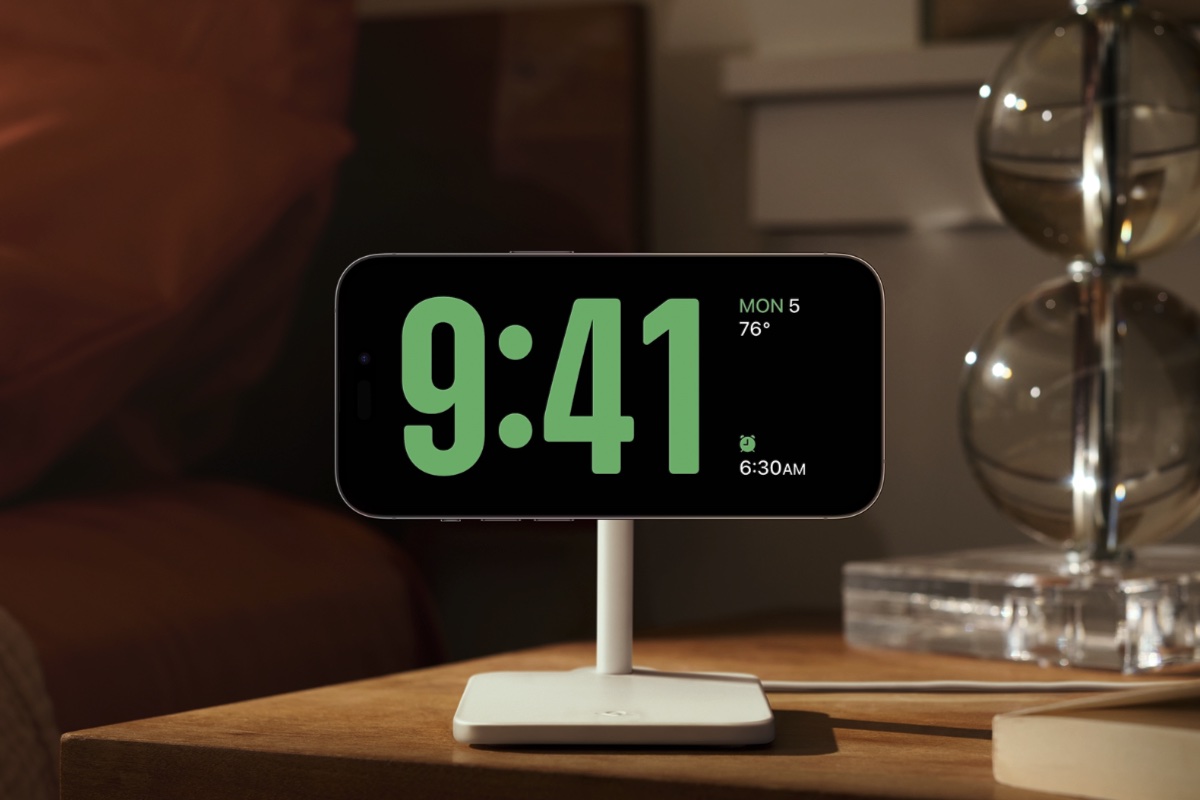 Apple
Contact Posters
This will let you personalize how you appear in calls and on your contact card (since your custom contact card will show up in Contacts for your friends). You can customize your poster with images, fonts, and colors. This works with Call Kit so it can be used in third-party VOIP apps.
See: How to create and customize your Contact Poster in iOS 17
Apple
Live Voicemail
If someone calls and leaves a message you will see a live transcript as they speak. That way you can see if you want to pick up or not.
Read: How to use Live Voicemail in iOS 17.
Apple
Phone calls
Apple is making some changes to the Phone app. It has replaced the Contacts button, moved the in-call buttons, and updated the icons.
After a bit of a backlash, Apple appears to have moved the end-call button back to the middle as of mid-August.
FaceTime
Apple is adding the ability to leave a video message in the FaceTime app when people don't answer.
You will also be able to take FaceTime calls on an Apple TV.
Apple
Messages
The Messages app will be faster, and search filters will let you add terms to a search to narrow the results. You'll also be able to jump to the first unread message in a group chat, swipe to reply on any bubble, and automatically transcribe audio messages.
A new Check-In feature will also let Family and Friends know if you've made it to a destination safely. Messages can recognize if you aren't making progress toward the destination and prompt you to respond. If you don't, it will share information with the selected contact, including your location, battery level, and cell service status.
Ring Tones and Text Tones
There are 24 new Ringtones in iOS 17 including Dollop, Kettle, Scavenger, Steps, Storytime, Unfold and Valley. To change the ringtone go to Sounds & Haptics, then tap Ringtone.
New text tones include Cheers, Droplet, Portal, Slide and Welcome. Find them in Sounds & Haptics setting under Text Tone.
Read more here: iOS 17 adds lots of new Ringtones and Text Tones
Stickers
All emoji across iOS 17 are now stickers that can be resized. Subjects from photos can be lifted out of photos and turned into stickers. You can turn live animated photos into Live Stickers.
Here's a look at the new emoji that could come to iOS 17 in 2024.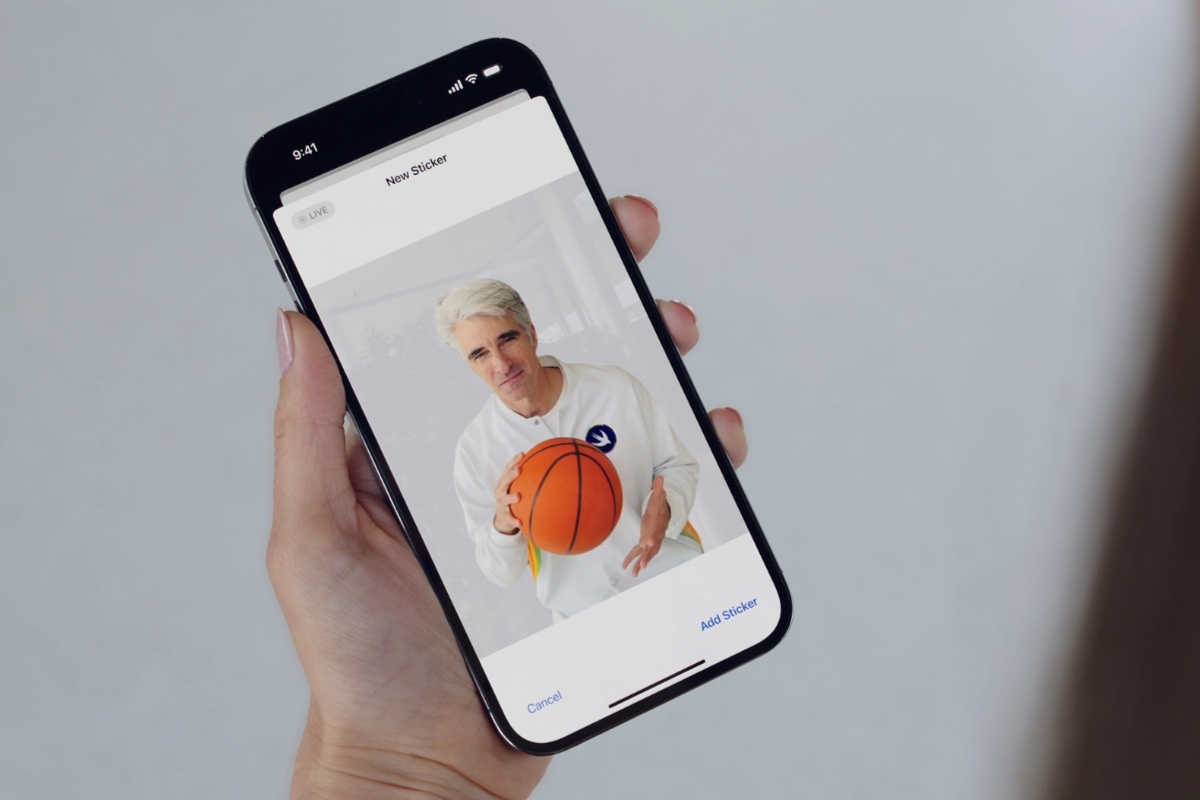 Apple
AirDrop
Apple is changing the way AirDrop works it will be much simpler to use. You only need to bring your phones close together and you will be able to share information. You can easily choose the phone numbers and email addresses you want to share on an iPhone or Apple Watch. For example, if you want to share photos, just bring your phones close together.
Another AirDrop related change will come in a later update – the ability to start an AirDrop in person, but then leave before the transfer completes with the transfer finishing over the Internet.
AirDrop over the Internet is coming in a subsequent update.
NameDrop
A new feature that takes advantage of AirDrop is NameDrop, an easy way to exchange contact info. No more having to miss-call a new friend just so they have your number.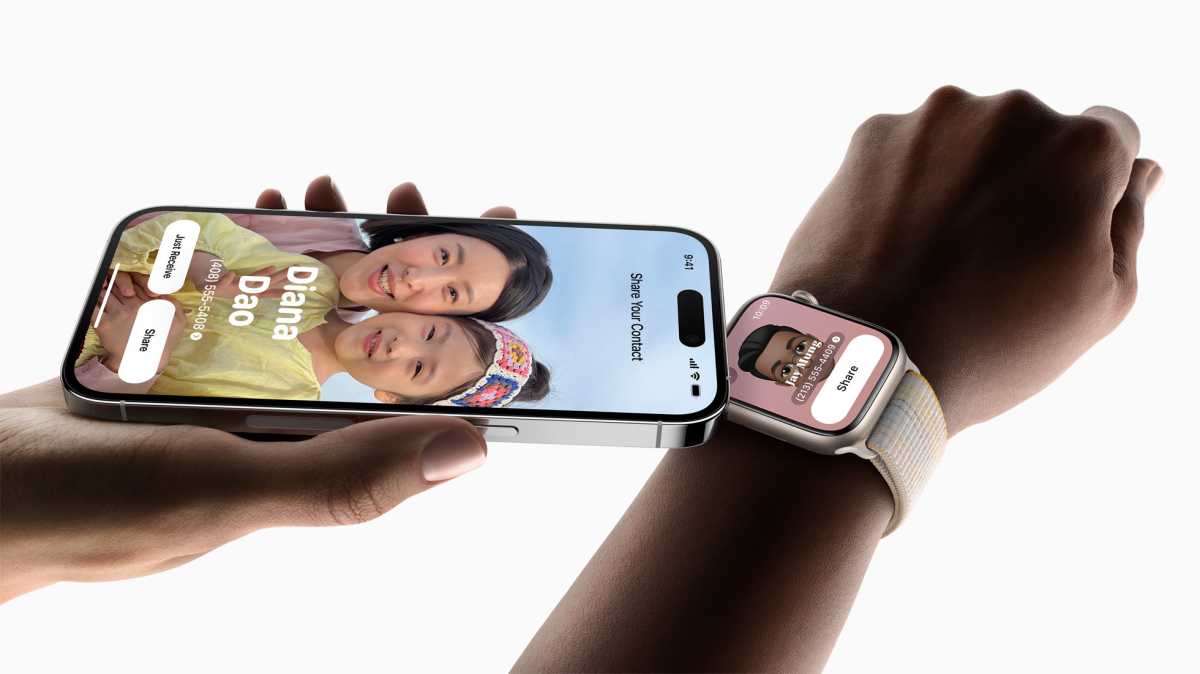 Apple
Keyboard and Dictation
Autocorrect will be "more accurate than ever." Tap the underlined word to get the option to revert to the word you had typed. You can get predictions in line as you type and just tap the space bar to add them. Machine learning will also learn your writing style and adapt autocorrect accordingly. Additionally, Dictation leverages a new speech recognition model to make it even more accurate.
Hey Siri
You no longer need to say, "Hey" every time you want to summon Siri. Siri is powered by the new transformer model that the new dictation and autocorrect is, making it far more accurate and better able to understand what you mean. You can also make multiple requests in the same command.
Photos
The People album in iOS 17 will be able to use on-device machine learning to recognize "more photos of a user's favorite people" as well as cats and dogs.
Apple Music
Collaborative Apple Music playlists are coming to Apple Music, but not until a later update. You'll be able to share playlists with friends and they will be able to add, remove and reorder the songs.
Coming in a later update.
Smaller features
There are also numerous smaller features that Apple didn't mention in the keynote that are worth knowing about, including improvements to Spotlight search, Notes, Autofill, and Apple Music, see: How to set and adjust crossfade in Apple Music.
Apple ID passkey
Apple announced passkey support in iOS 16 but it's going mainstream in iOS 17. In iOS 17, iPadOS 17, and macOS Sonoma, you'll be able to log into your Apple ID with a passkey using Face ID or Touch ID on your iPhone instead of a password.
iOS 17: Third-party app stores and sideloading
Ahead of WWDC, there were reports that Apple will start to open up the iPhone in iOS 17, allowing the distribution of apps outside of Apple's own App Store, the use of NFC for touchless payments beyond Apple Pay, browsers that don't have to use Apple's Webkit rendering engine, and more. It's all necessary to comply with the EU's new Digital Markets Act, and the expectation is that it will only apply to those iPhones running iOS 17 in the regions covered by EU law.
Apple didn't discuss the changes at WWDC, which isn't very surprising. Furthermore, there are no references to sideloading or third-party app store on the iOS 17 website. However, that doesn't mean those changes aren't coming in iOS 17, either at launch or sometime in 2024.