WASHINGTON — The Jan. 6 committee on Tuesday leaned on emotional testimony to illustrate the human toll that Donald Trump's elaborate scheme to overturn the 2020 election had on public servants and their families.
While the Jan. 6 hearings have focused on Trump's aggressive efforts to stop certification of Joe Biden's victory, the committee's fourth public hearing zeroed in on other consequences of that pressure campaign: The violent threats to those who stood up to Trump's election lies and the upending of the lives of even the most low-level poll workers.
"The president's lie was — and is — a dangerous cancer on the body politic," said Rep. Adam Schiff, D-Calif., a Jan. 6 committee member who played a prominent role in Tuesday's hearing. "This pressure campaign brought angry phone calls and texts, armed protests, intimidation, and, all too often, threats of violence and death."
In live testimony, the committee elicited not just stories about the Trump effort to overturn the election, but the personal experiences that ran concurrent — a poll worker forced from her home for two months, a state official with a dying daughter and another who became irate after seeing the threats to a young man.
Shaye Moss, an election worker from Georgia, and her mother Ruby Freeman, became the target of conspiracy theorists, fueling a barrage of racist attacks on both of them. Freeman testified earlier that around Jan. 6 the FBI told her it wasn't safe to remain in her home after Trump called her out by name; she didn't return for two months. Moss said Tuesday she now rarely leaves the house, has gained weight and continues to fear for her safety.
"It's turned my life upside down," Moss said. "It's affected my life in a major way, in every way, all because of lies [about] me doing my job."
Rusty Bowers, the Republican speaker of the Arizona House, testified about the effort by Trump and his lawyer Rudy Giuliani to have the state Legislature pick a new, rival slate of electors that would favor Trump, even though GOP Gov. Doug Ducey had already certified Biden's election win in the Grand Canyon State.
Bowers told the committee that he knew Trump's request to be unconstitutional — and repeatedly refused.
"It is a tenet of my faith that the Constitution is divinely inspired, that this is my most basic foundational belief," said Bowers, who is Mormon. "And so for me to do that because somebody just asked me to, is foreign to my very being; I will not do it."
Bowers, a longtime conservative lawmaker, choked up as he told the committee about the toll these events have taken on him and his family. Trump supporters, he said, have regularly shown up at his home on Saturdays, causing his family dread. They have driven trucks through his neighborhood with video panels falsely proclaiming him to be "a pedophile and a pervert and a corrupt politician," he said. In one instance, a man possessing a pistol began arguing with him and one of his neighbors about the election.
This all came as his daughter was gravely ill, Bowers said, tears in his eyes. She died on Jan. 28, 2021, several weeks after the attack on the Capitol.
"So it was disturbing," he testified. "It's disturbing."
To illustrate some of the other violent threats, the committee played videos of pro-Trump protesters chanting "Stop the steal!" and "You're a tyrant and a felon" outside the home of Michigan Secretary of State Jocelyn Benson, who earlier told the panel she thought they were going to attack her and her children "with guns."
In the committee video, a script was shown that was used by Trump campaign staff to call state lawmakers and ask them to help overturn the election. The video also included voicemails trying to pressure state officials that were left by Rudy Giuliani, the former New York City mayor and Trump aide.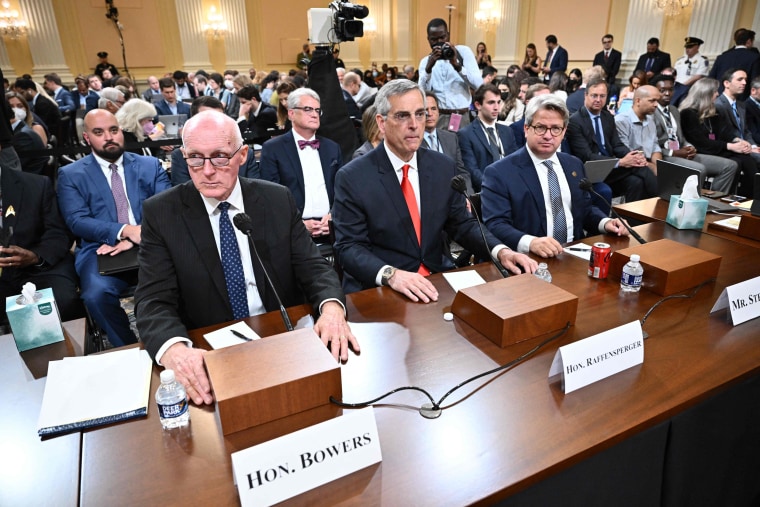 The committee investigating the Capitol attack heard testimony from GOP witnesses from Georgia and Arizona, state officials who stood up to the former president in the weeks after the 2020 election and rebuffed his attempts to thwart the will of voters there.
Two top Georgia election officials — Secretary of State Brad Raffensberger and top aide Gabriel Sterling — testified about a now-infamous phone call four days before the attack in which Trump explicitly told them to "find 11,780 votes" that would put him ahead of Democrat Joe Biden in the state.
"There were no votes to find," Raffensberger testified. "That was an accurate count that had been certified."
But they also discussed threats to election workers fueled by Trump and his allies floating a disproven conspiracy that Fulton County officials had found a suitcase of thousands of ballots.
Sterling testified what led him to go on a televised tirade on Nov. 30, 2020, and issued a stern warning that Trump's election lies would get someone killed. He had received a call from an official from Dominion Voting Systems, who he described as "audibly shaken" and who told him that a young contractor had been receiving threats from QAnon supporters.
Later, Sterling searched Twitter and found the young man's name with a GIF of a noose.
"For lack of a better word, I just lost it," Sterling said. " I lost my temper but it seemed necessary at the time because it was just getting worse."
Both men are cooperating with a Fulton County special grand jury investigation into whether Trump violated election law by pressuring the Georgia officials.
Trump released a statement ahead of Bowers' testimony, insisting that the Bowers told Trump he had won Arizona.
"Bowers should hope there's not a tape of the conversation," Trump said in the statement. He did not provide a recording.
On Thursday, the Jan. 6 committee is set to hold its fifth public hearing, focused on how Trump pressured top Justice Department officials to investigate false claims of widespread voter fraud.