A clip of Joe Biden talking to a child about her ears at a Thanksgiving event has gone viral, with one critic calling him a creep.
The president interacted with the child while making a speech at the Naval Station Norfolk in Virginia. There, Biden met military families, served them dinner for Friendsgiving and watched an advance screening of Wonka, a film about a young Willy Wonka.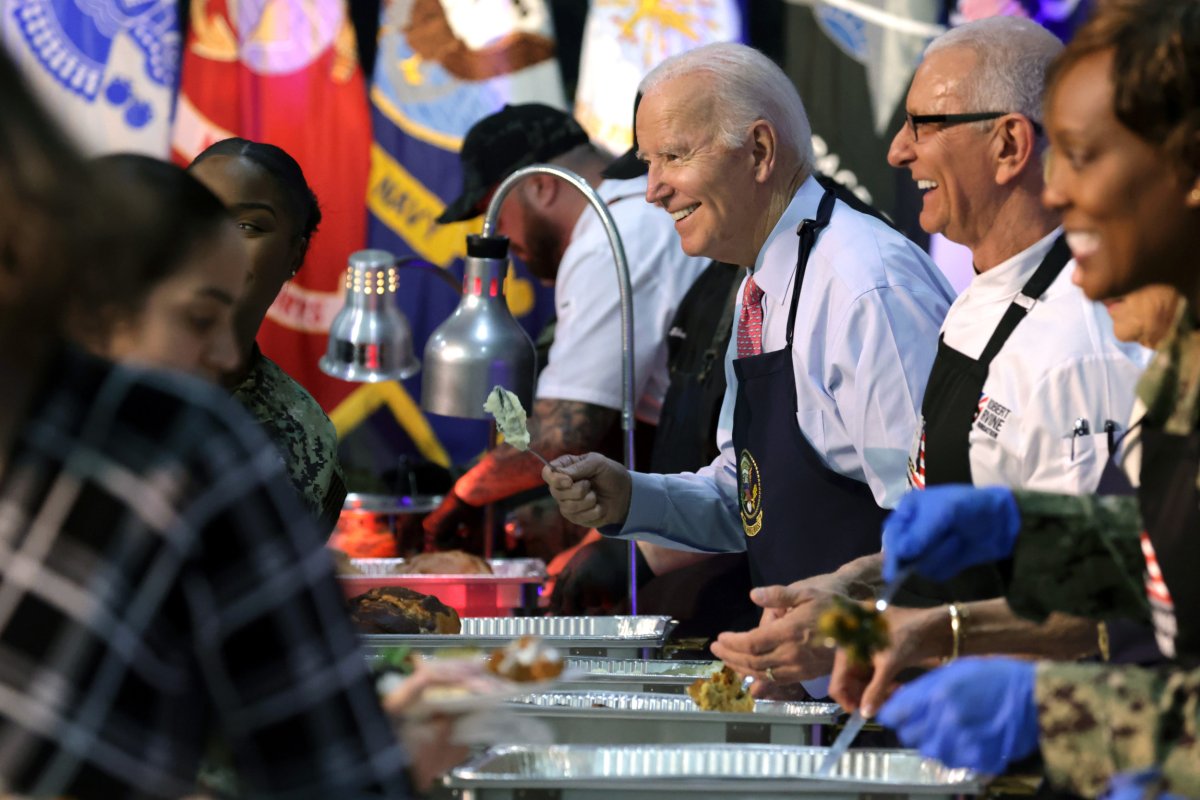 During Biden's speech, he approached the child, named Catherine, who was wearing cat-costume ears. "I love your ears!" Biden said. "I love 'em. They're really cool! What's your name?"
The girl replied "Catherine" and Biden said: "What a beautiful name. That's my mommy's name. How old are you? 17?"
"Six," Catherine replied.
RNC Research, a social-media account managed by the Republican National Committee, posted a clip of the conversation on X, formerly Twitter. People said Biden's words were inappropriate. Newsweek has contacted representatives for Biden to comment on this story.
One X user wrote: "Biden is a freak and should never be near children."
Collin Rugg, the co-owner of the Trending Politics news website, called the President a creep. And a third X user posted that the interaction was "not appropriate behavior for the President of the United States."
However, others pointed out that Biden was referring to her costume. One X user wrote: "Let's keep it real please: he is referring to the costume ears the little girl is wearing, and he is clearing joking about her age. It's fine if you do not like him, but at least reflect what is happening fairly."
Nevertheless, it is not the first time the Democrat's interactions with children have been questioned.
In July, he was criticized after he was filmed pretending to bite a child during a trip to Finland.
Biden also sparked backlash for making a comment to a young teenager in California in October 2022 about not dating "serious guys until you're 30."
"Now a very important thing I told my daughters and granddaughters—no serious guys until you're 30!" Biden said to the unknown young woman at an event.
In 2021, during a speech to military families in Virginia ahead of Memorial Day, Biden told a young girl that she looked 19.
"I love those barrettes in your hair," Biden said to the girl. "Man, I'll tell you what, look at her. She looks like she's 19 years old, sitting there like a little lady with her legs crossed."
Meanwhile, the Friendsgiving event included service members and military families associated with the Dwight D. Eisenhower and the Gerald R. Ford aircraft carriers. They are currently deployed in the eastern Mediterranean in response to tensions from the Israel-Hamas war.
"You literally are the spine, the sinew, the backbone of this operation," Biden said. Of the family members of those deployed abroad, he added: "You family members are the heart of this operation."
Uncommon Knowledge
Newsweek is committed to challenging conventional wisdom and finding connections in the search for common ground.
Newsweek is committed to challenging conventional wisdom and finding connections in the search for common ground.