Christian Horner has come to be known as a genius in the F1 universe. Taking Red Bull to a world championship and closing in on its second, he is a man whose mind everyone would want to pick right now. Tom Clarkson did exactly that as he tackled Horner's thoughts on Lewis Hamilton, Abu Dhabi 2021, and more.
ADVERTISEMENT
Article continues below this ad
Recently, Christian Horner appeared on Tom Clarkson's podcast, F1 Beyond the Grid, and shared his thoughts on his "attacking team".
ADVERTISEMENT
Article continues below this ad
Christian Horner's take on Max Verstappen and Lewis Hamilton
Among the things discussed on the podcast were Max Verstappen and his rivalry with Lewis Hamilton & Charles Leclerc.
The internet is well-aware of Max Verstappen's longtime professional relationship with Charles Leclerc. There are compilation videos of those two being chaotic rivals across social media, much to the fans' joy.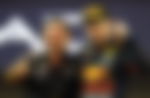 On the podcast, Christian Horner too spoke of how Max raced Hamilton and Leclerc differently.
"There's a difference, perhaps a different respect with Charles. They'd raced each other since kids and there was a mutual respect. I've never once ever heard Lewis recognize Max's ability and so, of course, there was just a bit more needle to him, and you could feel that, you could sense that between those two drivers."
DIVE DEEPER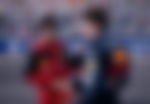 Horner seems to assert that Charles Leclerc and Max Verstappen share a mutual respect for each other. But, by contrast, Hamilton has never openly acknowledged Max's skill, which creates a certain tension between the two drivers.
It is surely a pleasure to see Christian Horner appreciating the healthy competition among F1 drivers.
Red Bull team principal's thoughts on Abu Dhabi Grand Prix 2021
The Red Bull team principal also commented on the fated 2021 Abu Dhabi Grand Prix.
Speaking of how last year's Abu Dhabi race affected Max, Horner believes that it was Hamilton who was more worried, rather than Max. According to him, it was the "seven-time world champion that has everything to lose, Max is the young kid that's taken the risks, that's throwing everything at it, and got nothing to lose."
ADVERTISEMENT
Article continues below this ad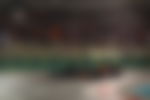 When asked about Max's feelings towards Lewis Hamilton, the Red Bull boss answered that Max respected Lewis like any person would because his achievements simply cannot be disregarded. But, "he wasn't in awe of him, or he wasn't afraid of him, and he relished going up against him. And I think ultimately he believed that he could beat him."
It was no doubt that very attitude that led to him defeating the reigning world champion last year.
ADVERTISEMENT
Article continues below this ad
WATCH THIS STORY: Red Bull F1 Boss Christian Horner Has An Apt Response To Lewis Hamilton Exit Rumors
Max Verstappen is close to winning yet another world championship title. However, the Red Bull boss is wisely cautious.