Social media posts and rap videos were used to confirm the identity of a South Dakota man who was charged this week in connection with the January 6 Capitol riots, according to the criminal complaint from the FBI.
Billy Knutson, 36, was identified in the days following the riot through the FBI's tip line by someone claiming to be a relative and said social media posts that allegedly belonged to Knutson showed him outside and inside the Capitol on January 6.
A second individual contacted the tip line about a month later, sending authorities some of Knutson's posts on the social media app Parler, one of which showed him entering the Capitol through a broken window, the complaint states.
The FBI agent who filed the criminal complaint then states that surveillance footage from inside the Capitol and verification of the social media posts confirmed that the individual in the videos was Knutson, and that he was in the Capitol for several minutes, recording videos and taking photos on a cell phone before he left the building.
The agent states that a YouTube channel was later discovered belonging to Knutson with the same name as the Parler account. The channel, also the name Knutson performs under, Playboy The Beast, contains several rap songs and dozens of posts the FBI used to confirm his identity.
One video, titled "Patriots Message to The World," was posted in April 2021 and contains video clips of the Capitol riots as well as Knutson performing in front of a war memorial in Sawmills, North Carolina, while rapping lyrics about the events that took place January 6.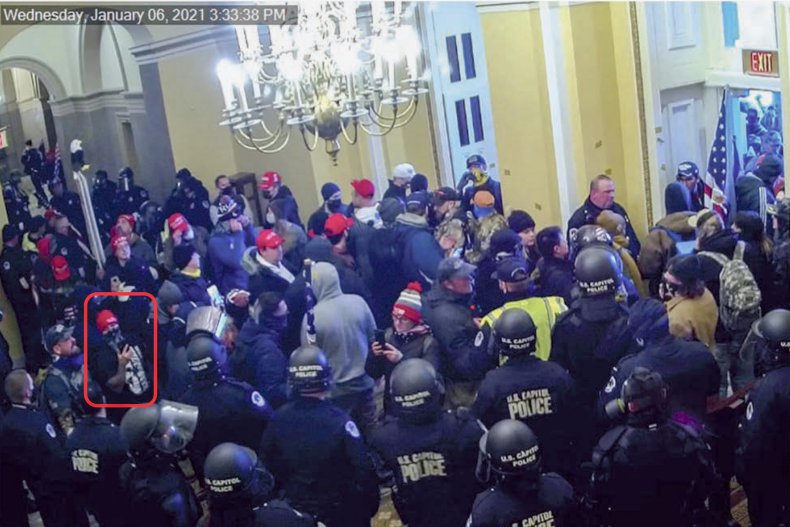 Posts from last year on Knutson's YouTube channel indicate that he moved from North Carolina to South Dakota last year. In a Thursday post addressing the Associated Press story detailing his arrest, Knutson confirmed that he was arrested Wednesday, and was released following an initial court appearance as prosecutors did not request he be detained pending a future trial.
The court appearance took place in Sioux Falls, South Dakota, according to KELO News.
Authorities also confirmed Knutson's presence at the Capitol via GPS data for a cell phone number that was connected to him through registration for Parler and an "economic application" submitted in North Carolina, the complaint states.
Knutson was viewed in surveillance footage speaking to several other rioters and police officers, and the report does not state that he was ever observed behaving violently. The complaint charges him with misdemeanors relating to entering a restricted building and disorderly conduct while inside the Capitol.
In several social media posts over the last year, Knutson is pictured wearing or holding clothing and memorabilia representing the logo of the far-right organization The Proud Boys, identifying himself as a member of the group. One post from August shows Knutson displaying what appears to be a tattoo across his forehead that reads "PROUD BOY."