Melania Trump's secret signal to former President Donald Trump has been revealed by French first lady Brigitte Macron.
Brigitte Macron, the wife of French President Emanuel Macron, shared her thoughts on the United States' former first lady in a wide-reaching interview with French publication Paris Match, shedding new light on the relationship between Donald and Melania Trump.
The interview comes as many observers continue raising questions about their relationship. Melania Trump has been largely absent from Donald Trump's 2024 presidential campaign, and has remained quiet about his ongoing legal woes.
She has declined to make public appearances or public comment about his most recent New York civil fraud trial, though she did attend a Halloween party at their Mar-a-Lago estate in Palm Beach, Florida, last month.
Brigitte Macron shared her observations about the Trumps' marriage in the Paris Match interview, describing Melania Trump as "sweet" and "strong."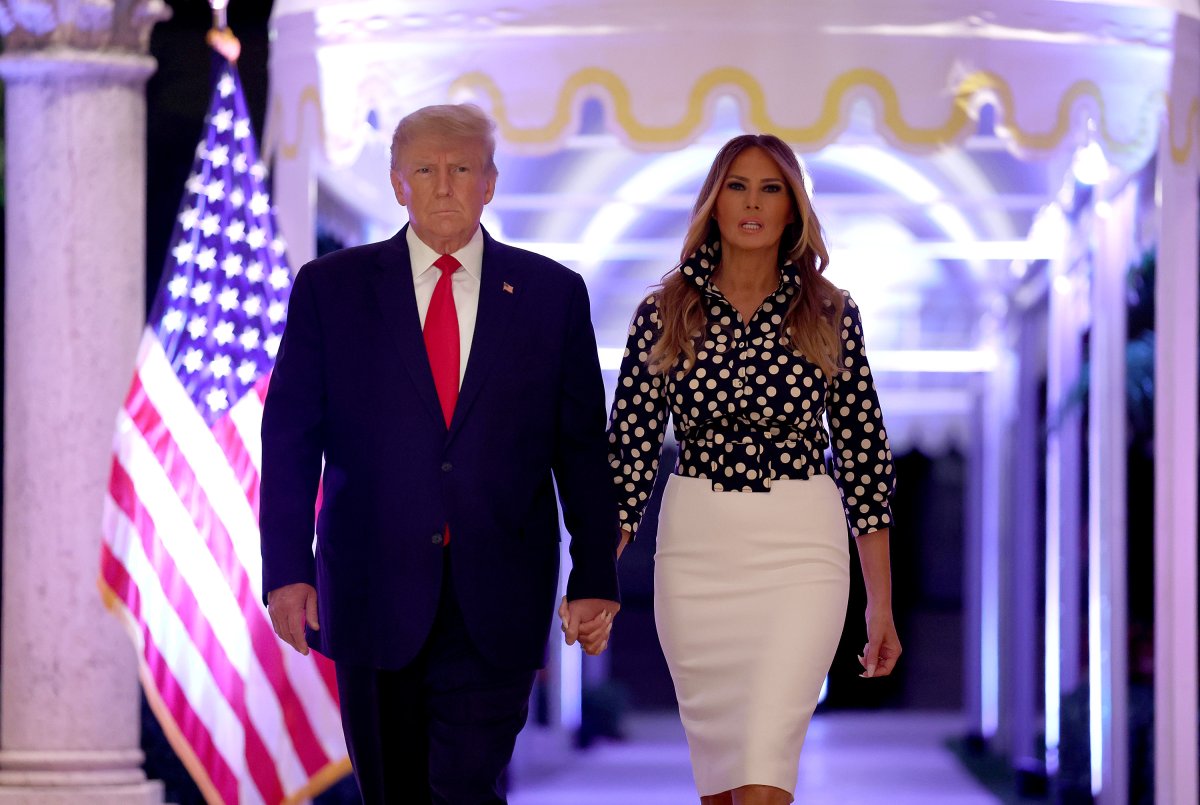 "Melania Trump is very sweet. But she has the upper hand over her husband. When, at a dinner party, she taps on her watch, her husband understands that it is time to get up and ­leave. And he complies. She has a strong personality," she said.
Newsweek has reached out to Trump's campaign for comment via email.
Brigitte Macron described her relationship with presidents' wives from across the globe, saying that there is "protocol distance" with "some affinities." She said first ladies text each other and have tea when they are in Paris. She also shared her thoughts on first lady Jill Biden, the wife of President Joe Biden.
"Jill Biden is extremely open, pleasant. We can say a lot of things to each other," Macron said.
Brigitte Macron previously described Melania Trump as "actually really fun," as having a "strong personality" and as someone who "laughs very easily, at everything," reported The Guardian, citing French publication Le Monde. Macron also said she noticed that Melania Trump could not "do anything" when serving as first lady.
"She can't even open a window at the White House. She can't go outside. She's much more constrained than I am. I go out every day in Paris," she said.
Donald Trump said during a campaign stop in Iowa last month that his wife does not like the way he campaigns, because she does not find his theatrics and dancing "presidential."
"She says, 'Darling, I love you so much, but this is not presidential when you do the weightlifting, this is not presidential, or when you do the swimming thing, it's not and you know, I understand, or when you dance off the stage,'" he said.
Uncommon Knowledge
Newsweek is committed to challenging conventional wisdom and finding connections in the search for common ground.
Newsweek is committed to challenging conventional wisdom and finding connections in the search for common ground.