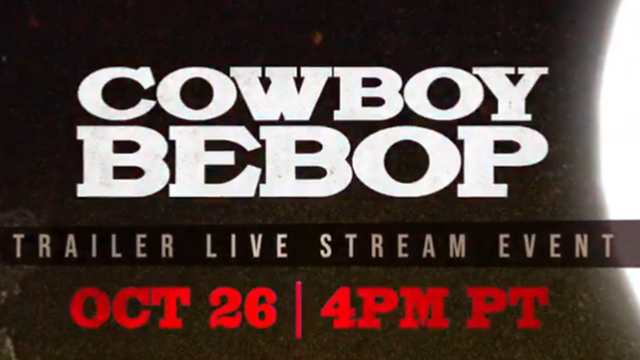 Amigo! The Netflix adaptation of Cowboy Bebop is dropping its official trailer tomorrow night, and it's making an evening of it.
The project's social media accounts just announced a trailer live stream event tomorrow, October 26. The event will include "special guests" and give viewers the opportunity to "unlock exclusive rewards."
Tomorrow. 4pm PST. Bring your own noodles. pic.twitter.com/GMILY4zmU5

— Cowboy Bebop (@bebopnetflix) October 25, 2021
Fans of the anime may also recognize the choice of music: the theme to "Big Shot," the show-within-a-show that tells all about fugitives. Big Shot hosts Punch and Judy were just two of the many familiar faces we spied in the adaptation's opening sequence.
The Netflix Cowboy Bebop Trailer Live Stream Event takes place tomorrow, October 26, at 4pm Pacific time. Keep an eye on the show's Twitter account and Instagram account, and the official Netflix YouTube channel, to be a part of the big premiere.
Addendum:
The livestream will take place here, on the Netflix YouTube channel:
Terri Schwartz of Netflix Geeked will host the event, which will also include exclusive clips. The hashtag #CowboyBebop will also be used for collecting goodies during the livestream. You can hit the bell to get a reminder when it's time for the stream.
And, of course, bring your own noodles.
Source: @bebopnetflix on Twitter