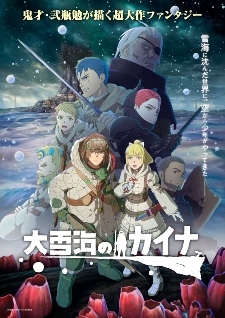 The official website of the Ooyukiumi no Kaina (Kaina of the Great Snow Sea) television anime revealed on Wednesday additional staff, theme songs, the first promo, and a key visual (pictured). The anime is set to broadcast on January 12 at 12:55 a.m. on Fuji TV's +Ultra programming block, followed by Kansai TV, Toukai TV, TV Nishinippon, Hokkaido Cultural Broadcasting, and BS Fuji.
Staff
Character Design: Ryouhei Fukushi (Godzilla 1: Kaijuu Wakusei concept art), Kyouko Kotani (Kuutei Dragons)
Visual Concept Design: Mitsunori Kataama (Sidonia no Kishi art director)
Production Design: Naoya Tanaka (Levius), Kazuma Teshigahara (Souten no Ken: Regenesis character design)
CG Supervisor: Takuma Ishibashi (Human Lost: Ningen Shikkaku), Masaki Taga (Godzilla 1: Kaijuu Wakusei)
Art Director: Kimiko Kubo (Happy Happy Clover)
3DBG Matte Paint Supervisor: Yoshikatsu Matsumoto (Ajin Part 2 art director)
Color Design: Hironori Noji (Blame! Movie)
Chief Layout/Animation Supervisor: Kazumasa Izawa (Kuutei Dragons)
Sound Director: Masanori Tsuchiya (Prima Doll)
Yorushika (Nakitai Watashi wa Neko wo Kaburu) is performing the opening theme "Telepath" and GReeeeN (Gyokou no Nikuko-chan) performs the ending theme "Juvenile." Both songs are previewed in the promotional video below.
Hiroaki Andou (Ajin) is directing the fantasy anime at Polygon Pictures. Sadayuki Murai (Sabikui Bisco) is handling the series composition and is penning the script with Tetsuya Yamada (Sidonia no Kishi). Kohta Yamamoto (86) and Misaki Umase (Tenki no Ko insert song composition) are composing the music.
PV
Source: Comic Natalie