The Kremlin is growing concerned that families of Russian soldiers called up to fight in Ukraine are increasingly prepared to protest about the difficult conditions their relatives are having to put up with, according to British intelligence.
The U.K.'s Ministry of Defence said reservists called up under President Vladimir Putin's partial mobilization, announced in September, faced a multitude of issues, ranging from inadequate training and equipment to the heavy casualties they were taking at the front.
"Two months after President Putin announced a 'partial mobilisation', common themes are emerging in the experience of mobilised Russian reservists," the ministry said in an update on its Twitter page on Friday.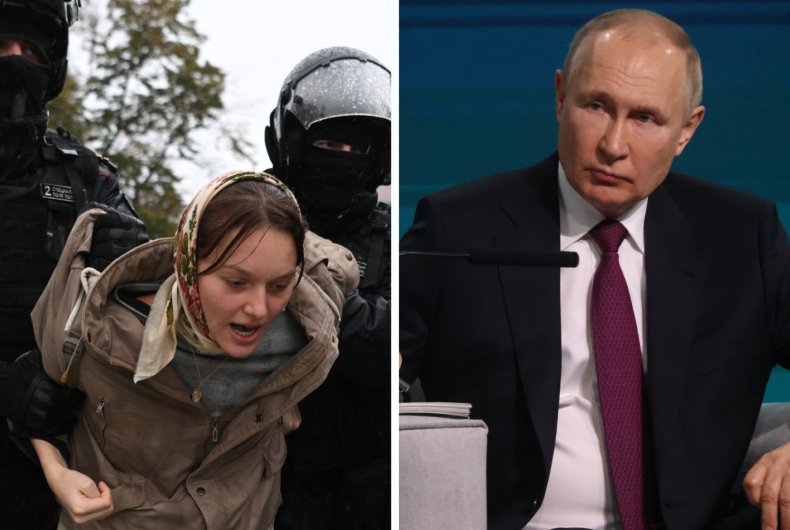 "Their deployment is often characterized by confusion over eligibility for service, inadequate training and personal equipment, and commitment to highly attritional combat missions.
"Most—though not all—mobilised reservists have previously served and numerous examples suggest that reservists are highly likely not having their medical status adequately reviewed and many are being compelled to serve with serious, chronic health conditions," it said.
The Defence Ministry also noted that for these reasons, in addition to the heavy casualties the reservists have suffered, families may be willing to risk arrest to voice their anger through protests.
"Mobilized reservists have highly likely experienced particularly heavy casualties after being committed to dig ambitious trench systems while under artillery fire around the Luhansk Oblast town of Svatove," the update added.
"In Donetsk Oblast, reservists have been killed in large numbers in frontal assaults into well-established Ukrainian defensive zones around the town of Bakhmut.
"The Kremlin will likely be concerned that an increasing number of reservists' families are prepared to risk arrest by protesting against the conditions their relatives are serving under."
Newsweek contacted Russia's Ministry of Foreign Affairs for comment.
Putin is expected to meet with mothers of men who were called to fight in Ukraine as part of his mobilization order later this week, according to the Kremlin.
Kremlin spokesman Dmitry Peskov confirmed a report in the Russian newspaper Vedomosti that Putin will meet with them on Sunday, November 27, Russia's Mother's day.
However, a grassroots anti-war group, the Council of Mothers and Wives of mobilized soldiers, has said Putin is hiding from them.
The organization's leaders have said that no mothers or wives from their group have been invited to the event.
In a video directed at Putin, an activist with the group, Olga Tsukanova, asked: "Vladimir Vladimirovich, are you a man or what?
"Do you have enough courage to look into our eyes—openly, in a meeting with women who weren't hand-picked for you? Women who aren't in your pocket, but real mothers who have travelled here from different cities at their own expense to meet with you?
"We are here, in Moscow, and we are ready to meet with you. We expect an answer from you. Are you going to keep hiding from us?"