In early September of last year GameClub officially announced that their next phase beyond resuscitating long-lost classic mobile games would be to bring popular PC titles over to mobile for the first time. In situations where there's a game that would be a great fit on mobile but the developers don't have the time and/or resources to bring said game to mobile, GameClub would step in and do all the heavy lifting in terms of adapting the game to touchscreen devices and then they'd add it to their subscription service. The first of these PC ports was the quirky adventure game Chook & Sosig: Walk the Plank back in October, and that was followed up just last week with the arrival of the stylish open-world action game Tokyo 42. Hot on the heels of that release GameClub this week has brought the third of those previously announced PC ports to iOS in the form of the real-time strategy title Ancestors Legacy.
Of those 3 previously announced games, Ancestors Legacy is by far the most ambitious. This is an absolutely massive game, both in terms of content and in actual file size, and as such this initial release is titled Ancestors Legacy: Vikings as it includes just the Vikings faction and associated campaigns. The other factions from the PC version will also make their way to iOS as separate releases due to Apple's file size limits. However, once all the pieces of the game are released GameClub will also implement the online multiplayer, though timing for all of this is still up in the air. Also currently this release is iOS only, but Android is being worked on and will release at a later date.
Don't take any of this to mean that Ancestors Legacy: Vikings is lacking in any way though, as this is one of the most full-blown, feature-rich real-time strategy games on mobile, and it's absolutely stunning from a visual sense being built in Unreal Engine 4. It's really remarkable to see it all running surprisingly well on a little iPhone screen, and GameClub has really gone above and beyond in terms of adapting the controls and interface for smaller screens and touch inputs.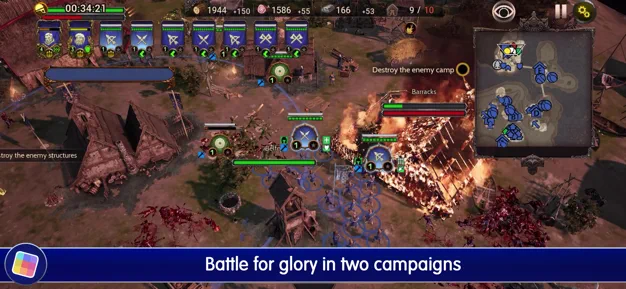 If you're already a GameClub subscriber, then hop on over to the App Store and try out Ancestors Legacy: Vikings for yourself, I think you'll be quite impressed. If you aren't a subscriber however, as with any GameClub game you're able to download and try out a limited portion of Ancestors Legacy: Vikings for free, and of course you can sample what it's like being a full subscriber by visiting this link to do a free 30 day trial. Besides Ancestors Legacy you'll gain access to well over 100 of the all-time greatest mobile games that have all been updated and adapted for modern devices, as well as the aforementioned Chook & Sosig and Tokyo 42 PC ports. For five bucks a month it's an absolutely killer deal if you just want tons of great stuff to play on your mobile device and don't want to worry about any BS like in-app purchases, ads, or internet connection requirements. I'm really looking forward to what other PC titles and lost mobile classics will make their way to GameClub in the future.