Republicans are celebrating the results of an election thousands of miles away after their favored candidate won Argentina's run-off presidential poll and declared victory on Sunday.
Javier Milei, a populist politician who describes himself as a libertarian, has vowed to roll back the state and drastically overhaul Argentina's ailing economy. He was congratulated by a string of American Republicans, including Donald Trump, who were thrilled with the outcome of the vote amid hopes their party's presidential contender will enjoy a similar victory in the U.S. next year.
The political development in Argentina comes as the country is facing 143 percent inflation, a looming recession, and rising poverty—and previous elections have been fought and won by those claiming they can fix the country's economy. Milei, a 53-year-old economist, rode a wave of public anger as many rejected the political mainstream and he won by a wider-than-expected margin, achieving almost 56 percent of the vote compared to just over 44 percent for his rival, economy minister Sergio Massa, who conceded.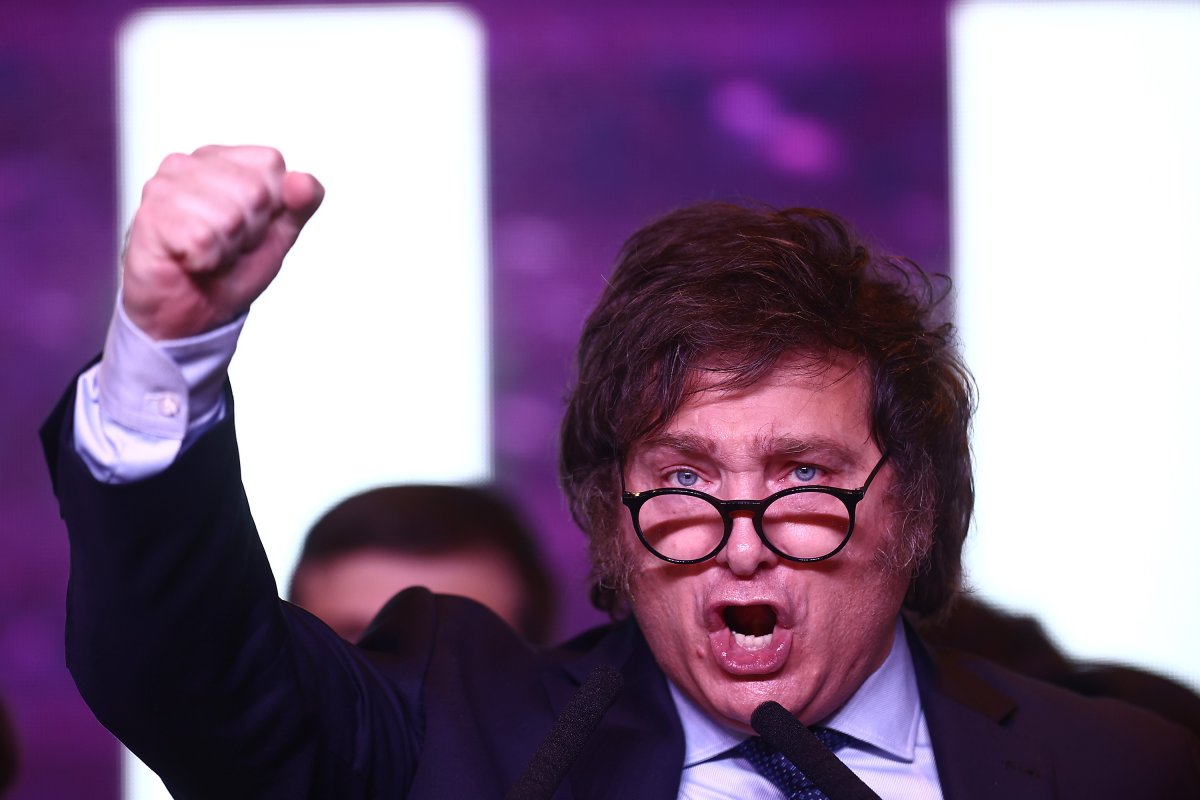 Milei campaigned on his plans to replace the peso with the U.S. dollar and ultimately dissolve the country's Central Bank. He also opposes abortion, doesn't believe humans are responsible for climate change, and has praised Trump; his own supporters wear hats with the slogan "Make Argentina Great Again."
The results come as Republicans are gearing up for the presidential election next year, which will see their candidate battle against a Democratic opponent in November 2024. Republican supporters are hopeful that Argentina's swing to the right will be mirrored among voters in the U.S.
Although still months away, the battle to choose the Republican nominee has been particularly fierce and beset with controversies as former president Trump squares up against Florida governor Ron DeSantis. The former currently trounces the latter in the polls— despite a string of legal woes and a Colorado judge's ruling that he committed an insurrection against the United States Constitution on January 6, 2021, after losing the 2020 election to Joe Biden.
Taking to the social media platform Truth Social on Sunday, Trump posted: "Congratulations to Javier Milei on a great race for President of Argentina. The whole world was watching! I am very proud of you. You will turn your Country around and truly Make Argentina Great Again!" His comment was shared more than 4,000 times and liked by almost 19,000 readers, while a copy of his words on X—formerly Twitter—was shared 17,000 times.
Host of the annual Conservative Political Action Conference (CPAC) Matt Schlapp also posted about the results on X, sharing a photo of himself with Milei and apparently claiming some credit for his success, saying: "Looks like taking @CPAC to the Americas is paying off. Sincere congratulations to @JMilei @JMilei__ for his historic win in Argentina. America is not far behind you!"
Republican senators also crowed about the results online. Utah Senator Mike Lee praised Milei's win on X by saying: "Progressives wrecked Argentina's economy. Milei is restoring it."
Arkansas Senator Tom Cotton said: "Congratulations to Javier Milei for winning the Argentine presidency. We look forward to working with him to advance our shared interests."
Mayra Flores, who represented a Texas district as the first Mexican-born Congresswoman, wrote on X: "Congratulations to Javier Milei on a great race for President of Argentina. We are all so proud. Viva La Libertad Carajo!" The final phrase translates to "long live freedom, dammit!" and is often used by Milei to end his speeches.
Democrats have congratulated Milei too.
U.S. Secretary of State Antony Blinken said the Biden administration "look[s] forward to continuing bilateral cooperation based on shared values and interests."
Crowds of supporters gathered to hear Milei speak outside the Libertador Hotel in Buenos Aires on Sunday.
"Today is the end of Argentina's decline," he told them. "Today is the end of the model of an omnipresent state that impoverishes Argentines… I want you to understand that Argentina is in a critical situation. The changes our country needs are drastic. There is no room for gradualism."
Uncommon Knowledge
Newsweek is committed to challenging conventional wisdom and finding connections in the search for common ground.
Newsweek is committed to challenging conventional wisdom and finding connections in the search for common ground.