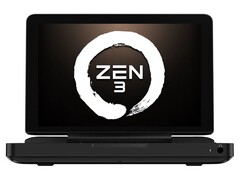 Now that the AMD's mobile processors are proving their superiority over the Intel solutions, GPD is more inclined to follow the trend and offer its first AMD-powered handheld laptop. We have the official confirmation that a GPD Win Max successor with Ryzen 7 5800U is already being tested, but actually availability is still sketchy.
The AYA Neo gaming handheld PC is getting quite the buzz these days due to it being equipped with the popular AMD Renoir-U APUs as opposed to the Intel ULV solutions adopted by industry "veterans" like GPD and One-Netbook. Up until now, we have only seen mini-laptops that double as handheld gaming consoles powered by embedded processors from AMD or Intel chips, but AYA Neo is the first to equip its device with a potent AMD Ryzen 5 4500U six-core APU. Sure, the AMD APU is rated for 15 W TDP, and we already see 28 W Intel i7-1165G7 processors on the GPD Win 3 models. Still, the AMD processors appear to be more proficient at gaming workloads when compared to the Intel chips, especially now that Team Red is offering the Ryzen 5000U solutions with Zen 3 cores. GPD apparently also figured out AMD's potential and is willing to put aside its Intel allegiance, as the Chinese manufacturer recently confirmed it has an AMD-powered handheld device in the works.
According to a conversation between Youtuber Wild Lee and GPD's marketing manager for international business YYang (Discord ID), we could soon be seeing a new Max device (Win Max 2?) powered with the newly released AMD Ryzen 7 5800U APU. Apparently GPD already has an assembled AMD motherboard inside a Max case and is testing it with games like Devil may Cry 5. Launch dates are still sketchy. YYang mentions that a crowdfunding campaign for the new Ryzen 7 5800U model might happen after GPD finishes the Win 3 campaign, so we are probably looking at Q421 availability at best. Wild Lee goes on to compare the 5800U processor to the 4500U in the AYA Neo handheld console, and from the charts he is showing, the newer APU seems to be 65% faster and also considerably better at handling PlayStation 3 emulators like Xemu.
Hopefully, GPD can keep retail prices for the Ryzen 7 5800U Max handheld at around $900. Maybe add a slightly bigger screen, as the 8-inch one with big bezels is not exactly that readable for modern games. Also, keep in mind that the jump to AMD processors would mean that you are essentially trading the Thunderbolt connector from the Intel systems for more processing power.
Bogdan Solca, 2021-03- 9 (Update: 2021-03-10)