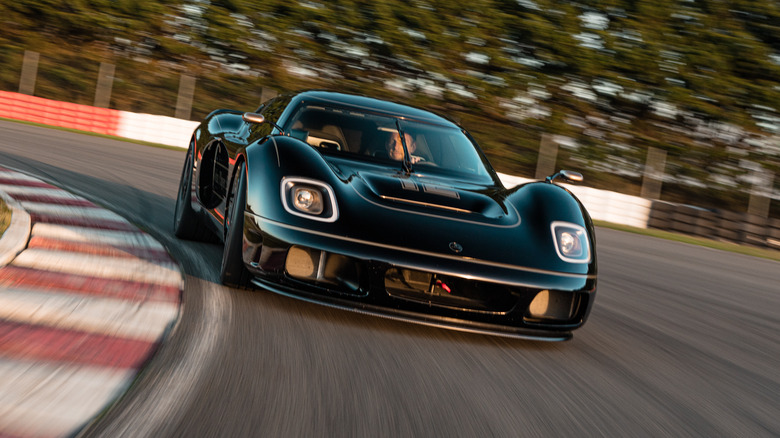 Radford
In the world of supercars, the market never stands still. Every year, a new wave of startups announce their debut cars, aiming to leave their mark and become the next big success story of the auto market. And there have been plenty of success stories: Just twenty-five years ago, both Koenigsegg and Pagani were plucky startup companies that virtually no one had heard of. Now, they're heavyweights in the industry with loyal fans and overflowing order books.
But, for every company like Koenigsegg or Pagani, there are plenty of smaller automakers that remain in obscurity. This is for a variety of reasons, whether they're new and finding their feet or deliberately limit their production to create a sense of rarity. Sometimes they simply can't find any interested buyers. But, whatever their reason for slipping under most enthusiasts' radars, these supercar companies have remained hidden gems that few people have even heard of.
Scuderia Cameron Glickenhaus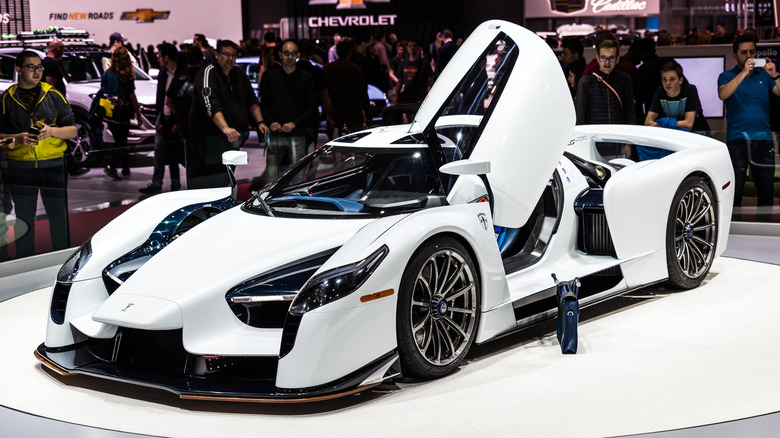 Kaukola Photography/Shutterstock
American performance car manufacturer Scuderia Cameron Glickenhaus was founded in 2004 by James Glickenhaus, a former film director who made much of his fortune working for his father's finance firm. Glickenhaus has always been a petrolhead, being the man behind one-off creations such as the Ferrari P4/5 Pininfarina. But, with SCG, he aimed to create his own range of high-performance vehicles. The company currently makes five cars, three of which are supercars.
The SCG003 is what the brand calls its, "race car for the road," essentially being a road-legal track day toy with a 700 horsepower BMW V8 engine. The SCG007 is the brand's track-only hypercar, which raced at the 2022 Le Mans 24 Hours and earned a commendable third place overall. SCG plans to make a limited run of road-legal SCG007s, but there's no word on when that will happen. Finally, there's the SCG004, a three-seater supercar with 650 horsepower and a six-speed manual transmission. The car was confirmed as being ready for delivery in June 2022.
Mazzanti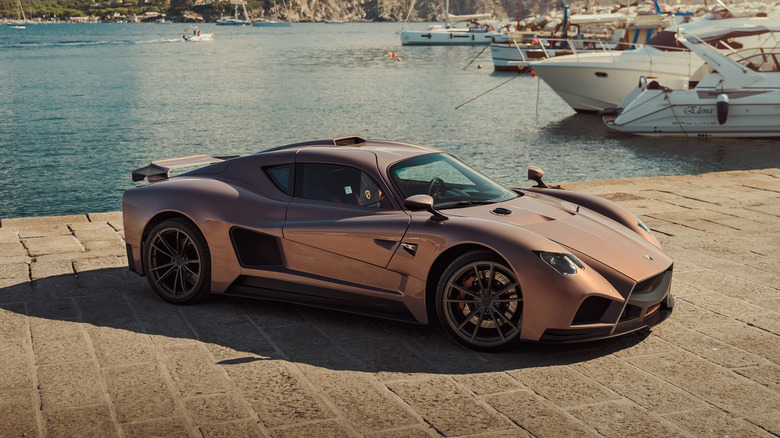 Mazzanti
Hailing from Tuscany, Italy, Mazzanti Automobili produces just one car, the Evantra, first released in "Millecavalli" form (that's 1,000 horsepower to non-Italian speakers), then in 2021, in "Pura" form. The Evantra Pura still makes 751 horsepower though, so it's no slouch. Considering the car is hand-built in Tuscany, Italy, in strictly limited numbers, most people would expect the car to come with an equally exotic powerplant. But this piece of exclusive Italian metal has a very American heart: a good ol' Chevy 6.2L LS V8.
The car only weighs 2,820 lbs, so it's good for a top speed of 223 mph and a 0-62 mph time of just 2.9 seconds. Mazzanti is reportedly limiting Evantra Pura production to just five units per year, so buyers can rest assured that they will have one of the rarest supercars on the market. Many supercar startups fold within their first few years of coming to market, but Mazzanti has been around for 20 years now, having seemingly found its niche: combining exclusive Italian design with mainstream American power.
Puritalia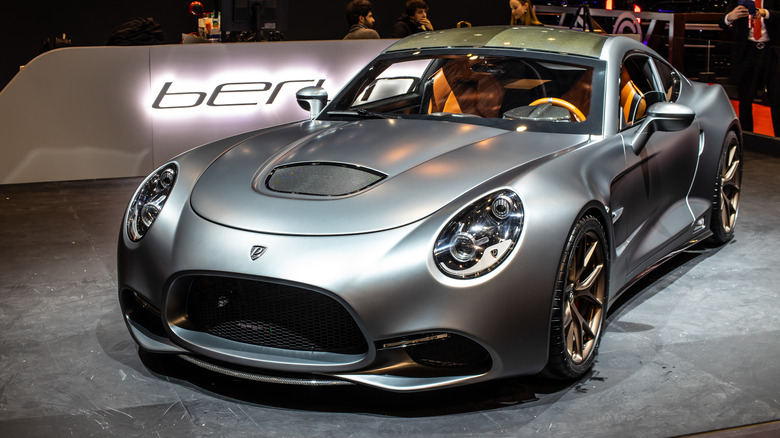 Grzegorz Czapski/Shutterstock
Another Italian brand that's slipped under the radar of most enthusiasts is Puritalia, whose debut is the Berlinetta. It's a 965-horsepower hybrid super-GT, which will be limited to a maximum production run of 150 units. The car debuted at the Geneva Motor Show in 2019, and the reaction to the car's design was generally very positive. However, Puritalia has so far remained tight-lipped about the number of customers on its pre-order list.
Over the last 10 years, hybrids have evolved to become mainstream, with most major manufacturers now offering at least one hybrid model in their lineup. Even traditionally conservative brands like Ferrari now offer plug-in hybrid supercars, with the SF90 Stradale pairing a high-revving V8 with three electric motors. As a fledgling startup, Puritalia has a lot to prove, but it seems like there's plenty of demand in the market for driver-centric hybrid supercars. So, if the brand can deliver a car that's as good to drive as it looks, Puritalia is a name to watch out for in the future.
Orca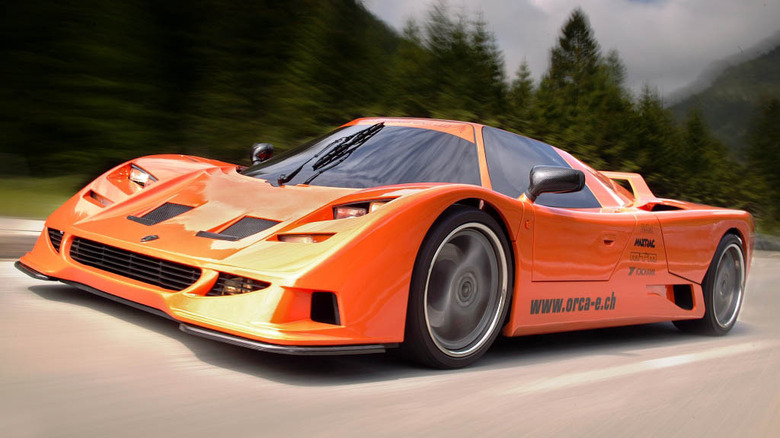 Orca
Orca Engineering was a short-lived supercar startup from Switzerland that only produced one car, the C113. The car was revealed in production form at the 2005 Geneva Motor Show, and originally, a run of 99 units was planned. It's not clear exactly how many C113s ended up being produced, but it was clearly a lot less than the company expected, as they went bankrupt just a few years after the car launched.
The C113 boasted some highly impressive performance figures for its era, with Orca claiming that the car could sprint from 0-60 mph in less than three seconds, and topped out at 224 mph, according to Ultimate Car Page. Extensive use of carbon fiber kept the car's weight down to just 1,873 lbs, and its construction was modular, which it was claimed would make maintenance significantly easier than on a standard supercar. Unfortunately, few buyers were interested in this unique-looking creation. The company's founder, Ralph Beck, went on to unveil another supercar in 2008, called the Beck LM800.
Arash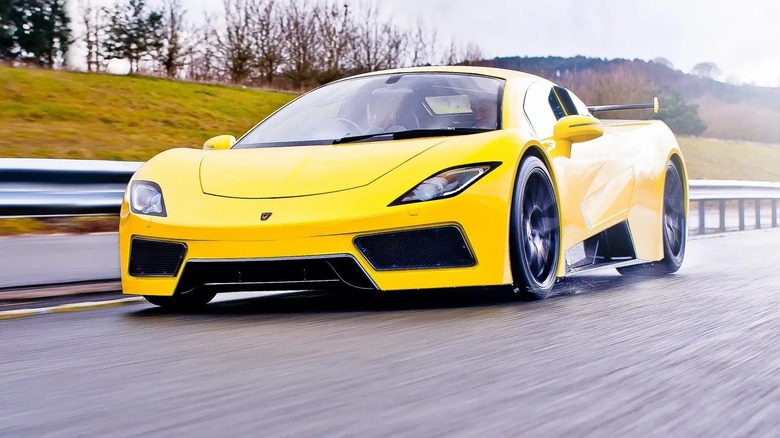 Arash
Named after the company's founder, Arash Farboud, Arash Motor Company is a small British manufacturer based in Suffolk, UK. The company was originally founded in 1999 as Farboud Ltd but became known as Arash in 2006. According to its website, Arash currently makes the AF8 and AF10 supercars, with three new models in development. The AF8 is the entry-level supercar, with a 550 horsepower 7.0L V8 engine that can reportedly push the car to a top speed of over 200 mph. The AF10 is considered Arash's flagship model, with a 900-horsepower gasoline engine and four electric motors making 1,180 horsepower, for a total output of 2,080 horsepower.
Each of the five motors has its own gearbox, but despite this complicated setup, the car's claimed performance figures are relatively standard for a modern supercar. 0-60 mph reportedly arrives in under three seconds, and the car's top speed is simply "more than 201 mph." That begs the question of whether Arash couldn't have achieved the same levels of performance with a simpler setup. While Arash's founder confirmed that a very small number of production AF8s have been sold, the AF10 has been labeled "vaporware" by Road & Track, as there is no proof that a production version has ever existed.
Picasso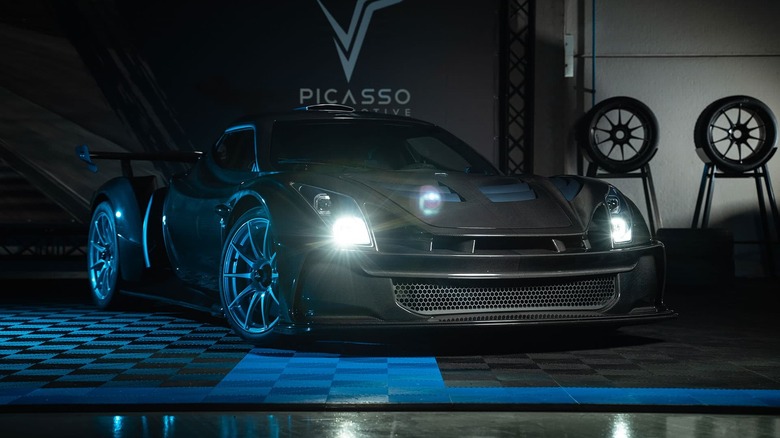 Picasso
In sharp contrast to the far-out claims of Arash, Swiss supercar startup Picasso has stuck firmly to tried-and-tested components for its first car, the 660 LMS. The production-ready version of the car was unveiled at the Top Marques Monaco show in June 2022, and it's built to excel on the track and the road. It features a mid-mounted turbocharged V6 engine that produces 651 horsepower and 531 lb-ft of torque, plenty of power considering the car weighs just 2,160 lbs.
Rather than designing everything in-house, Picasso partnered with a number of established engineering firms to develop many of the car's mechanical components. Italian engine specialists Autotecnica Motori supplies the car's 3.0L aluminum motor, Sadev supplies the six-speed transmission, and Pirelli developed bespoke tires specifically for the car. Production hasn't started yet, but with such an impressive list of technical partners and a number of customers reportedly already on the order books, Picasso seems to be in a very strong position to bring the 660 LMS to a wider market soon.
Falcon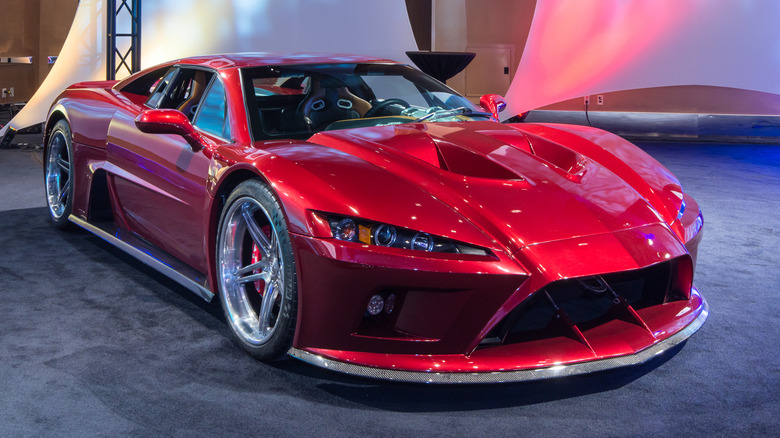 Steve Lagreca/Shutterstock
American engineer and designer Jeff Lemke launched Falcon Motorsports in 2009, and production of the brand's only model, the F7, began in 2013. Quite fittingly, only seven examples of the car have been built, although this reportedly wasn't a deliberate choice but rather, it was that very few people actually wanted to buy one. The car features an LS V8 sourced from a Chevrolet Corvette Z06, but thanks to some upgrades from Lingenfelter, it makes 620 horsepower and 585 lb-ft of torque.
For an undisclosed additional fee, buyers were able to add a twin-turbo package that upped the total horsepower output to 1,100 horsepower. Motor1 reports that the base-spec car retailed for around $250,000 when new, but when one of the seven examples came up for sale in 2021, it only reached a maximum bid of $122,000. It seems there simply isn't much demand for this ultra-rare all-American supercar, even at less than half its original retail price.
Radford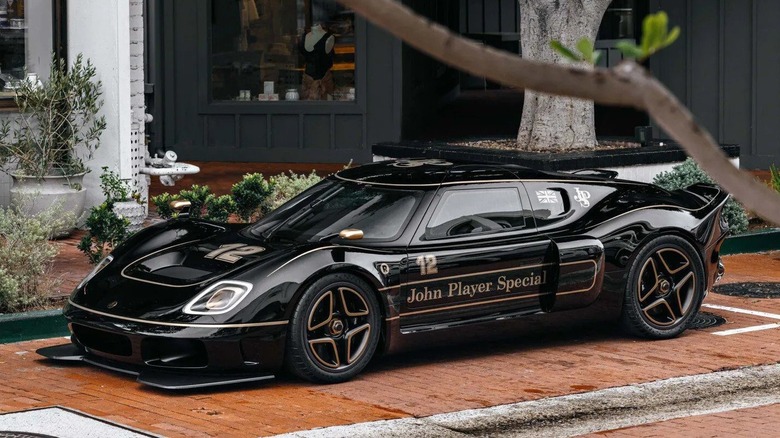 Radford
A modern resurrection of a classic British brand, Radford only officially relaunched in the summer of 2021, but it's already shown off its first production car at the 2022 Goodwood Festival of Speed. The Type 62/2 is based on a Lotus Exige S but features entirely bespoke bodywork, a number of chassis upgrades, and a completely unique interior. Plus, in top-spec form, it comes with a 600-horsepower supercharged V6 in the engine bay.
The company is co-owned by 2009 F1 champion Jensen Button, who reportedly provided much of the funding to help get the project off the ground. The Type 62/2 is limited to just 62 units, which will be split between the top-spec John Player Special, the middle-tier Gold Leaf, and the base-spec Standard trims. The car's retro-modern design takes inspiration from the Ford GT40, which the original incarnation of Radford helped to design in the Sixties. It's not easy to get a reboot like this right, but Jensen Button's Radford revival seems to have done the original company justice.
Ginetta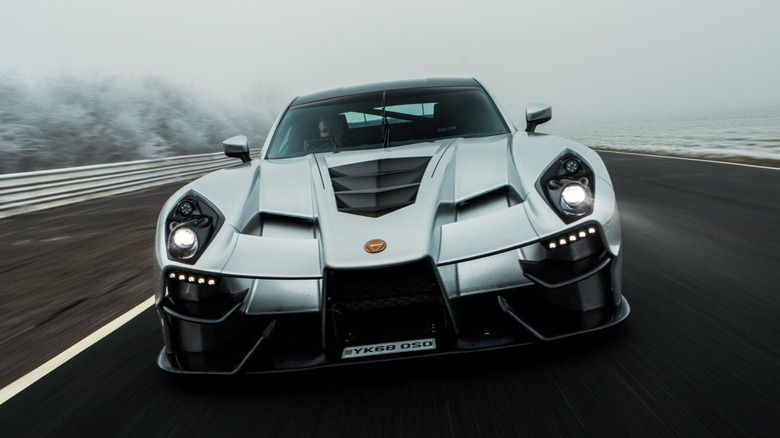 Ginetta
Low-volume British automaker Ginetta has been making cup racing cars for several decades now, but in 2019, they showed off something a little different. The Akula debuted at the Geneva Motor Show as a 200 mph Ferrari rival, with a starting price of £340,000 ($414,000). Production of the car has been delayed due to the Covid-19 pandemic, but in a statement sent to British magazine Autocar in June 2022, the company promised that the Akula was still coming soon.
It's fair to say that the Akula isn't the prettiest of supercars, but that's because its distinctive styling was optimized purely for aerodynamics rather than looks. The car's chassis and body panels are made entirely from carbon fiber, and Autocar reports that its engine was designed in-house, shaped by Ginetta's decades of racing experience. It makes roughly 600 horsepower and 520 lb-ft of torque, yet the car only weighs 2,535 lbs. Hopefully, the Akula will make it onto the roads and into the hands of customers soon.
Baltasar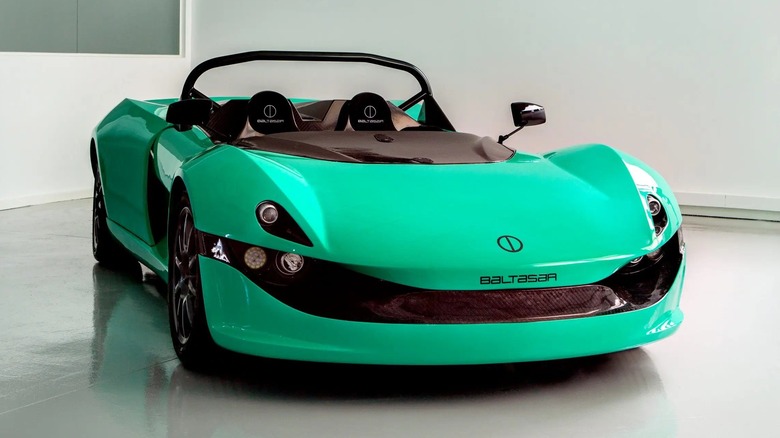 Baltasar
Most electric vehicle startups flooding the market at the moment are developing high-margin SUVs or luxury vehicles, but Spanish newcomer Baltasar is not like the rest. In 2021, the brand unveiled the Revolt, an all-electric track day toy that's also fully road legal. It has two electric motors that drive the rear wheels, making a combined 500 horsepower. That figure might seem quite modest, but considering the whole car weighs just 1,697 lbs — including batteries — it's enough to propel it to face-melting levels of performance.
From a standstill, the Revolt can reach 62 mph in just 2.5 seconds, although there's no word yet on what the car's top speed is. Its battery can reportedly hold enough charge for 40 minutes of flat-out track time or up to 373 miles of range at road-legal speeds. Design-wise, it boasts hints of the Renault Spider in its exterior styling. There are a few quirks: the car's charging port is located on the passenger's side of the dashboard, rather than on the outside of the car like usual. There's also no padding at all on the carbon-fiber seats, which will presumably make driving down uneven public roads a rather uncomfortable experience.
Lotec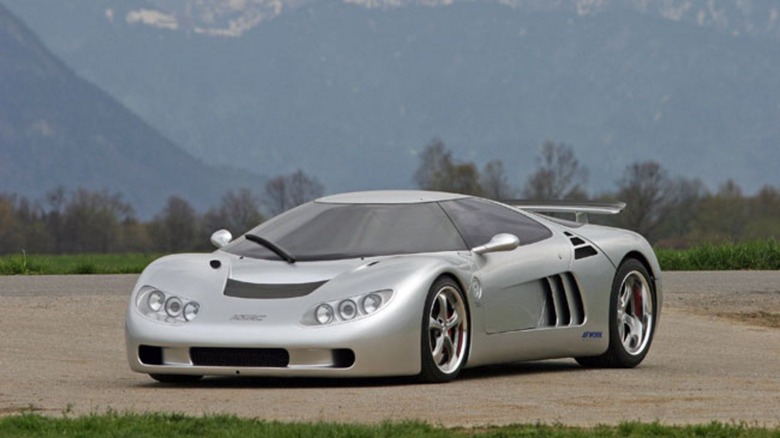 Lotec
In 1990, an unnamed businessman from the UAE contacted German racing car manufacturer Lotec and asked for the fastest car in the world. With the promise of a blank check, Lotec began developing the car in 1991, and by 1995, the C1000 was finished. It featured a 5.6L Mercedes twin-turbocharged V8 engine that made over 1,000 horsepower. According to Motor1, Lotec claimed the car had a 0-62 mph time of just 3.2 seconds, and a top speed of 268 mph. The C1000 was strictly a one-off, but at a development cost of $3.4 million, it's not like many other buyers could have afforded one anyway.
Creating the C1000 gave Lotec owner Kurt Lotterschmid the supercar bug, and shortly after development finished, he set about building a follow-up. By 2001, the brand's next car, the Sirius, was unveiled. It was planned that five units a year would be created, each car selling for $462,000. The Sirius featured a mid-mounted Mercedes V12 making 850 horsepower, with many of the car's internals derived from Lotec's racing parts bin. It was a similar recipe to the Pagani Zonda, which launched just a few years prior, and shared the same engine. However, unlike Pagani, Lotec couldn't drum up much interest in its ultra-expensive supercar, and only one example of the Sirius ended up being built.
Wiesmann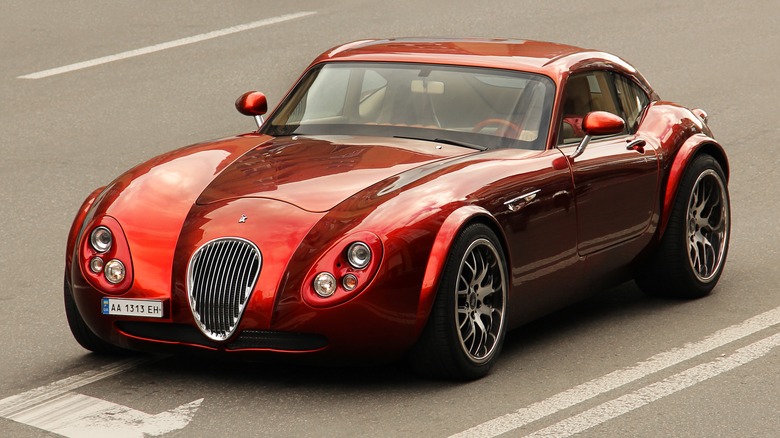 Roman.S-Photographer/Shutterstock
German automaker Wiesmann's cars all follow a simple formula: a light curb weight, a distinctive dual-headlight design, and a powerful BMW engine under the hood. The brand's first car, the MF3 Roadster, rolled off the production line in 1993. Production of the MF line of cars continued until 2014, when a series of financial issues hit the company. Wiesmann was forced to shut its doors and declare bankruptcy, but was bought out by a group of investors shortly after.
In 2022, the company unveiled two brand new supercars, codenamed "Project Thunderball" and "Project Gecko." While Project Gecko is essentially a continuation of the MF production cars, with a BMW V8 under the hood and a similar design, Project Thunderball is something a little different. It no longer features a signature Bavarian powerplant, instead making the switch to electrification. Wiesmann is one of the first low-volume supercar makers to create a fully-electric vehicle, so Project Thunderball will definitely be one to watch when more details are revealed.
B Engineering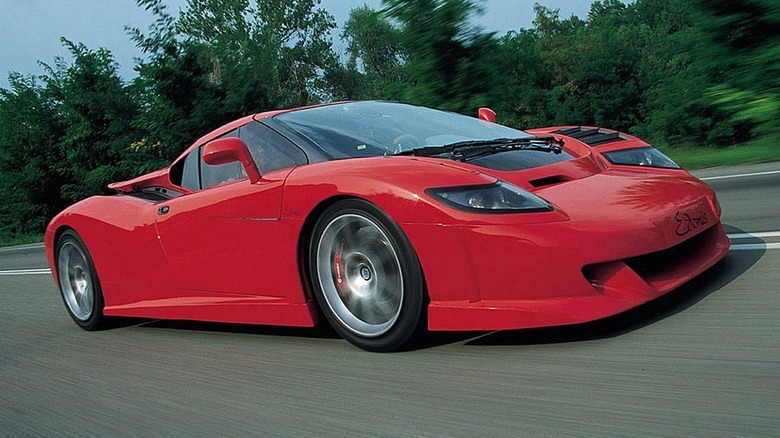 B Engineering
Bugatti has a storied past, but one of its most interesting forgotten chapters has to do with the events that unfolded after the company went bankrupt in the mid-1990s. There were a lot of leftover Bugatti EB110 chassis and engines lying around the factory, so a plan was hatched to make a continuation supercar with them. A new company, B Engineering, was formed by a group of ex-Bugatti engineers, and a new supercar called the Edonis was designed.
Although the Edonis retained the EB110's carbon fiber chassis and V12 engine, most of the other components were completely re-engineered. B Engineering planned to sell 21 examples of the car for €760,000 each (close to $1 million at the time), but they never reached that goal. Only a few examples were ever created, and the project ran out of money in 2006. Autoweek reported in 2018 that a revival might be on the cards, as an American engineering outfit announced a partnership with B Engineering to complete the rest of the run. That said, since the initial announcement, there has been no further news.
Rezvani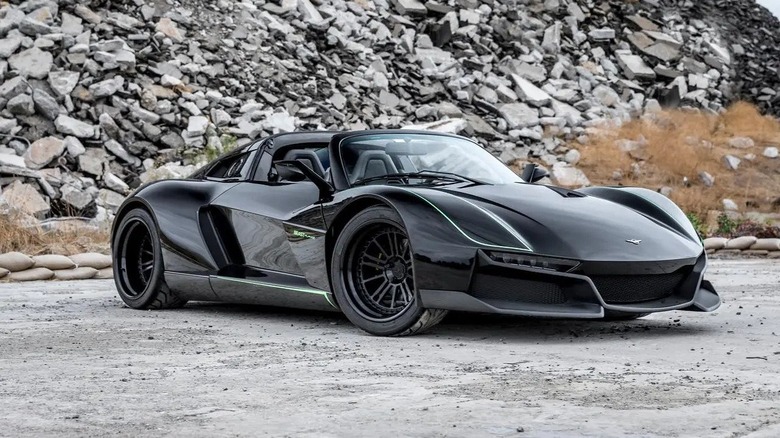 Rezvani
Rezvani is perhaps best known for its outrageous bulletproof super-SUV, the Tank, but it also makes a supercar called the Beast. Various incarnations of the Beast have been unveiled over the past five years, but the latest is a 1,000-horsepower, carbon fiber-clad machine that's only been shown off in a shadowy teaser image so far. The previous iteration, pictured, was called the Beast Alpha X Blackbird. It was based on the Lotus Elise and featured a 700 horsepower engine, with a curb weight of just 2,150 lbs.
There's no word yet on whether the latest Beast will also be based on the Elise, but a full reveal is slated for sometime in summer 2022. Despite its high-performance engine and carbon fiber bodywork, the Beast is very reasonably priced in supercar terms. The cheapest version starts at just $95,000, with even the top-spec Alpha X Blackbird coming in at $225,000. That's about the same price as a new Ferrari Roma, but with the Blackbird, buyers get an extra 100 horsepower and a much rarer car.
Bolwell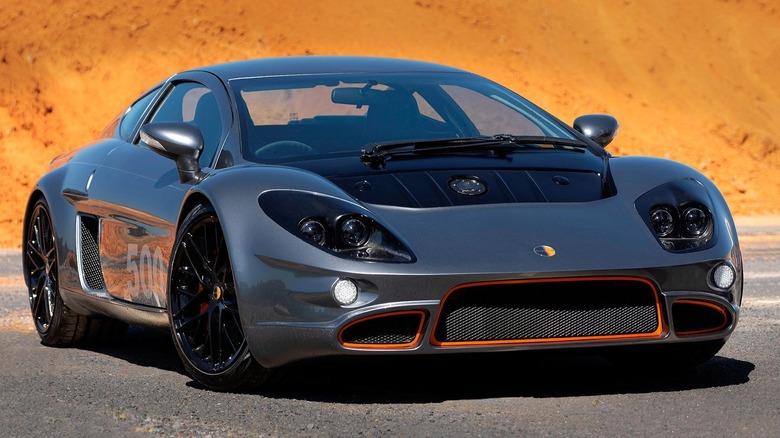 Bolwell
It might be unheard of outside of Australia, but the Bolwell brand holds a special place in Aussie performance car history. Founder Graeme Bolwell cut his teeth working at Lotus, and retained close ties to the British company after he'd left. The first Bolwell car was called the Nagari, and it featured a Ford 302 V8 mounted onto a lightweight chassis, with composite body panels used to keep weight to a minimum. It was, in a sense, much like a Lotus, albeit with a distinctly Aussie twist.
In 2019, Bolwell announced plans to pay tribute to the original Nagari by launching a new generation of the car, the Nagari 500. It's powered by an LS3 V8 making 500 horsepower, but New Atlas reports that Bolwell is quite happy to increase that figure significantly should a buyer want to. Instead of composite, the new car uses carbon fiber to keep weight to a minimum. In June 2020, Bolwell confirmed that development was in the testing phase, but since then, the project seems to have gone quiet.
Gillet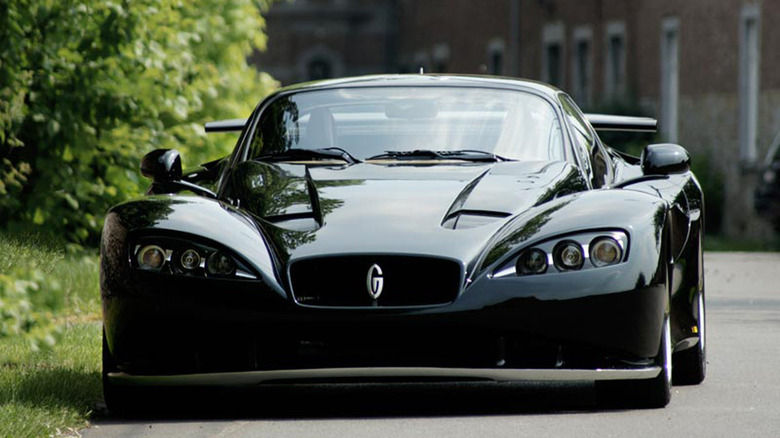 Gillet
On the other side of the world from Bolwell, Belgium's only carmaker — Gillet — has been quietly churning out supercars for 30 years. The brand's signature model is the Vertigo, and despite its obscurity, it has a serious racing pedigree. An early incarnation of the car won the G2 class of the FIA GT World Championship for three consecutive years between 2006 and 2008. Then, more recently in 2018, a Vertigo driven by the daughter of F1 legend Jacky Ickx achieved a sub-11 minute time at Pikes Peak.
As well as manufacturing its own supercars, Gilet also supplies rolling chassis for low-volume coach-built cars. The ultra-limited Zagato Maserati Mostro is based on the chassis of a Gillet Vertigo 5 Sprint (pictured), and the Alfa Romeo Zagato TZ3 is also built on a Vertigo chassis. All very impressive for a company that, despite being around for three decades now, most enthusiasts will have never heard of.