RECIPE
Cooking (and eating) French food doesn't have to come at the expense of your wallet!
Published May 26, 2023 12:30PM (EDT)


A portrait of the American chef Julia Child (1912 – 2004) (Bachrach/Getty Images)
As part of our budget eats series, Salon Food previously put together a collection of affordable spring recipes from Giada De Laurentiis, Ina Garten and Martha Stewart. This week, we're turning our attention to the celebrated cooking expert and television personality Julia Child, who is best known for introducing French cuisine to the American public.
Contrary to popular belief, cooking — and enjoying — French foods doesn't have to be an expensive or laborious affair.
Per Julia, be sure to stock up on butter, eggs, garlic, herbes de provence (dried basil, marjoram, oregano, rosemary, thyme and rosemary), flour, cheese, olive oil and vinegar. Yes, we know it's a lengthy list. But it's also one that won't come at the expense of your wallet.
Soon enough, you'll be whipping up French-inspired recipes like a pro and adopting Julia's trademark phrase — "This is Julia Child, Bon appétit!"
---
Want more great food writing and recipes? Subscribe to Salon Food's newsletter, The Bite.
---
From Julia's Vichyssoise to her Spinach and Eggplant Curry, here are five budget recipes from the famed kitchen queen:
Julia's signature recipe is chicken braised with red Burgundy wine, lardon (fatty bacon or pork fat), mushrooms and garlic. Sure, wine and lardons can both be budget-breaking ingredients, but they can also be purchased for cheap at Trader Joes and Walmart!
A more affordable rendition of the recipe was formulated last year by Inflation Bites. Their recipe specifically calls for 4 to 5 chicken leg quarters, salted pork, mushrooms, pearl onions, garlic, Pinot Noir, chicken stock, dried thyme, bay leaves, gelatin, butter, parsley, salt and pepper. The total cost comes to just $16.
Find the full recipe here.
Another one of Julia's favorite recipes is Vichyssoise, a leek and potato soup that doesn't skimp on cream. The dish itself calls for sliced potatoes, sliced whites of leek, chicken stock or broth, whipping cream, minced chives, salt and white pepper (although ground black pepper will also do the trick!).
If you want to keep the recipe purely vegetarian, use vegetable stock in lieu of chicken stock. As Julia once said, "Leek and potato soup smells good, tastes good and is simplicity itself to make." She's not wrong!
Find the full recipe here, courtesy of Taste of Home.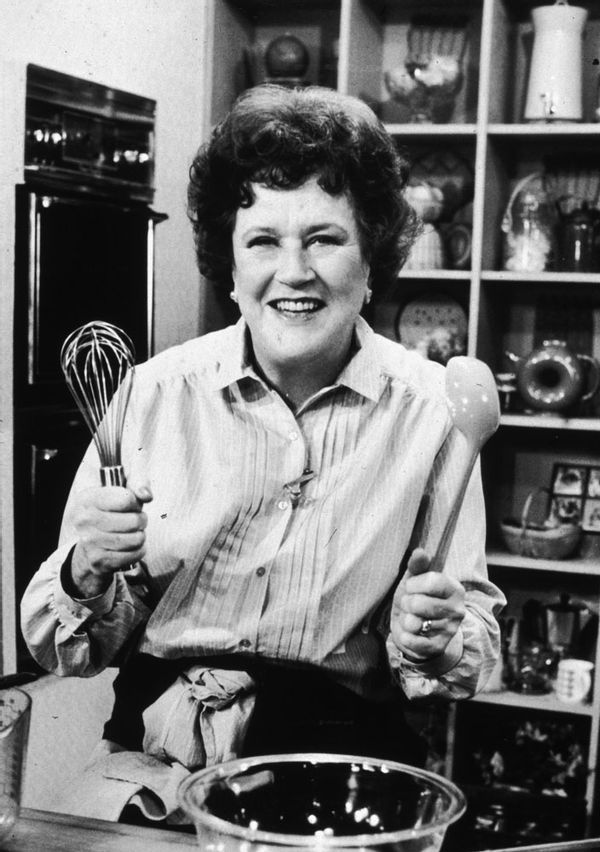 American chef Julia Child stands in front of a countertop, holding a whisk and a ladle by a mixing bowl, possibly on the set of her television series, 'The French Chef'. (New York Times Co./Getty Images)
This hearty side dish is perfect to enjoy alongside your choice of protein, whether that's roast chicken, grilled lamb chops or pan-seared steak with garlic butter.
The "meat" of this dish is the eggplant, which is seasoned with salt, mustard seeds and ghee (also known as clarified butter). The curry calls for onion, more salt, chopped garlic, grated ginger, peeled tomatoes, light brown sugar and a slew of spices, including coriander, cardamom and turmeric. After all the ingredients are mixed and cooked, the spinach is stirred in, which preserves its vibrant hue and freshness.
Trust us when we say that Julia's Spinach and Eggplant Curry may become your new go-to weeknight side dish.
Find the full recipe here, courtesy of PBS.
Nothing screams spring like a heaping bowl of salad filled with fresh produce and a zesty dressing. Julia's Beet, Blood Orange, Walnut and Rocket Salad takes homemade salads to a whole other level.
The star in this dish is the vinaigrette, which is made from blood oranges (regular oranges work fine, too), shallots, salt, sherry wine vinegar and EVOO. There's also chopped beets, seasoned with salt and ground pepper, along with arugula and toasted walnut halves.
Find the full recipe here, courtesy of PBS.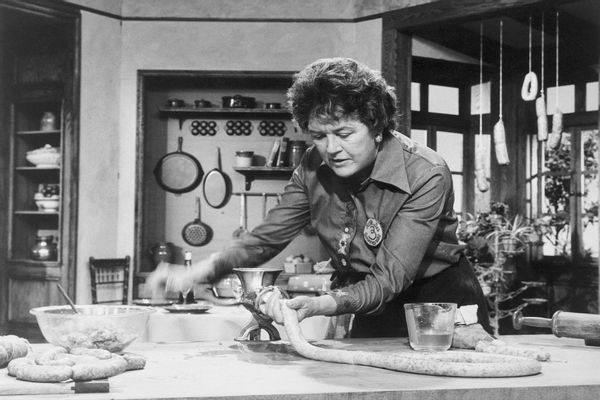 Julia demonstrates the stuffing of sausages. (Getty Images/Bettmann)
A classic French tart, quiche consists of a pastry crust filled with a savory custard made from cheese, meat (typically ham or bacon), seafood or vegetables. Julia keeps it simple with her recipe for Swiss Cheese Quiche. You'll need eggs, whipping cream, salt, pepper, nutmeg, grated swiss cheese, butter and pastry shells — that's all! Be sure to enjoy your quiche straight out of the oven, when the cheese is still hot and bubbly.
Find the full recipe here, courtesy of Food.com.
Joy Saha is a staff writer at Salon, covering Culture and Food. She holds a BA in journalism from the University of Maryland, College Park.
MORE FROM Joy Saha
---
---
---