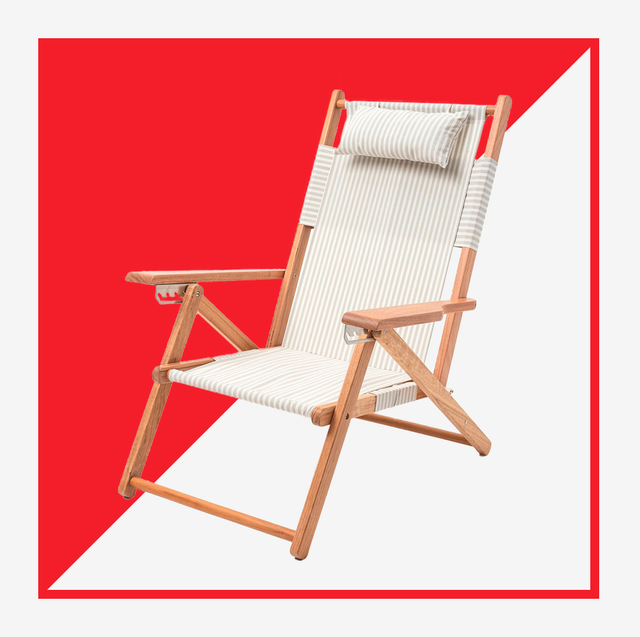 Courtesy of retailer
Nothing epitomizes summer like a day at the beach. Warm sand, the sound of lapping waves and a refreshing ocean breeze are just the elements one needs to feel totally refreshed. And the difference between a dream beach day and the uncomfortable, sunburned, sand in your swim trunks kind? The right beach accessories—with all due respect to Mother Nature, a great beach chair is infinitely more pleasant than a sandy towel on the ground.
Before you buy just any option out there, there are a few things to consider when picking the perfect beach chair for your next trip. First, consider how much you want to recline. Lots of the best beach chairs available today offer multiple positions, so you can sit upright, lay flat or recline at many angles in between. A zero gravity chair will let you lay back with your feet totally up, while some loungers let you sleep on your stomach with a hole for your face, kind of like a massage table. Second, it's important to keep in mind how far you'll be carrying said beachside throne. If you anticipate a long walk, opt for a lightweight version. If you're planning to haul a whole barbecue's worth of food and drinks, try one with padded backpack straps so you can go hands-free. Conversely, big guys will want to seek out the sturdiest options available that hold the most weight. Lastly, don't forget the extras that are important to you, like a sunshade, a built-in pillow or drink holders. There's truly a dream beach chair out there for everyone.
We've found the best beach chair options the Internet has to offer, courtesy of Amazon, Walmart, Wayfair and more. Happy lounging.
Best Lightweight Beach Chair
Coleman Camping Chair
When it comes to crowd-pleasing options, this "Amazon's Choice" Coleman camping chair is at the top of the list for all-around beach-going needs. At just over 5 pounds, it's lightweight but has a cupholder and a back pocket for stowing essentials.
Best Beach Chair for Total Relaxation
Ostrich Lounge Chaise
Why sit at the beach when you could lounge? That's the idea behind the Ostrich Folding Chaise Lounge, which, yes, is truly designed for the beach, though it's also perfect for the backyard. Quick-dry fabric means your wet bathing suit won't ruin your perfect lazy day by the ocean.
Best Beach Chair with Canopy
GCI Outdoor Big Surf Chair with Sunshade
Simplify your oceanside setup by nixing the umbrella and instead utilizing this beach chair that comes equipped with a canopy. The sunshade is crafted in UPF 50+ fabric to keep harmful rays at bay. Also featuring a hidden slide-out table with a beverage holder, this all-in-one beach chair is only missing the snacks.
Best Beach Chair for Hot Days
Nice C Low Beach Camping Folding Chair
For the height of summer, when the ocean is your reprieve from intense heat and humidity, make sure your beach chair is helping keep you cool. This one features breathable mesh to let a breeze through. It stows into a slim carrying case with a strap.
Top-Rated Beach Chair on Wayfair
Arlmont & Co. Harrell Reclining Zero Gravity Chair
wayfair.com
$124.13
$91.95 (26% OFF)
Zero gravity chairs have earned well-deserved hype for letting you not only recline but also put your feet up all the way for full chill mode. This top-rated beach chair includes a cup holder and a pillow, basically all your naptime essentials.
Top-Rated Beach Chair on Amazon
Tommy Bahama Backpack Cooler Beach Chair
Tommy Bahama
amazon.com
$99.99
Beach bums love this Tommy Bahama beach chair for covering all of the day-at-the-beach basics. It's lightweight, boasts seven different positions, lays flat, and has a built-in cooler. What more could you need?
Best Beach Chair for Tall Guys
Rio Beach Big Boy Folding Chair
Being low to the ground is great and all, unless you're a bigger guy who's avoiding sore knees. This Rio beach chair has higher and wider seating than a typical beach chair to suit bigger bodies. Adjustable, padded backstrap straps make it a cinch to carry.
Best Rio Beach Chair
Rio Premium 5-Position Aluminum Lace Up Chair
The perfect beach chair has to be lightweight enough to cart around but sturdy enough to hold you up. This beach chair from Rio delivers on both fronts. Plus, it has padded straps so you can carry it backpack-style.
Best Beach Chair for the 'Gram
The Tommy Chair
businessandpleasureco.com
$249.00
Aesthetic matters too, okay? If you're more of a classic, Martha's Vineyard type of guy, try this old-fashioned beach chair from Business & Pleasure Co. A premium hardwood frame, padded armrests and backpack straps for easy toting make it built to last. It's also the perfect look for some Instagram shots.
Best Beach Chair for an Actual Nap
GYMAX Beach Lounge Chair
When you really want to chill, try a beach chair that could double as a massage table. This folding version has a hole for your face for all the stomach sleepers out there. With a total of five reclining positions, anyone can get comfortable, including dudes up to 330 pounds.
Sturdiest Beach Chair
Helinox Beach Chair
Set up camp at the beach or on uneven soil with this beach chair constructed with sturdy aluminum poles. Ideal for a multitude of environments, it's crafted in abrasion-resistant polyester to last for years to come. The convenient carrying sack converts into a pillow.
Beach Chair with Added Accessories
Sunflow The Beach Bundle
Need an easily foldable sun shade? Super comfortable seating? A dry bag for stashing your keys and wallet? Lots of bright colors to choose from? Look no further than this Sunflow beach chair that thinks of just about everything for your next outing.
Best Beach Chair For a Bad Back
GCI Outdoor Zero Gravity Chair
dickssportinggoods.com
$89.99
Beach days can be delightful in theory, then not so fun when it comes to cramped seating arrangements or uneven sand. Relax like a king in this ergonomic zero gravity chair, our pick for best beach chair for a bad back. Designed with total comfort in mind, it offers a wide variety of seating and reclining positions, including horizontal.
Reclining Camping Chair
Alpha Camp
wayfair.com
$52.90
For a true outdoorsman, versatility is key and this beach chair is equally ideal for your next camping trip or lakeside barbecue. Sitting higher off the ground than your typical beach chair, tall men will feel right at home with this heavy duty edition. Bonus points for the large, double cup holder.
This content is created and maintained by a third party, and imported onto this page to help users provide their email addresses. You may be able to find more information about this and similar content at piano.io