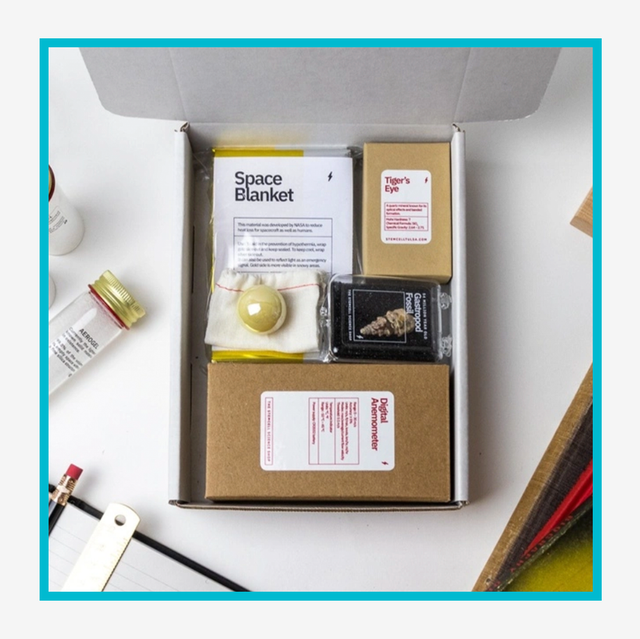 Courtesy of Retailer
Having someone else shop for you can make buying new things a whole lot easier. You may be seeing dollar signs right now merely at the thought of a personal shopper, but don't say goodbye to your savings just yet. You don't have to be a celebrity to enlist a pro to help you pick out personalized buys—that's exactly what the top subscription box companies do for the rest of us.
But subscription boxes can be hit or miss, and no one wants to pay a monthly fee just to chuck half of the selected offerings. Spending your cash on only the best matters—and you can find the top subscription boxes for men right here.
Don't like picking out clothes? Expert stylists from brands like Nordstrom's Trunk Club and Stitch Fix handpick and curate boxes of apparel and accessories according to your taste and preference. Don't like having to remember to stock up on new razor blades or moisturizers? Birchbox and Dollar Shave Club offer monthly deliveries that will ensure you'll always have the grooming essentials on hand. Rather get your grub on? The experts at Butcher Box and Mantry can help you there.
Whether you're looking to have fresh meals arrive at your doorstep or need some gear for the golf course, there's a subscription box out there that will suit your lifestyle. Check out the 30 of the best subscription boxes for guys that won't disappoint—or end up in the garbage.
Bespoke Post Box
Bespoke Post curates themed boxes filled with high-quality gear and unique products. Got commitment issues, bro? Each month, you get to preview the box before receiving it, letting you choose colors, sizes, or whether to skip the box altogether. Talk about a no-risk sign-up. A box is $45 per month for Bespoke Post members and $55 a month for non-members.
Read more: Bespoke Post Subscription Box Review
Hunt a Killer Monthly Subscription
If you like true crime, escape rooms, or both, Hunt A Killer is the subscription box for you. Each month, you get a box filled with evidence, ciphers, clues, and artifacts to help you catch a fictional killer. Storylines run for multiple boxes, so you'll be engrossed in a case for months. And these cases are complex, meaning you'll actually get your $30 worth.
Craftsman Crate Subscription Box
Craftsman Crate curates boxes that let you try out new hobbies each month, sending all the materials you need to complete a cool project. Many of the materials are reusable, giving you a practical basis to pick up the craft if it interests you beyond the one box. From leather-working to chainmail crafting to woodcarving, you'll pick up a good pool of new hobbies.
Box of Matter
Science nerds, assemble. With the Box of Matter, you'll get a monthly delivery of interesting items from around the world to build your own personal science museum. From real prehistoric fossils to scientific tools to other interesting pieces of matter, you'll not only get objects but an explanation of their scientific significance—all for $29.99.
Daily Harvest Subscription
Daily Harvest delivers frozen foods to your door, with each selection requiring minimal preparation but packing a high flavor payoff. Blend a smoothie, microwave a Harvest Bowl, bake a flatbread, or pop a truffle-like bite into your mouth straight from the freezer. No matter what you choose in your weekly box, you'll be plenty happy. And you can skip a delivery at any time, tailoring the service to your needs.
Read more: Best Healthy Meal Delivery Services
Jerky Snob Subscription Box
Jerky Snob delivers artisan jerky—yes, that's a real thing—to your door every month to fill your snacking needs. Nibble on different flavors, textures, and spice levels of jerky to find your favorite cured treat. Choose from two bags per month for $15, a half-pound monthly for $26.67, or one full pound for $53.17 a month.
Read more: Best Jerkey Brands
Stitch Fix
This popular clothing service sends stylist-selected outfits at pre-scheduled intervals. Just fill out a questionnaire about your clothing needs and pay a small $20 styling fee. Then, pieces from brands like Penguin, Theory, and John Varvatos (as well as several others exclusive to Stitch Fix) show up at your door. You're charged for what you keep—and get a 25 percent discount if you keep the whole lot. Oh, and that styling fee is credited toward anything you keep.
Read more: Stitch Fix Men's Review
Watch Gang Watch Club
The perfect outfit needs the perfect accessory, namely that perfect timepiece. This monthly service delivers a new watch to your house every month—and almost every single day, the service gives away a TAG and a Rolex to one lucky member. The site offers three subscription levels—$49, $99, and $299.
Read more: Best Watch Brands for Men
Nordstrom Trunk Club
This subscription club is affiliated with Nordstrom, so you can breathe easy that your deliveries will be packed with top brands. You get 48 hours to try on the selections at home, keeping what you want and returning the rest for free. Like a piece but so-so on the fit? Get it altered at any Nordstrom. Each box has a $25 styling fee, which is applied to anything you keep—or waived for those using a Nordstrom credit card.
Menlo Club
This e-commerce hub curates all of fashion company Five Four Group's offerings into one monthly subscription box. For $60, you'll receive two items from Five Four, Grand AC, or New Republic. Plus, you'll get special members-only pricing at Menlo House, an online store stocked with suede Chelsea boots, graphic tees, jeans, and activewear.
Birchbox Man
This monthly delivery grooming service delivers TSA-approved sample sizes of men's toiletries from top brands like Jack Black, Kiehl's, and Harry's. Find something you can't live without? Head back to the site, buy a full-size version, and earn reward points that translate to cash money towards restocking your shower.
Scentbird
You don't want to commit to an expensive cologne without knowing if it's 100% right for you. That's where Scentbird comes in clutch. For just $15.95 a month, Scentbird will send you a fragrance of your choice in a mini bottle meant to last a month or so. You'll never get sick of a scent because you get to choose a new one (or revisit an old favorite) every month.
Lumin Skin Subscription
So you want to get rid of those dark circles but aren't sure where to start when it comes to skincare. That's where Lumin's subscription service comes in handy. You'll build a routine (a.k.a choose products based on areas you'd like to improve) and create a kit that can be shipped to you every couple of months. It takes the hassle out of reading labels and fine print. If you don't feel like committing to a subscription, it's no big deal. You can purchase any of Lumin's products without one.
Flaviar Subscription Box
Flaviar's subscription box lets you test out a sample set of top-quality spirits and select a single full bottle to enjoy each quarter. Your quarterly selections feature ever-changing selections of craft and premium spirits from across the globe, including whisky, bourbon, gin, cognac, rum, and others. The service costs $95 per quarter, or you can sign up for a year for $300.
Read more: Best Beer Subscription Boxes
LootCrate Tees Box
LootCrates offers a selection of subscription boxes featuring pop culture-inspired socks, underwear, tees, and more. While the boxes include weekend wear pieces rather than business casual picks, a man can't survive on Oxfords and slacks alone. Geek out to close the week out.
Sprezza Box
For just $28 a month, you'll get a box of stylish accessories—like ties, socks, and leather goods—mixed with bonus fun stuff, including grooming products or other cool shit guys need like a cigar cutter, flask, or corkscrew. The Sprezza site also offers a marketplace of accessories such as cufflinks, watchbands, and pocket squares, plus one-off boxes for $35.
MeUndies Monthly Subscription
Is your underwear drawer getting a little grubby? A MeUndies membership helps you curate a colorful undie collection, getting a new pair sent to your door every month for $16. Just select a style, a plan (classic, bold, or adventurous), and your size. MeUndies products are built to last with ultra-soft lightweight fabrics, no-chafe flatlock stitching, and a soft, flexible waistband.
Butcher Box Subscriptions
Butcher Box sends fresh meat, poultry, and fish to your door every month for just $137. Choose from four curated boxes—like a beef and chicken box or an all-beef box—or make your own custom box each month for $159. Each box contains 8.5-11 lbs of high-quality product, saving you money and time in the long run.
Murray's Cheese Of The Month Club
Sign up for one of Murray's monthly cheese clubs to get high-quality cheese from New York City shipped right to you. The star is the Cheesemonger's Picks box, which will make you try 3 or 4 expertly picked cheese selects each month P.S. You may want to also sign up for Murray's mac and cheese of the month club because why wouldn't you?
Short Par 4 Subscription Box
Looking good on the course has never been so easy. With Short Par 4's monthly subscription service, you can receive up to 60% off golf apparel from major brands like Callaway, Puma, and Under Armour personally selected for you based on a quick style quiz.
Cairn Subscription Box
Answer a few questions about your outdoor activity and Carin will send you all the right gear for your next adventure, including appropriate apparel and equipment, as well as skincare and first-aid products. Items in the box are up to a $50 value, giving you your money's worth.
Dollar Shave Club
You probably know about Dollar Shave Club already—and that's a really good thing for your bank account. The Club lets you customize your routine, shipping you razor heads, skincare essentials, and more each month for way less than you're used to from the drugstore. Prices vary based on your selections, but you're guaranteed to save a pretty penny.
Read more: Best Shave Clubs
Battlbox Subscription
If you're the outdoorsy type, Battlbox is tailor-made for you. In each monthly box, you'll receive hand-selected items like survival tools and manuals, emergency supplies, and more. There are four subscription levels, with the most affordable costing $29.99. The Pro Plus box is the highest subscription tier, costing $159.99 a month. In this box, you get all items from the three other levels and some additional pricey gear.
Grill Masters Club
This Jacksonville-based team wants to help you become a pro pitmaster. For $29.99 a month, you'll receive a box of the best new sauces, rubs, marinades, wood chips, recipes, and grilling accessories. All you'll have to do is light up the grill with your favorite cut.
Blue Bottle Coffee Subscription
Blue Bottle's box is perfect for any coffee lover. With several subscription box options starting at $11 per month, you can choose a coffee, espresso, iced coffee, or even a decaf box based on your java preference.
Mantry Subscription Box
It's a foodie's dream come true. For $75, get a Mantry wooden crate delivered to your door every two months filled with six full-sized artisan food products. There's always a theme for each box, with past boxes including "pizza party" and "Bourbon BBQ" themes.
Good Cigar Co. Monthly Subscription
Subscription boxes aren't all clothes and skincare products. With a Good Cigar Co. monthly subscription, you'll get a shipment of cigars, a cutter, matches, and guidance, all curated by the team at Good Cigar Co. Get four cigars a month for $34.99, or eight picks for $59.99 per month.
The Sill Classic Plant Subscription
For $60 a month, The Sill will ship you an easy-care plant in 6-inch grow pot, along with a 7-inch ceramic planter. You can choose between two planter colors, depending on your preference. It's a great way to build up a low-maintenance plant collection and bring some life into your living space.
Related Garments Boxer Brief & Socks Membership
Get high-quality matching men's socks and underwear delivered to you each month for only $22 with Related Garments. Each box includes one pair of boxer briefs, one pair of matching stay-put crew socks, and one pair of matching non-slip no-show socks.
Winc Wine Club
This curated wine delivery box arrives straight to your doorstep each month with a selection of exclusive wines tailored to your tastes. Members can skip a month any time, free of charge.
This content is created and maintained by a third party, and imported onto this page to help users provide their email addresses. You may be able to find more information about this and similar content at piano.io