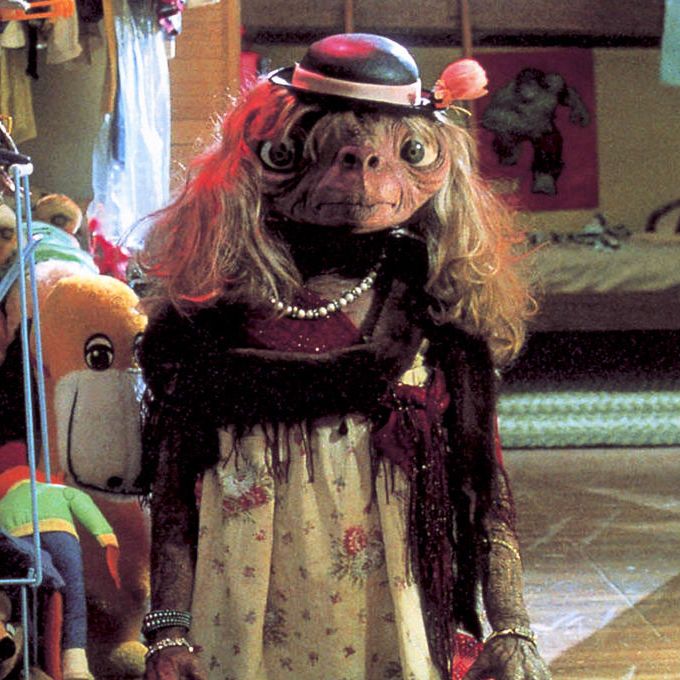 E.T.
Photo: Universal Pictures
This article is updated frequently as movies leave and enter Peacock. New titles are indicated with an asterisk.
Who's ready for another streaming service? NBCUniversal has jumped into the crowded pool in 2020 with the launch of its long-awaited Peacock, a new destination for everything from classic monster movies to episodes of 30 Rock to original programming.
But as with all of these services, it can all be a little overwhelming. How do you dig through the hundreds of films in the Peacock library to find what's best?
The truth is that Peacock's film catalogue is a little thin and a little strange (there's an amazing number of B-movies like Mega Shark Versus Giant Octopus), but it does have some of the weight of the Universal brand and all its history, including classic franchises and recent hits (and the service will likely have more when licensing deals expire with other streaming platforms). But until the selection expands, you can't go wrong with any of the following 50 films.
Phil Lord and Christopher Miller made their live action directorial debuts with a 2012 buddy comedy reboot that really has no right to be as funny as it is. Jonah Hill and Channing Tatum star in the adaptation of the '80s TV series but they turn it into a charming flick about perception, identity, and the best and worst of high school life.
There's been a bit of a reappraisal of Hugh Grant's acting ability in the last few years with his great work in A Very English Scandal and The Undoing, but his career-best work may still be in his adaptation of the Nick Hornby novel about a man-child who learns how to grow up from his friendship with a kid. Minnie Driver is pretty delightful here too.
John Landis is widely recognized as a comedy guy because of films like Animal House and The Blues Brothers, but he also pioneered horror with projects like Michael Jackson's "Thriller" video and this make-up masterpiece, a movie that holds up today because of its emphasis on incredible practical effects. David Naughton and Griffin Dunner play a pair of American backpackers who travel to England and discover that werewolves are very real. The original tagline: "From the director of Animal House … a different kind of animal."
Ron Howard directed a beloved 1995 historical drama about the dangerous space mission that nearly killed three American astronauts. Tom Hanks, Kevin Bacon, and Bill Paxton star as the space travelers with a great cast joining them on the ground, including Oscar nominee Ed Harris. Nominated for a total of nine Oscars, including Best Picture, Apollo 13 is the movie people still watch over 25 years later.
Sarah Polley's 2006 directorial debut is a moving love story about two people who struggle through the pain of Alzheimer's. Julie Christie and Gordon Pinsent star as married couple who fall apart after she develops the disease and essentially forgets her husband, even developing a relationship with another nursing home resident. For her powerful performance, Christie landed an Oscar nomination.
Robert Zemeckis directed all three movies in one of the most beloved trilogies of all time. The story of a teen who goes back in time turned Michael J. Fox into a household name and still serves as the template for how to do this kind of family/sci-fi adventure. The two sequels may not be as good, but they're better than you remember.
Director Werner Herzog was an unexpected choice for an unexpected sequel to Abel Ferrara's 1992 film Bad Lieutenant, but this isn't your normal sequel. In fact, it has nothing really to do with that first film other than it also centering a corrupt cop. Nicolas Cage gives one of his most unhinged and impressive performances here, and that's really saying something.
Long before Charlie Kaufman wrote the excellent I'm Thinking of Ending Things for Netflix he really broke through with this clever 1999 comedy, a film that really put him and Spike Jonze on the movie map, and landed its writer an Oscar nomination. How does one even begin to describe this surreal comedy in a capsule description? It's wonderfully impossible to do so.
Richard Linklater directed this black comedy based on the true story of Bernie Tiede (Jack Black), a man who befriended an elderly Texas woman named Marjorie Nugent (Shirley MacLaine) and ended up murdering her. It's a quirky little movie with one of Black's best performances and a great supporting turn by Matthew McConaughey.
Joel and Ethan Coen followed up the biggest hit of their careers, Fargo, with the story of Jeffrey "The Dude" Lebowski, unforgettably played by Jeff Bridges. In one of his most iconic roles, Bridges captures a kind of lazy L.A. style that turned this flick into a comedy classic, a movie that's being quoted somewhere in the world on every minute of every day.
Most people who love A Christmas Story probably don't realize that the same director (Bob Clark) made another holiday classic with a very different tone. This is one of the most influential slasher pics of all time, the story of a group of sorority sisters who are cut down one by one over the holiday season. It was remade in 2019 with an interesting twist but the 1974 classic is the one on Peacock.
Drew Goddard's dissection of the entire horror genre works so well because it's also a wonderful scary movie on its own terms. With a great cast that includes a pre-huge Chris Hemsworth, Richard Jenkins, and Bradley Whitford, The Cabin in the Woods is endlessly rewatchable thanks in large part to a razor-sharp script from Goddard and Joss Whedon, bringing some of the wit that we saw in their collaborations together on Buffy the Vampire Slayer and Angel to the big screen.
Arguably Brian De Palma's last masterpiece, the 1993 film stars Al Pacino as the unforgettable Carlito Brigante, a Puerto Rican career criminal who wants out of the life, planning to go straight and retire. Of course, his past won't let him do that. One of Pacino's best performances is supported by great work from Sean Penn too.
Tom Hanks gives one of the best performances of his career in this 2000 survival drama from Robert Zemeckis. America's dad plays a FedEx worker who's stranded on a deserted island in the middle of the South Pacific. His only friend a ball that he names Wilson, our hero just tries to survive long enough to be rescued.
It's funny how much Universal didn't know what they were in for when they gave the director of Army of Darkness enough money to make his own superhero movie. The result is one of the most twisted superhero flicks of all time, the story of a disfigured scientist seeking revenge, played by Liam Neeson. It's a film that owes more to classic Universal flicks than Marvel comics, and it's unforgettable because of it.
David Cronenberg co-wrote and directed the terrifying story of identical twin gynecologists played unforgettably by Jeremy Irons, giving one of the best performances of his career. Irons plays Elliot and Beverly Mantle, infertility experts with a twisted practice of seducing clients and passing them off to one another. And then it gets really weird.
The first, third, and fourth in the series are all on Peacock (we know, weird). Die Hard With a Vengeance is underrated and Live Free or Die Hard has its moments, but the original is still the masterpiece, a film that truly rewrote the rules for the genre, shifting it more to everyman characters like Willis and away from muscular stars like Sly and Ah-nuld. It's held up perfectly, as entertaining today as when it came out.
There's a bizarre flow of classic Universal movies on Peacock, coming and going with each month. Currently through the revolving door is one of the most beloved films that Universal ever made, the Steven Spielberg classic about a boy who befriends an alien who just wants to go home. Introduce it to a new generation or revisit it for the first time since it wowed you when you were a kid.
The great Todd Haynes wrote and directed this 2002 period drama that riffs off the films of Douglas Sirk and their bright-colored melodrama to tell the story of a 1950s housewife (Julianne Moore) whose life begins to unravel. Moore does some of the best work of her career, as does Dennis Quaid, who won several awards for his work here, but became one of the biggest Oscar snubs of all time.
Sometimes there's just a perfect, blissful balance between director and source material, which is the case when Terry Gilliam met Hunter S. Thompson in this 1998 adaptation of Thompson's most popular book. A lot of filmmakers would have tried to alter this crazy, semi-true story, but Gilliam leans into its insanity and adds some of his own. It also contains one of Johnny Depp's best performances.
If you build it, he will come. One of the best baseball movies ever made is really a story about fathers and sons. Phil Alden Robinson directed Kevin Costner to one of the most beloved performances of his career as an average Iowan who hears a voice that tells him to build a baseball field. Redemption, U.S. history, and, of course, a love of America's pastime intertwine in this moving drama with an incredibly loyal fan base.
This one's a little weird. Peacock added most of the saga of Jason Voorhees on October 1st, but they left some weird gaps. The first two movies that started the bloody madness are on the service, but then it jumps to Part V: A New Beginning. It has 6-8, but then skips Jason Goes to Hell but allows fans to close out their marathon with Jason X.
With Ron Howard directing, Peter Morgan adapted his own play into this Best Picture nominee that also earned an Oscar nod for its star, Frank Langella. Along with co-star Michael Sheen, the actors who originated the roles in London and on Broadway stepped into the characters of David Frost and Richard Nixon, using their legendary interview as an analysis of image and power.
The reason that Joe Dante's film became such a phenomenon, and the reason it holds up today, is that the super-talented director knew how to balance both the comedy and horror in his story of Gizmo, Stripe, and the rest of the Gremlins. Gather the family around the TV this Christmastime and watch this one for a change of pace.
Kathryn Bigelow was the first and is still the only woman to win the Oscar for Best Director, which she won for her 2008 war film about an Iraq War Explosive Ordnance Disposal team. Jeremy Renner does the best work of his career as our eyes into this tense world, one that pulls him apart from the inside. It's a fascinating film that has really held up since its release.
If you've fallen in love with Spike Lee's Da 5 Bloods on Netflix last year, take the time to check out when the master director put his spin on the heist film with this great 2006 Denzel Washington vehicle. The regular collaborator plays an NYPD hostage negotiator, called in when a bank heist goes down on Wall Street. Tight and effective, this is just further evidence that Spike Lee can nail any kind of movie he chooses to make.
David Robert Mitchell took the horror world by storm with his brilliant 2014 film about a force that simply follows victims until they pass along their curse. Maika Monroe is fantastic as a young woman whose boyfriend curses her with the follow haunting, but this is Mitchell's film, and it contains some of the most unforgettable and haunting imagery the genre produced in the last deca
The great Christopher Abbott broke through in this 2015 drama, which premiered at that year's Sundance Film Festival. Directed by Josh Mond, Abbott plays an irresponsible, self-destructed young man with almost no focus in his life until his mother (a moving Cynthia Nixon) comes down with terminal cancer. It's an emotional story of an isolated loner forced to grow up by the sheer force of mortality.
Production has just started on John Wick 4, so why not take this time to revisit one of the best modern action franchises? The entire trilogy is finally on Peacock (they were missing the third one for a long time), and they're perfect distillations of Keanu Reeves's physical screen presence and undeniable charm.
Matt Reeves directed this remake of the beloved Let the Right One In and fans of the brilliant original felt it was heresy for this movie to even exist. They're wrong. Both films can be great, and this is a great horror movie, filled with wonderful compositions and great performances from Kodi Smit-McPhee, Chloe Grace Moretz, Elias Koteas, and Richard Jenkins.
Peacock is currently finalizing the return of MacGruber in a long-awaited original comedy series. Catch up with the 2010 cult classic, now on the streaming service too. Will Forte gives his all to this adaptation of his SNL sketch comedy character, a spoof of the ridiculous tone of shows like MacGyver. It's even funnier than you remember.
J.C. Chandor's 2011 dramatic retelling of how the 2007-08 financial crisis impacted a Wall Street investment bank is a wonderful example of ensemble drama. There are so many familiar faces here, including Kevin Spacey, Paul Bettany, Jeremy Irons, Zachary Quinto, Penn Badgley, Simon Baker, Demi Moore, and Stanley Tucci. The cast is great but it's Chandor's smart script that elevates the drama.
Walter Salles approached the legacy of Che Guevara in an unexpected manner by telling the story of his days as a young man in this 2004 biopic. Gael Garcia Bernal gives one of his best performances as Guevara in the chapter of his life wherein he traveled across South America in 1952. It's a smart, visually striking film that feels overdue for a reappreciation.
The rap on documentaries is that they're not as much fun as action movies or blockbusters. Disprove that to your friends by making them watch Murderball, an amazing 2005 doc about wheelchair rugby. It charts the rivalry between teams of wheelchair rugby players leading up to the 2004 Paralympic Games; it's inspiring and riveting nonfiction storytelling.
Clive Barker wrote and directed an adaptation of his Cabal and released it to a much more muted response than greeted his hit Hellraiser. Over the years, Nightbreed has developed a loyal following, in part due to the various versions of it now available. The one on Amazon is the theatrical, in which Craig Sheffer plays a man who becomes convinced his therapist is a serial killer, and his own investigation leads him to a tribe of monsters. Good times.
It's really hard to overstate the impact that George A. Romero's classic black-and-white masterpiece had on not just the zombie genre but DIY microbudget horror filmmaking. So many people have been chasing that game-changing impact of Night of the Living Dead in the half-century since it came out, but it's the original that's passed the test of time.
In 1979, Werner Herzog released his daring vision of the classic F.W. Murnau film Nosferatu. Klaus Kinski plays Count Dracula, Isabelle Adjani is Lucy Harker, and Bruno Ganz is Jonathan Harker in this unforgettable mood piece, a movie that's so unsettling that one wonders if Kinski might actually be a bloodsucker. It remains one of Herzog's most popular films for a reason.
Steven Soderbergh only makes good movies, and one of his best remains Out of Sight, the 1998 crime dramedy that features George Clooney and Jennifer Lopez at the peak of their blinding star powers. An ode to old-fashioned noir/crime films with a modern twist, Soderbergh's adaptation of the Elmore Leonard novel of the same name is one of the most purely entertaining films ever made.
Long before the NBC series of the same name (also on Peacock), Ron Howard directed a family comedy inspired by the massive families of the producers, director, and writers. There's really not much more to it than that simple premise, but it gets by on the likability of its large ensemble, which includes Steve Martin, Tom Hulce, Rick Moranis, Martha Plimpton, Joaquin Phoenix, Jason Robards, and a young Keanu Reeves.
The movies in this franchise seem to bounce around the streaming services like the murderous silver ball within them, but the Don Coscarelli original (and still best) is on Peacock now. The 1979 horror classic that introduced the world to the Tall Man was reportedly made for around $300k and spawned a multi-million-dollar franchise that's still going.
Peacock now has the most comprehensive catalog of movies about the lovable Jigsaw Killer, starting with the first and best, Saw. They don't have Spiral (yet), but they do have the first seven movies in the series and the first sorta reboot in 2017's Jigsaw. This would make for one brutal marathon. Take breaks.
Long before she would be Captain Marvel, Brie Larson played a worker at a group home for troubled teenagers in this powerful drama. Based on his own experience, Destin Daniel Cretton wrote and directed this critical darling that now looks like a launchpad for a generation of stars including Larson, Lakeith Stanfield, Rami Malek, Stephanie Beatriz, John Gallagher Jr., and Kaitlyn Dever.
This multiple Oscar nominee was one of the most popular films of 1999. The movie that made Shyamalan a star director, The Sixth Sense is still the filmmaker's best, a powerful piece of work about grief and loss that works well beyond the twist ending that would come to define it culturally.
Everyone seems to love Ben Mendelsohn now, but the actor wasn't really known at all when he appeared in this searing 2013 drama, a film that also introduced the world to Jack O'Connell. The younger star plays a boy who "graduates" from the juvenile detention program to the adult one, where his dad, played by Mendelsohn, happens to also be an inmate. It's a great character piece for both actors.
John Carpenter adapted the short story "Eight O'Clock in the Morning" into one of the master filmmaker's best works. Roddy Piper, Keith David, and Meg Foster star in the story of a pair of sunglasses that reveal that the people in power in this country aren't human. A movie that works as social satire and sheer horror, it's remained powerful and felt current while other films of its era have entirely disappeared from memory.
A legitimate phenomenon that has grossed almost $100 million worldwide, this 2016 South Korean movie is one of the best zombie flicks of its era. It's simple – zombies on a train – but that's one of the reasons it works so well. It has a propulsive, non-stop energy and it feels like its legacy is just getting started.
Peacock may have lost their collection of the master's actual films, but this 2008 Brad Anderson thriller could fit the bill if you're looking for a Hitchcock fix. It owes a great deal to the master of suspence in the way it captures average people caught up in a very not-average situation. Woody Harrelson, Kate Mara, and Emily Mortimer star in a movie for which it's truly best if you know as little as possible going in. International train travel and mystery – what more do you want to know?
Paul Greengrass takes a you-are-there approach to the tragedy that took place United Airlines Flight 93 on September 11th and produced arguably the best drama about that horrible day. With shaky, handheld camerawork, you feel like you're really on the plane when it's taken over by terrorists as it unfolds in terrifying real time.
Gavin O'Connor directed Tom Hardy and Joel Edgerton to two of the best performances of their careers in this 2011 sports drama that takes place in the world of mixed martial arts. Hardy and Edgerton are perfect as brothers who are forced to deal with their estrangement and their alcoholic father (Nick Nolte, Oscar-nominated for his work here) both inside and outside of the ring.
Hit comedies are often just about finding the right comedians at the right time in their career. That's certainly the case with Wedding Crashers, which made a fortune (almost $300 million worldwide) just by creating the perfect vehicle for Owen Wilson's shaggy dog charm and Vince Vaughn's alpha-bro hilarity. The two star as guys who crash weddings and meet girls. The movie helped revive the R-rated comedy and became an instant hit that's still quoted today.
The 50 Best Movies on Peacock