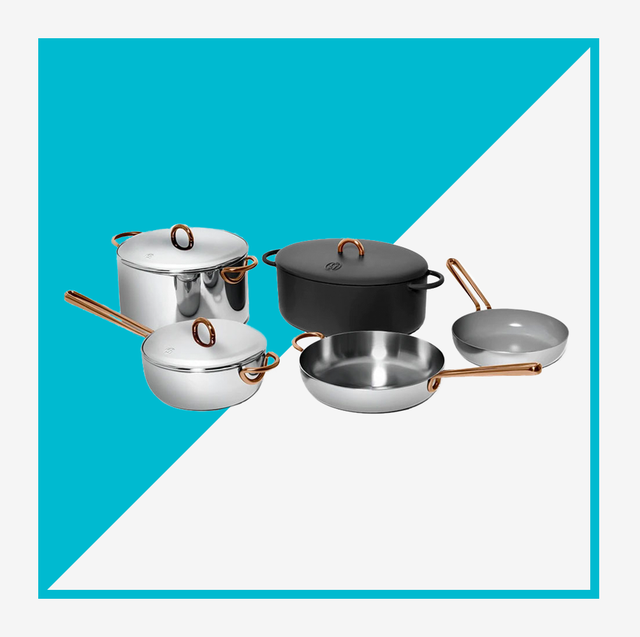 Photos Courtesy of Retailers
Every guy needs a good set of cookware. It's a part of what changes a boy into a man and a crash pad into a sexy bachelor oasis. Although at-home and professional chefs love the gleam of stainless steel, nonstick cookware makes whipping up things like pancakes, eggs, and stir fry nearly fail-proof.
But your old nonstick cookware isn't necessarily the best choice for your health. Many contain PFAs, or chemicals used to make water and oil repellent coatings for consumer goods. According to the Environmental Working Group, "These chemicals are notoriously persistent in the environment and the human body, and some have been linked to serious health hazards," such as liver damage, certain types of cancers, thyroid disease, infertility and high cholesterol.
In short, it's time to trade in your age-old Teflon for the latest, better-for-you, nonstick cookware alternatives. If you're using hand-me-down nonstick cookware, chances are it contains PFAs that were banned by the FDA over the last few years. To be safe, try to avoid any cookware containing Teflon, PFOA, PTFE, or older traditional non-stick models
Just because you're going with a nontoxic option, doesn't mean you have to sacrifice the ease of nonstick life. Many brands are working ahead of the latest research to bring you nontoxic and nonstick cookware that make it possible to cook nearly anything with just a modest amount of oil.
While a full set is handy for guys who mix it up in the kitchen, if you're not ready to fully invest or don't have the space for it, a few multi-purpose pans can go a long way. We tested and researched the 8 best nonstick frying pans and cookware sets that make gastronomy a breeze, without the harmful forever chemicals.

Best Overall Nonstick Cookware Set
Caraway Home Cookware Set
Ceramic coating is becoming the new standard of nonstick cookware. Caraway Home uses a mineral-based version that doesn't leak toxic materials into your food, even at high heats. This set of four is really all you need: a fry pan, sauce pan, sauté pan, and dutch oven. They are super easy to clean, durable, ergonomic and just plain cool looking. The set comes in four colors with the option of including a magnetic storage rack. Everything about this product is genius. If you don't believe us, check out the 10,540 near perfect reviews. Plus, you can put these in the oven up to 650 degrees! You won't see a number that high on the rest of this list. 
Best Multipurpose Nonstick Cookware
Our Place Always Pan
You've probably seen the Instagram ads for this since it's in every food blogger's kitchen. And we can confirm that this pan truly replaces 8 traditional pieces of cookware. It can braise, sear, steam, strain, fry, and even boil. If you're tight on space or just like to live minimally go for the gold that is the Our Place Always Pan in any of the 7 colors. The nonstick ceramic coating doesn't leak harmful chemicals into your food, and the aluminum body creates a fast and even heating process. It wins brownie points with special attention to details, like the built-in spoon and spatula rest, and the fact that it quickly becomes a stylish serving dish on any tablescape.
Most Versatile Nonstick Cookware
GreenPan SearSmart Ceramic Nonstick 10-Piece Set
This eco-conscious cookware brand has been making safe pots and pans since 2007, ahead of all the latest research. This set comes with two types of finishes. The SearSmart collection lets you easily brown and sear your food for a full flavor (comparable to cast iron) without the annoying stick. It also comes with stackable ceramic nonstick pots and pans, made without PFAS, PFOA, lead, and cadmium. It will never release toxic fumes, even if it is accidentally overheated. Plus, they are all metal and utensil safe, so even if you don't know all the rules of cookware, you're bound to get it right. We deem this set of six a great value, but if you want to break up the set they are all available on their own, too. 
Best Nonstick Cookware Design
Great Jones Goods Family Style Set
greatjonesgoods.com
$395.00
Remember when we said nonstick cookware doesn't typically gleam like stainless? Well, in the case of Great Jones Goods, we take it back. I bet you never thought the words sexy and cookware could be used in the same sentence, but alas, another exception. Any guy with this set in his kitchen knows what he's doing (or at least looks like it). The enameled cast-iron Dutch oven is the hero product, perfect for any roast, while the two frying pans are ceramic nonstick. The sauce and sauté pans are fully stainless and slightly harder to clean, but the versatility of this set is worth every penny. 
Most Conveniant Nonstick Cookware
Equal Parts The Cookware Set
This sleek and sophisticated set is made with the same nonstick nontoxic ceramic coating we're getting to know very well. There is nothing worse than trying to store different sized pots and pans with their lids in one cabinet. Equal Parts solves that problem with interchangeable universal lids and a streamlined stacking process. It's the perfect set for any sized kitchen.
Best Hybrid Nonstick Cookware
HexClad Hybrid Cookware Set
This item is probably the most unique on the list, combining stainless steel and nonstick into one. Each pan features a laser-etched hexagon design with an aluminum middle layer to deliver consistent even heating from any conduction source. The result is restaurant quality cooking with the ease and convenience of a nonstick. Plus, it is dishwasher and oven safe and scratch resistant. Long time users of HexClad continue to be shocked by how long these pans last. 

Most Durable Nonstick Cookware
Calphalon 2 Piece Classic Nonstick Fry Pan Set
If you're a simple guy and only need a couple pans you can be rough with, check out this two-piece set from Calphalon. These 8-inch and 10-inch pans are best for simple meals, like egg scrambles, sautéed vegetables, and seared meats. They are oven save up to 500 degrees and the three layers of material conducts heats fast and evenly. These are a solid and durable product without the fancy bells and whistles. If you want to step up to the full set, we stand behind that, too. 
Best Basic Nonstick Cookware Set
All-Clad Essentials Nonstick Cookware set
A 10-piece nonstick cookware set will make you prepared for just about anything. This dishwasher-safe set includes everything you need for a well-stocked kitchen, including trivets. They're stackable, include interchangeable lids, and can be used in the oven at temperatures of up to 500 degrees. This much for $400? That's a pretty good one-and-done kitchen deal if you ask us. And All-Clad is known for their long lasting durability. 
This content is created and maintained by a third party, and imported onto this page to help users provide their email addresses. You may be able to find more information about this and similar content at piano.io