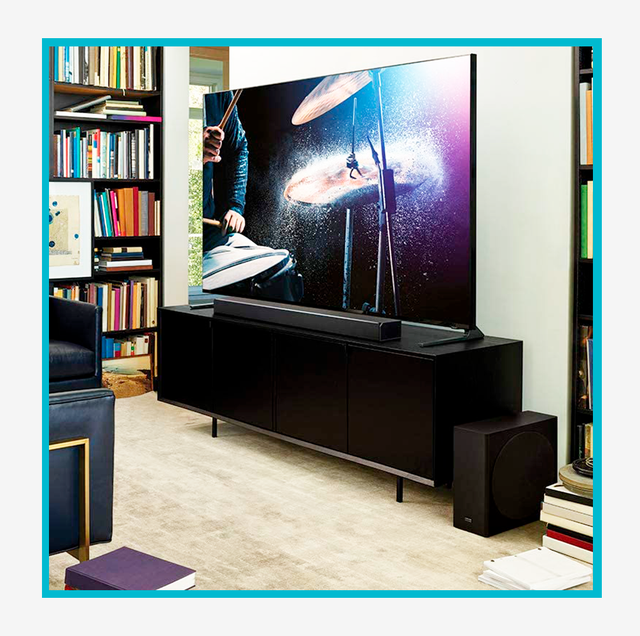 Samsung
Notice a pattern in your living room? The bigger the TV becomes, the thinner its frame. Today, there's minimal room for audio hardware as TV manufacturers deliver 4K and 8K OLED TV technology. Visuals are king, but who's looking out for audio? Soundbars. Soundbars have one job: to transmit powerful, nuanced waves of cinematic sound. And they're worth the investment.
It's easy to be confronted with the paradox of choice given the number of soundbars available. Consider your situation—are you a movie fan with snacks and blackout curtains on standby, and a desire to transcend into a cosmic cult film? Maybe you're a gamer seeking refuge in alternate realities (XR, VR or AR)? Even the simple act of streaming HD music on a sharp, Scandinavian-designed soundbar can be cake for the ears.
Determining how you'll use the sound bar will also help with narrowing down options. A target budget range and list of non-negotiable tech and specs will put you that much closer to high-fidelity sound. Speaking of tech, it's also beneficial to know the audio technologies that power these soundbars, including Dolby Atmos and DTS:X—both immersive, 3D audio experiences that are crisp, precise and dynamic. These sound technologies, along with proprietary brand hardware will be key differentiators.
We've chosen our favorite soundbars—ranging from top-of-the-line investments, to mid-level and budget-conscious favorites. Whether you're searching for your first soundbar, or replacing your trusted go-to, here are the best soundbars to buy in 2021.
Sennheiser AMBEO Soundbar
Dimensions: 126.5 x 13.5 x 17.1 cm. 
If money isn't an object, the sleek, yet weighty Sennheiser Ambeo is the way to go. The Ambeo boasts 13 drivers for an all-in-one, 3D 5.1.4 experience that is practically unmatched and certainly unsurpassed. It's high-fidelity 3D sound calibrates to the dimensions of your room for a plush surround sound-like effect. Expect plug-and-play setup with the Dolby Atmos-compatible Ambeo—from HDMI, Wi-Fi and Bluetooth connectivity to 4K passthrough and built-in Chromecast, iOS, and Android compatibility. 
BEST SOUNDBAR UNDER $300
Onn. 42″ 5.1. 2. Dolby Atmos Soundbar with Wireless Subwoofer
Dimensions: 112.85 x 33.83 x 48.36 cm.
The onn. 42'' 5.1.2 Dolby Atmos 7-channel internal speaker soundbar is the ultimate everyday budget pick that will certainly sound richer than its price. At just under $300, this onn. favorite is complete with a wireless subwoofer that projects 360-degree soundwaves, for an all-encompassing 3D surround sound effect. Kick back and enjoy everything from your favorite TV shows, movies and music with this versatile option. Connect via Optical, AUX, HDMI or wirelessly, via Bluetooth or iOS. 
Bang & Olufsen Beosound Stage Wireless Multiroom Soundbar
Dimensions: 110 x 17 x 7.7 cm. 
The Beosound Stage's Scandinavian design is our favorite. At once, the design makes a modern statement and camouflages into the background. It delivers what we've grown to know and love from Bang & Olufsen's solid reputation. Dolby Atmos 3D sound dynamism brings movies and music to life in an all-in-one package, powered by four woofers, 11 drivers, HDMI and Bluetooth connectivity, as well as Chromecast and iOS compatibility. 
Best Soundbar Under $200
JBL Bar 2.0 – All-in-One Soundbar
amazon.com
$199.95
$149.95 (25% off)
Dimensions: 61.39 x 5.79 x 8.99 cm.
It's time to ditch the wires. At under $200, the JBL Bar Studio with built-in Dolby Digital technology ranks as one of the best plug-and-play soundbars. The Bar Studio 2.0 doesn't hold back when it comes to cinematic surround sound quality or immersive bass that's engineered to bring movies and music to life. Setup this pick in your living room or game room and easily connect via Bluetooth, HDMI, ARC or Optical. 
Samsung HW-Q90R Soundbar
Dimensions: 122.58 x 8.28 x 13.59 cm. 
The Samsung HW-Q90R soundbar is built to impress even the most discerning audiophiles and cinephiles. The Q90R quickly transports you into a sensory-rich 3D experience, powered by Dolby Atmos, DTS:X and scene-adaptive sound technology that compliments QLED TV. Sure, it's a splurge, but the Q90R is the only speaker you'll ever need. Enjoy 7.1.4 sound, 17 up and side-firing speakers, HDMI, Wi-Fi and Bluetooth connectivity. Bonus features like game mode, Amazon Alex, and 4K passthrough compatibility are sure to come in handy. Also check out the Samsung HW-Q950T. 
VIZIO Elevate Soundbar
Dimensions: 11.3 x 50.8 x 5.56 cm
VIZIO quality is here and behind the handsome, unassuming design of the VIZIO Elevate is a Dolby Atmos and DTS:X-enabled 5.1.4 sound powerhouse. This 360-degree sensory experience wraps your living room in crisp audio, powered by 18 immersive adaptive height speakers for 3D surround sound that allows for 4K passthrough. The premium system is packed with 20 speakers, nine channels, and it all comes to life with HDMI, Wi-Fi, and Bluetooth connectivity, as well as built-in Chromecast capabilities. Whether you're a gamer or music enthusiast, the Elevate offers something just about everyone can appreciate. 
Best Soundbar Under $100
LG 2.0 Channel Compact SoundBar with Bluetooth
Dimensions: 8.89 x 63.65 x 7.7 cm. 
Start simple with the LG-SK1 2.0 channel sound bar. At under $100, this entry-level option is compact, easy to set-up and provides a quality audio experience that lives up to the LG name. Every movie, song and even gaming comes to life with the SK1 sound bar, and yes, even serious movie watchers will appreciate its straightforward, yet rich performance. Jump right in via Bluetooth connectivity. 
Sonos Arc Soundbar
Dimensions: 8.64 x 114.3 x 11.43 cm. 
While the Sonos Arc is still an investment, it is one of the best mid-level soundbars available. The soundbar's Dolby Atmos and Trueplay tuning technology calibrates sound to the acoustics of your space and emits eight elliptical woofer midranges and hearty bass. Google Assistant and Alexa technology are intuitive additions that make life easier all around. While the system is not compatible with Bluetooth, the Arc allows listeners to pair Sonos devices across multiple rooms for true in-home, surround sound entertainment. Enjoy HDMI, Wi-Fi and iOS connectivity. 
Sony HT-G700 Soundbar
Dimensions: 38.58 x 2.52 x 4.25 in. 
The sound quality of Sony's HT-G700 Dolby Atmos and DTS:X-enabled soundbar is designed to emit audio that feels like a multidimensional vacation. Up to 7.1.2 channel sound is backed by three front speakers to produce a virtual, vertical surround sound experience that comes to life through four dedicated sound modes. The wireless subwoofer projects a profound bass that's sure to keep you at attention. While the HT-G700 is not Wi-Fi enabled, the system is HDMI and Bluetooth-enabled. 
This content is created and maintained by a third party, and imported onto this page to help users provide their email addresses. You may be able to find more information about this and similar content at piano.io