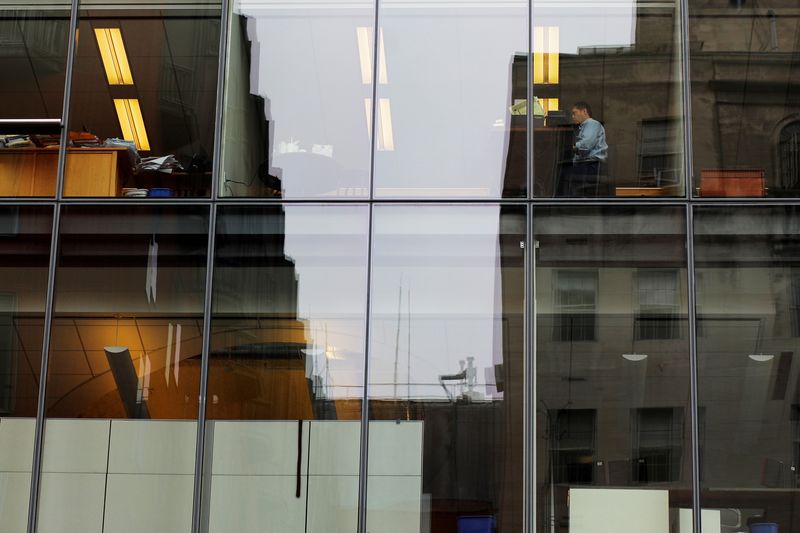 © Reuters. FILE PHOTO: A worker sits at his desk in an office building in Washington, U.S., August 3, 2018. REUTERS/Brian Snyder/File Photo

(This Jan. 24 story has been corrected to say cumulative borrowings were up, not borrowings, in the second paragraph)
(Reuters) – U.S. companies borrowed 9% more in December to finance equipment investments compared with a year earlier, industry body Equipment Leasing and Finance Association (ELFA) said on Tuesday.
The companies signed up for $12.9 billion in new loans, leases and lines of credit last month, compared with $11.8 billion a year earlier, according to ELFA. Cumulative borrowings were up 6% from January 2022.
ELFA, which reports economic activity for the $1 trillion equipment finance sector, said credit approvals totaled 76.6% in December, down from 77.7% in November.
"Not knowing yet the full impact of the Fed's series of rapid rate increases on the economy, I believe many companies will start the year with more focus on credit quality and spreads versus origination volume," said AP Equipment Financing's president, Chris Lerma.
Washington-based ELFA's leasing and finance index measures the volume of commercial equipment financed in the United States.
The index is based on a survey of 25 members, including Bank of America Corp (NYSE:), and financing affiliates or units of Caterpillar Inc (NYSE:), Dell Technologies (NYSE:) Inc, Siemens AG (OTC:), Canon Inc and Volvo AB (OTC:).
The Equipment Leasing & Finance Foundation, ELFA's non-profit affiliate, said its confidence index in January stood at 48.5, an increase from 45.9 in December. A reading above 50 indicates a positive business outlook.