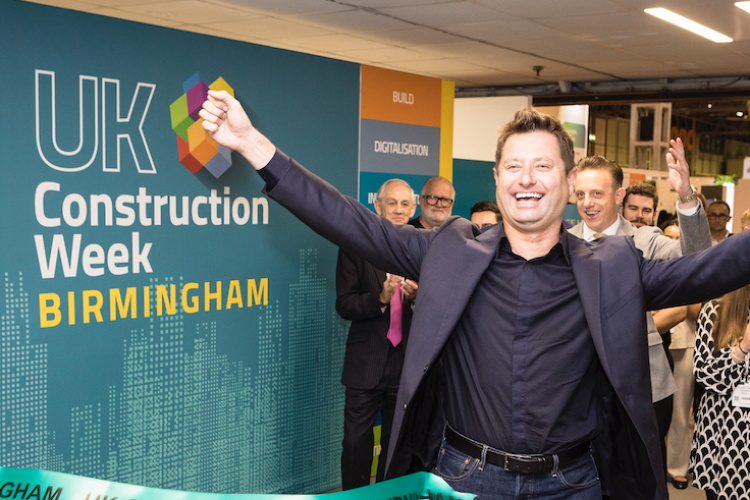 Innovative, inspirational and progressive – Visitors to UKCW Birmingham will be able to explore sections dedicated to Build, Infrastructure, Roadmap to Net Zero, CPD, Robotics, Digital Construction and Offsite. The construction show, which features exhibitors such as Biffa, Topcon, Containex, SDS, Hanson Plywood, Expedeon, Celsa Steel UK and HP Construction Services, is on track to be the most successful one yet.
With the current RAAC (reinforced autoclaved aerated concrete) schools crisis dominating headlines, the issue of building safety is once again a major talking point – and a key focus at UK Construction Week Birmingham, where it will feature heavily. The extensive building safety seminar, workshop and speaker programme will run for the duration of the show at the NEC from 3rd to 5th October, and will feature many of the leading experts and key voices in the industry; including Dame Judith Hackitt, who led the post-Grenfell Independent Review of Building Regulations and Fire Safety.
Nathan Garnett, UKCW show director, commented:"Construction is often criticised for being too disparate, lacking collaboration, not addressing its skills crisis, reverts to protecting the bottom line, is scared of innovation and too often ignores safety and environment. We'll tackle key issues head on – including mental health, fire safety and the skills gap – if you work in any part of the industry, you cannot afford to not be at UKCW Birmingham."
Officially opened by architect and Channel 4 presenter George Clarke and championed by partners and sponsors such as Autodesk, Salesforce, Northgate, Conquip, Find It InBirmingham, CIOB, BMF and NFB, visitors to UKCW Birmingham will also be able to find a wealth of panel discussions and seminars led by industry experts across various areas including:
● Infrastructure Hub – sponsored by ConquipEngineering Group, highlights digitalisation and improving quality and sustainability, this hub will deliver a three-day programme for those working on infrastructure projects of case studies, debates, networking opportunities, and keynote speeches on crucial issues.
● Digital Construction Hub – sponsored by Oracle, the centre piece of innovation at UKCW. This hub will deliver a series of presentations and panel discussions including topics such as Information Management using BIM.
● CPD Hub – sponsored sessions by Pure Vista, Blossom Mental Health Training, Quadrant (QAI Services UK), BP Collins, Lesniak Swann which includes over 150 CPD hours across the three days, features a world-class education programme delivered by industry experts, association partners, government departments and exhibitors.
● Robotics Theatre From little robots on wheels, to exoskeletons and big robotic arms this area sponsored by HP Construction Services showcases the latest in robotics and automation from the global built environment.
● Culture Change Hub – a focus on improving inclusivity within the built environment,
wellbeing and mental health and professional development.
At the heart of the show, Timber Expo will bring together award-winning architects, clients, and contractors to showcase all that timber has to offer. It's the UK's largest showcase event for wood and timber in construction, covering structural timber frames, sawmills, merchants, glulam, SIPs, CLT, fixings and fastenings, timber cladding, doors and windows, mouldings, skirtings, and flooring products.
The Sustainability Hub is the heart of Timber Expo. The hub programme will tackle the issues, layout strategies and case studies to help the sector reach its net zero targets. Andrew Carpenter, Chief Executive Officer – Structural Timber Association, will be speaking on 3rd October about the Net Zero Strategy and England Trees Action Plan to increase the safe use of timber in construction as part of wider measures to reduce carbon in the built environment and stimulate demand for tree planting.
Robotics, sustainability and productivity will all be highlighted in the ever-popular Future Lab. This year will be a showcase of technology, disruptors and change-makers who are at the leading edge of innovation in the industry. Each product featured in Future Lab is part of a step in building a home or building: from AI supported tools, CO2 reducing products and performance enhancing building materials
To register for UKCW Birmingham for free, go to UKCW Birmingham registrations
Got a story? Email news@theconstructionindex.co.uk