Since it was first published in 1989, cartoon strip Dilbert has appeared in thousands of newspapers across the world, has been adapted for television, and made its creator Scott Adams a bestselling author.
While Dilbert, a satirical comic poking fun at office and career culture, has been enjoyed for its gentle and witty humor, Adams has faced criticism in some quarters over the past few years for a number of his outspoken views.
These have included jokes about transgender people, warnings that Republicans would "be hunted" under Joe Biden's presidency and that families could be forced to "kill" young men unless society adopts his "solution" to the "danger" they pose to themselves or others.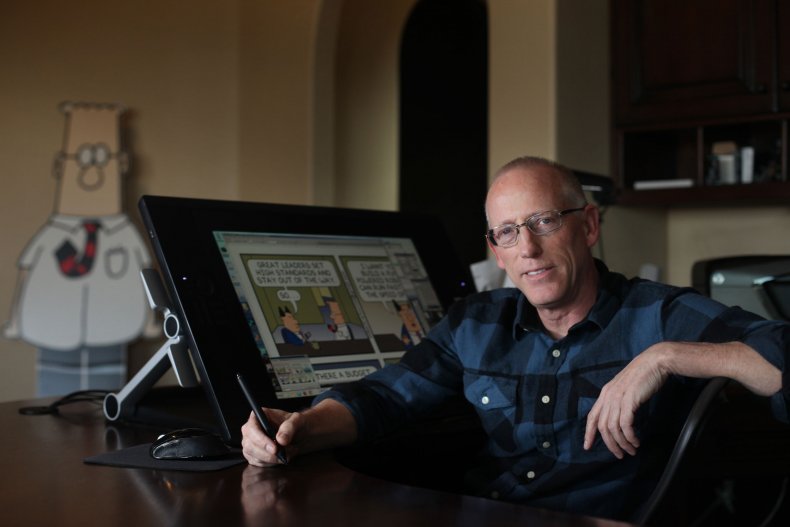 Other comments have strayed into the notional territory of "cancel culture" too; in June 2020, the cartoonist said, referring to the cancellation of the Dilbert TV show, "I lost my TV show for being white" and was "the third job I lost for being white."
So, when Adams announced on September 21, 2022, that Dilbert had been "cancelled" from 77 newspapers, suggestions that the move was politically-motivated began to spread.
Although Adams did not initially make this accusation himself, tweeting only "#Dilbert was cancelled in 77 newspapers this week," his tweet, nonetheless, appeared to initiate such commentary.
Comments such as "Thank you for being a warrior for the right things." and "Hope Twitter doesn't censor you" were among the replies to Adams' initial tweet.
The Epoch Times, a right-leaning publication that liberal watchdog Media Matters and others accuse of peddling misinformation, provided a link to Dilbert comic strips on its website, tweeting: "#Dilbert won't be canceled here".
Adams later appeared to join in the commentary, sardonically remarking that Dilbert being "cancelled" was probably a "coincidence", juxtaposed with a screenshot of a Bloomberg article headlined "Dilbert becomes the voice of ESG opposition."
ESG, which stands for environmental sustainability, social inclusivity and responsible governance, refers to business policy focused on protecting the environment, supporting communities and adhering to regulations.
Viewed by some as a left-leaning strategy, the Bloomberg article noted Adams' criticism of ESG and argued that "his position on ESG matches the political rhetoric coming from the governors of Florida and Texas, as well as other Republican leaders."
With all this in mind, was Dilbert therefore "cancelled" as some have suggested?
While Adams said the strip was removed from print, Lee Enterprises (the company that owns the newspapers it is thought Adams is referring to) has not made a formal statement on the matter.
However, an article from September 13, 2022, by cartooning industry website The Daily Cartoonist suggests that Dilbert was one among a number of cartoons that were recently removed from Lee Enterprise publications.
It recently noted an update from The Martinsville Bulletin (among Lee Enterprises' newspapers) stating it had "changed our lineup of comics in print" and that a number of cartoons "such as Dilbert" would be only available online.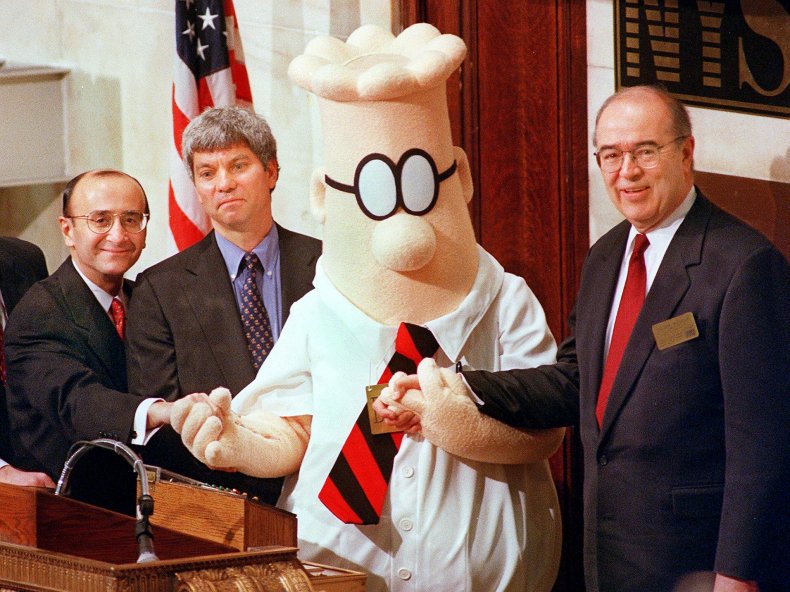 Another Lee Enterprises paper, the Waco Tribune-Herald, also stated that it would be "saying goodbye to some of the long-running strips."
In an update from September 20, 2022, The Daily Cartoonist included a further list of comic strips also said to have been pulled from Lee Enterprise publications, including Bizarro, Snuffy Smith, and Red and Rover.
The company that syndicates comics to Lee Enterprises, Andrews McMeel Syndication, still lists Dilbert among its strips.
This appears to confirm that Dilbert has no longer been syndicated to some of Lee Enterprises' print publications.
However, without further confirmation from Lee Enterprises or other first-hand information, we cannot confirm this is the case nor what the motivation may have been.
Some critics of Scott Adams said the decision was more likely to be budgetary rather than political, although Adams has argued "they still make individual decisions on what to keep."
In any case, the notion that Dilbert is no longer in print because of political agendas hasn't yet been substantiated. Indeed, many other comics said to have been dropped, like Red and Rover, are patently apolitical.
While that is not to say the decision could have been motivated by politics, there is no reliable public evidence to confirm this.
Moreover, the fact that Dilbert remains among cartoon strips syndicated by Lee Enterprises' syndicator suggests it has not been truly "cancelled" in the figurative sense.
Newsweek has contacted Lee Enterprises and Adams' representatives for comment.