An video of an alligator demolishing a 22lb Thanksgiving turkey is going viral ahead of the holiday.
The footage, which can be seen above, was originally posted on social media by Corbin Maxey, an animal expert and YouTuber based in Marsing, Idaho.
Maxey, who looks after more than 30 rescued animals including two alligators, told Newsweek it was a tradition to give them festive treats for the holiday.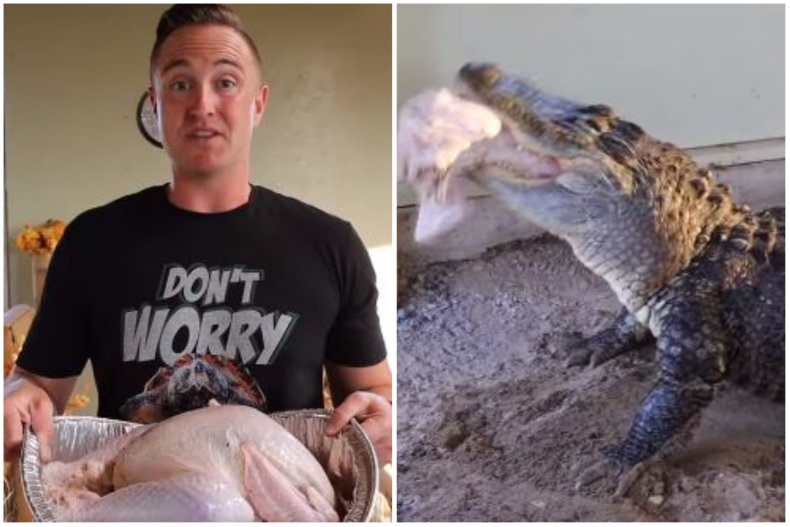 "Every year for Thanksgiving we do specially themed diets for our animals," he said. "Whether it's a giant veggie/fruit tray in the shape of a turkey for our giant tortoises or a big meal for our carnivorous animals, like the alligators."
For Soni the alligator, Thanksgiving dinner is a massive raw turkey. "It provides him with a larger prey item than usual and it's great enrichment for him," said Maxey.
"It switches up his routine and allows him to use his natural instincts to try and swallow a big meal like a 22lb turkey. It's also fun to document for our audience."
Soni, who is 10 feet long and weighs 450lb, did not manage to polish off his Thanksgiving treat last year.
Maxey explained that this is because the reptile does not typically eat such large meals and Soni needs to tenderize the meat by clamping it in his jaws for several hours before he can break the bones and swallow it.
In this year's video, Maxey even stepped out for a while in order to give Soni some privacy, in hopes he would finish off his meal.
The alligator persisted and finally chomped the turkey after about three hours.
Since being shared on Sunday, November 20, the footage has racked up more than 20,000 views on Facebook and YouTube.
Many who watched the clips commented on the power of Soni's jaws. Daniel Harris wrote: "The sounds of the bones breaking is unnerving."
Maxey replied: "Right? The crunch."
Maxey told Newsweek he rescued Soni in 2006 when the reptile was living in a teenager's bedroom in Boise, Idaho.
He added: "I received a call from the teenager's mother that she was tired of the alligator getting out and going into the kitchen.
"Soni was a little under 4 feet when I rescued him and now he's around 10 feet and 450lb. Soni also enjoys eating whole chickens—from the store, hates feathers—and premium Angus beef."
The average American alligator weighs about 800lb and can grow to around 13ft in length, according to the Animal Corner website.
Maxey has worked with animals since he was 12 years old and has appeared on The Today Show and The Late Show with Seth Meyers. His YouTube channel has more than 3 million subscribers and more than 1.5 billion views across his videos.
Do you have funny and adorable videos or pictures of your pet you want to share? Send them to life@newsweek.com with some details about your best friend and they could appear in our Pet of the Week lineup.