The four astronauts flying on SpaceX's Inspiration4 mission will call Earth from the Crew Dragon spacecraft today (Sept. 17), and you can watch the video call live online.
The Inspiration4 crew — Jared Isaacman, Hayley Arceneaux, Sian Proctor and Chris Sembroski — will go live at approximately 5 p.m. EDT (2100 GMT). You can watch it live in the window above, courtesy of SpaceX, or directly via the company's YouTube.
Inspiration4 launched on a three-day orbital mission on Wednesday (Sept. 15), and the mission is scheduled to return to Earth with a splashdown near Florida sometime this weekend. SpaceX and Inspiration4 have not yet announced exactly what time the Crew Dragon will splash down, but it will likely be Saturday night or early Sunday morning.
Live updates: SpaceX's Inspiration4 private all-civilian orbital mission
Read more: Inspiration4: When to watch and what to know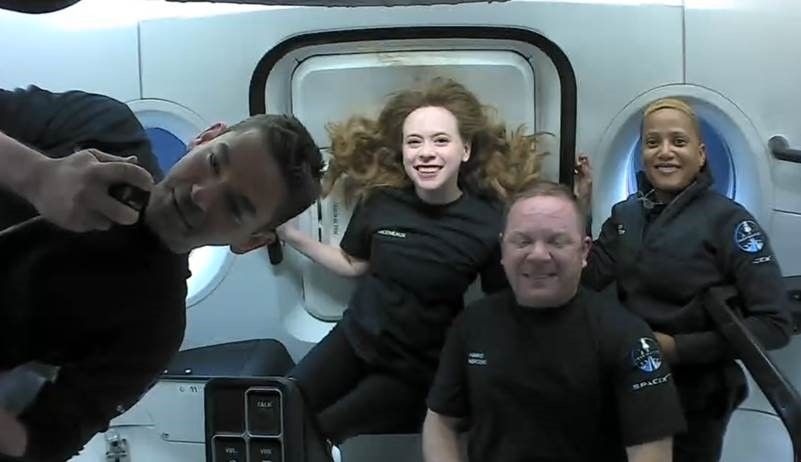 From SpaceX:
On Wednesday, September 15 at 8:02 p.m. EDT, 00:02 UTC on September 16, SpaceX's Falcon 9 successfully launched the Inspiration4 mission – the world's first all-civilian human spaceflight to orbit – from historic Launch Complex 39A at NASA's Kennedy Space Center in Florida. Approximately three days after liftoff, Dragon and the crew of Inspiration4 will splash down at one of several possible landing sites off the Florida coast. Follow Dragon's journey in the tracker above as the Inspiration4 crew orbits Earth approximately every 90 minutes.
Inspiration4 is commanded by Jared Isaacman, founder and CEO of Shift4 Payments and an accomplished pilot and adventurer. Joining him are Medical Officer Hayley Arceneaux, a physician assistant at St. Jude Children's Research Hospital® and pediatric cancer survivor; Mission Specialist Chris Sembroski, an Air Force veteran and aerospace data engineer; and Mission Pilot Dr. Sian Proctor, a geoscientist, entrepreneur, and trained pilot.
The Inspiration4 mission is part of Jared's ambitious fundraising goal to give hope to all kids with cancer and other life-threatening diseases. Visit St. Jude Children's Research Hospital to learn how you can help the Inspiration4 crew reach their $200M fundraising goal.
During their multi-day journey in orbit, the Inspiration4 crew will conduct scientific research designed to advance human health on Earth and during future long-duration spaceflights.
Dragon is traveling to an apogee of approximately 575 kilometers — flying farther than any human spaceflight since the Hubble missions. Dragon's new cupola observation dome is the largest contiguous space window ever flown. Designed, tested, and qualified for flight in six months, it replaced the mechanism used on Dragon's previous flight to autonomously dock to the International Space Station. The three-layer observation dome was put through an extensive qualification process, including thermal, vibration, structural environments, and life-cycle to verify capability.
---
'ISS Live!' Tune in to the space station
Find out what the astronauts and cosmonauts aboard the International Space Station are up to by tuning in to the "ISS Live" broadcast. Hear conversations between the crew and mission controllers on Earth and watch them work inside the U.S. segment of the orbiting laboratory. When the crew is off duty, you can enjoy live views of Earth from Space. You can watch and listen in the window below, courtesy of NASA.
From NASA:
"Live video from the International Space Station includes internal views when the crew is on-duty and Earth views at other times. The video is accompanied by audio of conversations between the crew and Mission Control. This video is only available when the space station is in contact with the ground. During 'loss of signal' periods, viewers will see a blue screen.
"Since the station orbits the Earth once every 90 minutes, it experiences a sunrise or a sunset about every 45 minutes. When the station is in darkness, external camera video may appear black, but can sometimes provide spectacular views of lightning or city lights below."
Follow us on Twitter @Spacedotcom and on Facebook.
Join our Space Forums to keep talking space on the latest missions, night sky and more! And if you have a news tip, correction or comment, let us know at: community@space.com.
Space.com is the premier source of space exploration, innovation and astronomy news, chronicling (and celebrating) humanity's ongoing expansion across the final frontier. Originally founded in 1999, Space.com is, and always has been, the passion of writers and editors who are space fans and also trained journalists. Our current news team consists of Editor-in-Chief Tariq Malik; Editor Hanneke Weitering, Senior Space Writer Mike Wall; Senior Writer Meghan Bartels; Senior Writer Chelsea Gohd, Senior Writer Tereza Pultarova and Staff Writer Alexander Cox. Senior Producer Steve Spaleta oversees our space videos, with Kim Hickock as our Reference Editor and Diana Whitcroft as our Social Media Editor.