Consumers value their privacy, and so privacy has become a major way for marketers to build value with their customers. It's all about trust, according to Arshdeep Sood, Marketing Solutions Engineer for consent and preference software OneTrust PreferenceChoice. "Trust is really driving the next decade of growth in differentiators," said Sood in her talk at our recent MarTech conference.
On the one hand, trust around privacy builds a stronger relationship with customers because it's something that consumers value significantly. On the marketers' side, building that trust with customers can also grow value and ROI.
Privacy as a competitive advantage
Tech giants like Apple and Google are establishing a narrative by using consumer privacy as a brand value differentiator. But marketers across industries are also falling in line. "Everybody is working towards initiatives around privacy controls and other use cases," Sood explained.
As marketers know, experiences and service became key differentiators in industries with similar products and price points. "The question was, how can we provide you with a better experience and engagement in customization or personalization?" said Sood. "Trust and transparency is more important than it was ever in the past, and a lot of metrics and reports out there would tell you that the customer expectation is that they want you to be really transparent with your processes and make them want to trust you with their data."
Why this new focus on privacy?
"There were legal obligations that were required like GDPR and CPA that came into being and they had different requirements like providing users with more control about their data and giving them privacy rights," Sood said.
"Then there was a technology swing as well," she added. "Technology providers like Google, Facebook, Apple. They've also changed their infrastructure and have come up with different solutions where they are restricting tracking capabilities, and they have things like limited ad targeting use cases."
These moves have received a lot of media attention, and what has developed is a very trust-focused approach to customer engagement. "So your customers are becoming way more aware about their rights and what they should expect from a brand," Sood said. "And that is something that is the biggest driver of change and the biggest driver of why you should be thinking about trust."
---
Identity resolution is not only critical to marketing success but is essential for compliance with consumer privacy laws such as CCPA and GDPR. Explore the platforms essential to identity resolution in the latest edition of this MarTech Intelligence Report.
Click here to download!
---
Everybody owns trust
Privacy isn't a project owned by a single team, or even something that resides within marketing and compliance teams, according to Sood. "Every team is a part of this puzzle, and they need to come together and collaborate," she explained, "because if you collect some sort of a data point for a certain purpose, that data might be processed by different team members for different processes. So everyone has to be aware."
For marketers, think about how the new privacy practices impact your marketing and advertising strategy. But this isn't something marketers need to solve by themselves. Marketers have to reach out to privacy and compliance managers and make sure everybody is on the same page.
"It might seem as a dichotomy that privacy and compliance and marketing activities are two separate things," said Sood. "But in full fairness, to build that transparent experience for your end users — that would in turn build trust and bring in that loyal user base — your privacy compliance work and your marketing activities have to go hand-in-hand."
Pro-actively building trust
To build trust with consumers, marketers have to go beyond just regulations and compliance and actively court the customer's favor. "You want to identify new opportunities which would help build that trust, which would in turn help you avoid any kind of regulatory fines that come through," said Sood. "It would also help you to have a very transparent data collection process."
Make it explicit to customers how you are using their data, and for what improvements to their experience the data contributes. For instance, if you ask for their first name, it's so that you can personalize communications. If they open an account, that's because you want to provide tailored product choices to them
"Knowing that information is going to encourage [the customer] to give you more information," said Sood, because they know the value they are getting from sharing their data. "It's a mutual relationship," she added. "You give me a transparent approach and I give you more data, you personalize it for me….and in turn it's going to affect your ROI in a better fashion."
See the full talk from our MarTech conference here (free registration required).
---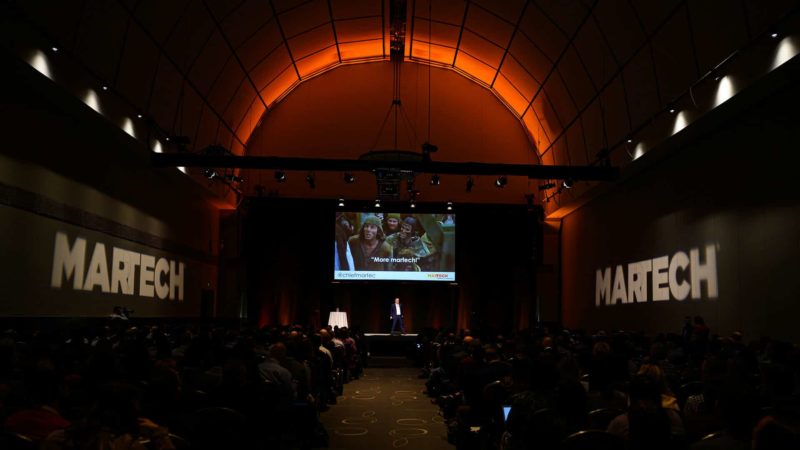 ---
About The Author
Chris Wood draws on over 15 years of reporting experience as a B2B editor and journalist. At DMN, he served as associate editor, offering original analysis on the evolving marketing tech landscape. He has interviewed leaders in tech and policy, from Canva CEO Melanie Perkins, to former Cisco CEO John Chambers, and Vivek Kundra, appointed by Barack Obama as the country's first federal CIO. He is especially interested in how new technologies, including voice and blockchain, are disrupting the marketing world as we know it. In 2019, he moderated a panel on "innovation theater" at Fintech Inn, in Vilnius. In addition to his marketing-focused reporting in industry trades like Robotics Trends, Modern Brewery Age and AdNation News, Wood has also written for KIRKUS, and contributes fiction, criticism and poetry to several leading book blogs. He studied English at Fairfield University, and was born in Springfield, Massachusetts. He lives in New York.