Just when we got used to the status quo in the dual-sport world, along comes Sherco to shake things up. The Sherco 500SEF Dual-Sport is freshly approved by the DOT, EPA and CARB, and it is legal in all 50 states. The U.S. homologation process is long and expensive, and it's impressive that a relatively small company like Sherco managed to jump through all the hoops and clear all the barriers to make this happen. What it means is that Sherco now joins KTM, Husqvarna, Beta and Honda as one of the very few manufacturers who has made the commitment to make a legitimate dirt bike that is 100 percent legal.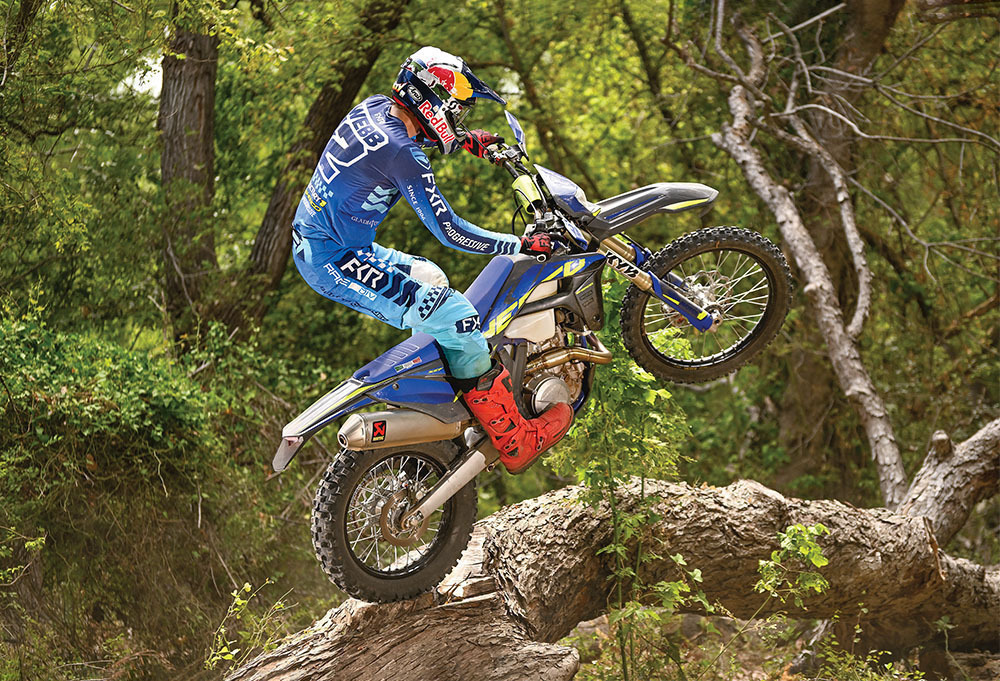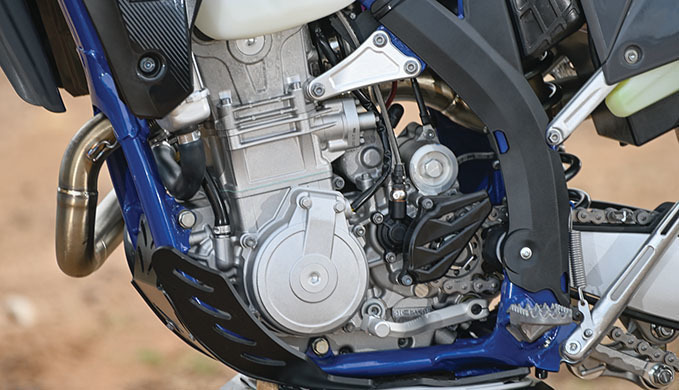 FROM OUT OF NOWHERE… ALMOST
This bike is based on the 500SEF off-road bike, which we have to confess that we don't have much time on. We know that it's the basis for Sherco's Dakar effort, and that Grant Baylor won the 2020 National Enduro Championship on this platform. It's a serious off-road bike, but it's not what comes to mind when we think of Sherco. This is a small French company that has made a name for itself in the world of hard enduro with its twostrokes and lightweight four-strokes. Sherco is also the bike that 14-time NATC National Mototrials champion Pat Smage has ridden for virtually his entire career. So, a large-displacement dual-sport bike is the last thing we saw coming from this company.
The motor is a double-overhead-cam 6-speed with a Synerject EFI system, and the bike features all the hallmarks that have come to define Sherco's enduro bikes. It has a closed-cartridge KYB fork and a KYB shock with linkage. Virtually all the components are the best that money can buy. The exhaust system is an Akrapovic, the brakes are Brembos, and it comes decked out with a hydraulic clutch, a radiator fan and handguards. What we love most about it is how unobtrusive the DOT equipment is. The blinkers are tiny, and the Christmas tree that hangs down from the rear fender is lightweight and doesn't bounce around like it does on other dual-sports. Even the controls for the lights and horn are minimal. It has full-size mirrors, of course, but in most ways you would never know it's a dual-sport. It looks like any other dirt bike.
In order to get it through the EPA, Sherco had to add a catalyst in the mid-section of the exhaust pipe and make a fairly restrictive air-filter cage. Sherco also had to develop an EPAlegal map and then do away with the map switch on the dirt version of the bike. It turns out that Sherco already knew how to do it, because Euro 5 emission laws in the EU are pretty strict themselves.
DATE WITH A BEAST
Since we have never even tested the off-road version of this bike, we can't say how much it weighs exactly, but after riding it, we have a pretty good idea. It's going to be between 250 and 260 pounds without fuel. It doesn't feel quite as light as a KTM or Husqvarna, but it will be almost 20 pounds lighter than a Honda CRF450RL.
As far as motor output goes, the Sherco is a beast. In the configuration we tested, it's far and away the most powerful dual-sport 500 on the market. It has excellent low-end power and massive midrange. It's very smooth, but there's no real hit up top. It's not very revvy at all; this is more of an old-school four-stroke, and it kind of rumbles down the trail. The fuel delivery is super clean. It doesn't flame out at all, and it can be ridden over all kinds of logs and rocks at just an idle. The suspension was pretty soft, which is appropriate for a dual-sport bike, but it didn't dive or do anything scary.
The bike that we had was an early production model; some things weren't quite stock, and some equipment was removed. The Sherco guys had replaced the air-filter cage with one from the off-road bike, which, as we all know, technically makes the bike a closed-course vehicle. But, the bike still had the catalyst in the stock muffler and the EPA-approved mapping. It was extremely quiet and, as we said, ran flawlessly.
As far as the price goes, we don't have the official MSRP, but we know that Sherco has a history of pricing that's very similar to KTMs, so you can expect an MSRP in the $12,000 range. They realistically expect the first container of bikes to reach the U.S. around December or January. We will have one of the final production models as soon as it arrives, so stay tuned.