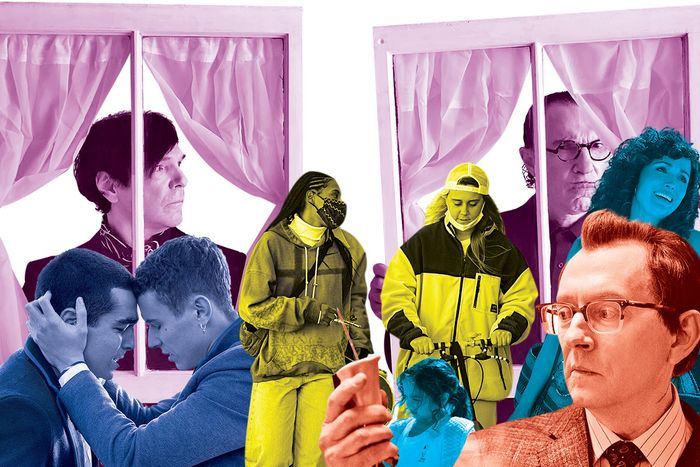 Photo: Netflix/Jake Polonsky/Courtesy of Sundance Institute/Stephanie Mei-Ling/HBO/Elizabeth Fisher/CBS/Apple TV+
To Do: Our biweekly guide on what to see, hear, watch, and read.
Tuca & Bertie
The birds are back.
When Netflix canceled Tuca & Bertie back in 2019, it seemed that was the last of the animated birdie BFFs voiced by Tiffany Haddish and Ali Wong. Luckily, Adult Swim will air new episodes in which the toucan and the songbird are doing their usual thing: trying to get laid. —Jen Chaney
Adult Swim, June 13.
Evil
It's The X-Files without aliens.
CBS's Evil was a sleeper hit in its first season; now the time has come for everyone to appreciate how bizarre and fun this series, a smart, strange horror procedural that pokes at cultural commentary, really is. —Kathryn VanArendonk
Paramount+, June 20.
Physical
There will be leotards.
Rose Byrne gives a fierce performance as a 1980s San Diego housewife with a brutally harsh inner monologue and an eating disorder. Then she discovers something that united so many women during that era: aerobics. —J.C.
Apple TV+, June 18.
Elite
Bloodthirsty teens.
The sexy Spanish YA drama is back with a new group of students who are bound to press each others' lust and rage buttons at Las Encinas High. Expect hedonism and decadence — and, maybe, another murder mystery. —Kerensa Cadenas
Netflix, June 18.
Kevin Can F**k Himself
Yeah, that's the name of the show. What of it?
Annie Murphy plays Allison, whose life is like a multi-camera network comedy when she's at home with her attention-sucking husband, Kevin (Eric Petersen), but morphs into a gritty single-camera dramedy when she's on her own, plotting to bump off Kevin. Two shows in one, it will make you reconsider how you watch TV. —J.C.
AMC+, June 13; AMC, June 20.
Betty
Skateboarding through COVID.
For season two, the women of Betty ride the streets wearing masks; it's obvious they, like us, are in a different time. All the fascinating, idiosyncratic characters still roll through NYC with the confidence they own the place. Everything's different, but it's also just the same. —J.C.
HBO, June 11.
The Sparks Brothers
Prolific.
Ron and Russell Mael, better known as the band Sparks, have a long history of being underrated. Edgar Wright gives the duo a full showcase in this doc, trotting out legions of celebs, from Jack Antonoff to Weird Al Yankovic, to attest to the Maels' influence. —Alison Willmore
In theaters June 18.
In the Heights
The opener at Tribeca Film Fest.
Anthony Ramos takes the lead in this adaptation of Lin-Manuel Miranda's Tony winner, which follows a romantic bodega owner in Washington Heights. Its lack of deep conflict is a point of criticism for some, but if you're looking to mainline some summertime joy ahead of your own, embrace the earnestness and don't fret too much about plot. —Sangeeta Singh-Kurtz
Tribeca Film Festival, June 9; HBO Max, June 11.
The Dry
Eric Bana is spectacular.
In this Australian thriller, Eric Bana plays a federal agent who returns to his hometown after an old friend allegedly commits a heinous murder-suicide. His investigation brings up all sorts of ghosts from the past. With its overwhelming sense of dread, The Dry is hard to shake, and the underrated Bana is terrific. —Bilge Ebiri
In select theaters and VOD.
The Amusement Park
On ageism.
In 1973, the Lutheran Society commissioned Night of the Living Dead director George A. Romero to make an educational film about elder neglect; what the society got was a hallucinatory trek through a hellish amusement park as allegory, which it promptly shelved. In 2018, a year after Romero's death, the film was rediscovered and restored by IndieCollect. —A.W.
Shudder.
The Perfect Candidate
During election season.
A young female Saudi doctor, frustrated with the sexism, piety, and bureaucracy she has to contend with, puts her name in for a local election and winds up going viral. Directed by Haifaa al-Mansour, Saudi Arabia's first female film director, this is less political drama and more about trying to shape your own destiny in a world that refuses to accept your independence. —B.E.
In select theaters.
➼ See the Full Calendar of Digital Movie Rentals
➼ See the Full Calendar of Movie-Theater Releases
The Short List
Tribeca Film Festival
Celebrating its 20th anniversary and a reopening city with a mix of outdoor and virtual screenings, June 9 to 20.
Lady Boss: The Jackie Collins Story
Laura Fairrie's biographical doc on Jackie Collins, whose life is as outsize as the juicy romance novels through which she built an empire. Hudson River Park, June 10; Tribeca at Home, June 11.
All These Sons
Bing Liu's latest doc, directed with Joshua Altman, follows a program for young men in gun-violence-ridden areas of Chicago. Hudson River Park, June 12; Tribeca at Home, June 13.
Catch the Fair One
Boxer Kali Reis makes her acting debut in this bruising revenge thriller from director Josef Kubota Wladyka about a trafficking ring that targets vulnerable Indigenous women. Hudson Yards, June 13; Tribeca at Home, June 14.
No Sudden Move
COVID couldn't slow Steven Soderbergh — his follow-up to Let Them All Talk is a 1950s crime drama with Don Cheadle, Brendan Fraser, and Benicio Del Toro. The Battery, June 18.
Table of Contents
Graphic.
Terry Winters is a painter-magus of the morphology of shape, surface, viscosity, and something bordering on the biological-analytical sublime. His new large canvases are teeming with structures just on the verge of chaos, knowing, and mystery. He is an old master of new configuration. —Jerry Saltz
Matthew Marks Gallery, 522 West 22nd Street, through June 26.
Bo Bartlett
At home.
Bo Bartlett's hypnotic scenes of everyday people radiate gravitas, anticipation, unease, and visual tranquillity. The mix is jarring but pulls you in. A Black man riding a bike with a fluttering U.S. flag, deep-sea fishermen displaying their catch, a family in a rowboat on waters that rise to inundate a church — all impart mythic grandeur. —J.S.
Miles McEnery Gallery, 525 West 22nd Street, through June 19.
Patti Smith and Gerhard Richter
Art and performance.
Ever wonder what Gerhard Richter listens to while he makes his big (expensive) abstract paintings? In 2006, it was John Cage, which is why the series of squeegee-produced canvases is called "Cage Paintings." On June 8, Patti Smith performs; Rashaun Mitchell and Silas Riener dance to Cage's "Experiences No. 2." —Carl Swanson
"Cage Paintings," Gagosian, 541 West 24th Street, through June 26; gagosian.com/premieres/gerhard-richter, June 8 at 2 p.m. ET.
Filthy Animals, by Brandon Taylor
Yes, it is an Angels With Filthy Souls reference.
Brandon Taylor's first short-story collection is built of long ropes of connective tissue. Filthy Animals tracks young women in love, young men itching for violence, and families twisting into different shapes. Taylor writes about relationships like a modern E. M. Forster, poking and prodding at the places where the connection is thinnest and observing what happens when people madly attempt to shore it up. —Hillary Kelly
Riverhead Books, June 22.
The Hidden Palace, by Helene Wecker
An enchanting, long-awaited sequel to The Golem and the Jinnii.
It's been eight years since Helene Wecker's debut novel, an epic love story about two mythical beings — one Jewish, the other Syrian — and their lives as immigrants in Old New York's tenements. Wecker is now picking up the story where she left it off: in the years leading up to WWI. —S.S.K.
Harper, June 8.
Essays Two by Lydia Davis
On translation.
A follow-up to her 2019 tome, Essays One, Davis's latest non-fiction collection is a 500-something-page bright-blue brick of a book of essays written over the past four decades, mostly on foreign-language literature and the art of translation. The book's size may be daunting, but fear not. While writing about writing can sometimes wander into theoretical, navel-gazing territory, Davis's approach here is thrillingly concrete. Several pieces describe, in vivid, granular detail, her process for translating the first volume of Proust. She pops the hood and lets us see how the literary gears turn. —Cornelia Channing
Path of Wellness
Indie punk vets.
Corin Tucker and Carrie Brownstein return with Sleater-Kinney's tenth studio album and a body of work recorded amid the tensions of the protests in Portland, Oregon, last summer that seeks solace in companionship and killer rock riffs. —Craig Jenkins
Mom + Pop Music, June 11.
No Gods No Masters
About the future.
The hybrid Scottish-and-American Garbage's seventh set offers stern criticism of patriarchal, capitalist systems, musings on faith and faithfulness, and most important, a mix of lean, hooky synth-rock from Butch Vig and friends and enticing vocals and lyrics from Shirley Manson. —C.J.
Stunvolume / Infectious Music, June 11.
Rebecca Black Was Here
Get reacquainted.
A decade ago, meme queen Rebecca Black's "Friday" went viral for all the wrong reasons, charting but tarring her music as humorous but unserious. But the songs Black has been steadily releasing in the run-up to her long-overdue debut album, cheekily titled Rebecca Black Was Here, suggest she has now got more to say and a better team of producers. Will lightning strike twice? —C.J.
Self-released, June 16.
I Dream a Dream That Dreams Back at Me
On Juneteenth.
To mark the anniversary of emancipation, the poet Carl Hancock Rux conceived of an outdoor mash-up of art, theater, and music. Migration defined slavery and shaped its aftermath, and in a miniaturized evocation of those mass journeys, audience and performers will move around the campus, from plaza to pool to park. The music ranges, too, with interventions by Toshi Reagon, Vernon Reid, Nona Hendryx, Helga Davis, Marcelle Davies-Lashley, Kimberly Nichole, and BIGLovely. —Justin Davidson
Lincoln Center, June 19.
Bulrusher
Of a slow tongue.
The McCarter Theatre Center has joined forces with playwright Paula Vogel to produce her project Bard at the Gate, a virtual reading series that features beautiful but overlooked plays by women and BIPOC writers, starting with the superb, starry 2020 stream of Eisa Davis's lyrical Bulrusher, which features Kara Young as a mysterious foundling who can communicate with water. This was one of my top Zoom-periences, so even if you're feeling a little Zoom-xausted, I promise this will perk you right up. —Helen Shaw
mccarter.org, June 3 to 9.
River to River Festival
Veterans of outdoor shows.
For the fest's 20th anniversary, Lili Chopra and Nanette Nelms curate a month of above-and-beyond work. Do not miss the concert by jazz genius esperanza spalding; the streaming film and conversation by Arthur Jafa; the series of park "processionals" by superstars Miguel Gutierrez, Okwui Okpokwasili, and the Illustrious Blacks; or the scene from a new immersive opera by nora chipaumire. The banks overfloweth. —H.S.
imcc.net, June 10 to 27.
Kronos Festival
After a year's hiatus.
Part concert series, part film festival, part musical meander, the Kronos Quartet's annual celebration in San Francisco will be global, free, and streamable for three months. The tireless group has been pushing so long at the boundaries of the string quartet it's easy to take for granted how ubiquitous, flexible, and vibrant an 18th-century form remains. Eight days and ten world premieres should make the case quite nicely. —J.D.
kronosquartet.org, June 11 to 18.
Femenine
Posthumous.
When the composer Julius Eastman died in 1990, after bouts of mental illness and homelessness, his music, a rich stew of minimalism, urgency, improvisation, and ecstasy, disappeared. It's been creeping back in recent years, though, and now the L.A.-based group Wild Up is releasing the first studio recording of his hour-long magnum opus. —J.D.
New Amsterdam Records, June 18.
Every editorial product is independently selected. If you buy something through our links, New York may earn an affiliate commission.
25 Notable New Releases Over the Next Two Weeks