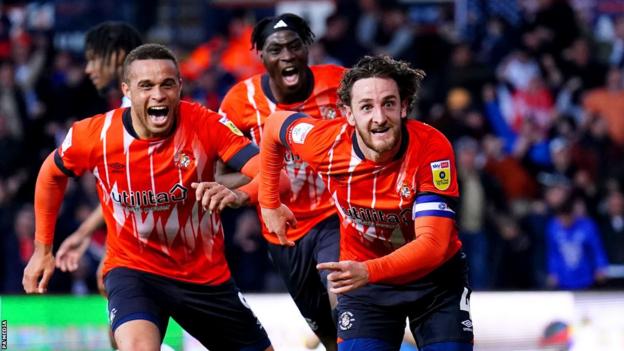 Tom Lockyer will go from World Cup "cheerleader" to Wembley centre stage on Saturday when his Luton Town side take on Coventry City in the Championship play-off final.
The centre-back, once told he was too small to make it, is now bidding for a successful finale to a huge season and earn a first taste of the Premier League big time.
Having been part of the Wales squad at the 2022 World Cup in Qatar, the 28-year-old says the season has already been memorable, but promotion would make it "perfect".
"It's massive not just for me but the whole club and the whole city. And personally it is massive for me at my age – Premier League teams are not really shopping in the older age group," Lockyer admitted.
"A chance to play in the Premier League is something you dream of as a kid. To be this close with almost one hand on it, it would be a shame not to reach it now."
To get this far Lockyer has already proved the doubters wrong, having been released by his hometown club Cardiff City as a teenager because he was considered too small.
But that rejection so early in his career fuelled Lockyer's determination to succeed.
"It's the old cliché, centre-backs have to be 6ft 2ins and jump like a salmon. It is what it is, but getting released was probably the best thing that happened to me," he said.
"It hurt massively at the time. It was the end of the world, I thought 'where do I go from here, what do I do'.
"But after I had processed it, I thought 'well, that's your opinion, I am not good enough, I am not strong enough, I am going to prove you wrong'.
"That was my attitude going forward… I thought if that's the case, let's go to the gym three, four, five times a week. Let's do some weight-training programmes and all that stuff to prove you wrong."
Lockyer moved to a scholarship at Bristol Rovers in July 2012 and made more than 200 appearances for the club, before joining Charlton Athletic as a free agent in 2019.
"When someone says you cannot do something, it's motivation for me to say I will prove you wrong," he said.
"That is not just in football but in life as well. If someone says 'you cannot hit that drive down the middle' in golf, I am hitting that drive down the middle. There is no two ways about that.
"As soon as I got my head around rejection it was absolutely motivation to go and push on."
Lockyer will always be grateful to Rovers, and some of the youngsters who were at Cardiff noticed his success – asking him whether he could sort loans for them at the Bristol outfit.
"For me it was the best thing that happened to my football career. I dread to think where I would be now," he said.
'Brilliant, demanding, a leader'
Standing at 6ft 1in, Lockyer is still comparatively short for a central defender, but is a big presence in a Luton Town side who have surged into the play-offs under Welsh manager Rob Edwards.
Lockyer has also found a useful goal-scoring knack with three in his last four appearances, including a thumping header in the 2-0 win over Sunderland in the play-off semi-final second leg.
Hatters boss Edwards says of his fellow countryman: "Tom has been clearly one of our most important players on the grass, but he is a leader off it as well.
"He is a brilliant human being, he is a demanding man but I think he is someone who has just found a way to maximise his performance every single week.
"What people have seen is in the last few weeks with the bigger the games we have had and the more we have been on tv, and him getting man-of-the-match awards and scoring as well as defending.
"He has been building up more of a name for himself but he has been doing that on the training pitch throughout the season. I cannot speak highly enough of him. He has delivered brilliant performances so far and hopefully there is one more big one in him."
Lockyer's Welsh roots are unmistakable in his accent and he will not lack support from his native city at Wembley, saying: "I think there are a few transit vans and mini buses going up. Anyone heading into London from Cardiff, watch out that day!"
While all his attention is on Saturday and reaching the Premier League, Lockyer is keen to add to his 14 caps, having travelled to the delayed Euro 2020 competition and the Qatar World Cup as a squad player, but without making an appearance.
The centre-half's last international appearance was in a friendly against Finland in September 2021. Nevertheless he looks back on his World Cup experience as "amazing".
"I say it myself but I was the best cheerleader out there! There was no more I could have done for the lads. I loved it, I loved being involved," he said.
"Obviously I was quite a while out of the international set-up, which was frustrating, but to be back was amazing. If I was not going to be there I was going to be the biggest supporter wherever I was.
"To be there with the lads was unbelievable and an experience which will live with me forever."
From the World Cup to Wembley in the same season is quite something, but Lockyer wants to cap it with promotion.
A winner at Wembley with Bristol Rovers in the 2015 Conference Premier play-off final penalty shoot-out victory over Grimsby, Lockyer is relishing his return to the famous stadium for what is dubbed the most valuable game in the domestic football calendar.
"I am one out of one at Wembley at the minute. Two out of two sounds better," he said.
"It's a make or break day, it could be such an amazing day or it could be so sad. I hope it's on the happy side."
If Luton can complete a remarkable journey from National League to Premier League then Lockyer will no doubt be leading the celebrations – this time as a cheerleader on the pitch.